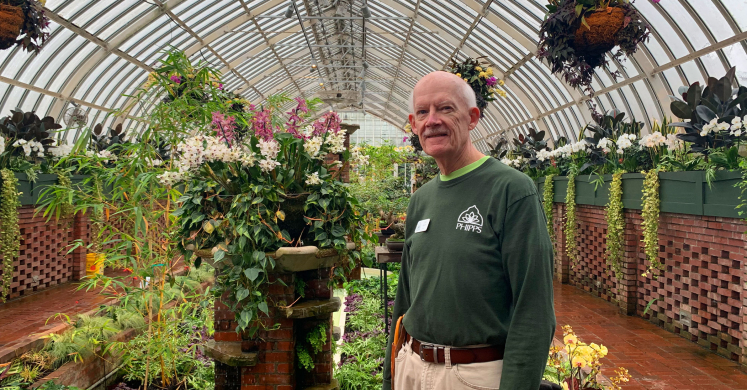 Volunteer Spotlight: Bill Phelps
Phipps is well-known for our beautiful gardens, seasonal flower shows, pioneering sustainability initiatives, informative educational programs and community outreach. None of our work, however, would be possible without the knowledge and dedication of our volunteers. In this series of profiles, we meet some of the people who give their time to make Phipps possible.
Former navy veteran Bill Phelps, otherwise known as 'Tall Bill', retired in 2011 after working at UPMC for over 37 years. Having spent most of his life around plants and gardens, he now uses his degree in secondary art education to apply his knowledge of design and color to his home gardens and landscaping projects! Like many of us, Bill and his wife turned to gardening as their main activity to keep them busy during the pandemic.
Once his wife began Phipps master gardener program and he learned about all the interesting things she was doing, he wanted to do his part to get involved. So, five years ago Bill reached out to become a volunteer here at Phipps and has been with us ever since!
A normal day of volunteering for Bill usually takes place in Sunken Garden because he is 6'5" and able to best tend to the raised beds along the walls among other maintenance. Here he will remove any dead blooms, makes sure the mulch is neat with Bill stating, "I kinda consider my job to make sure that when people come here they're seeing what they came to see. They don't want to see bunch of leaves on the ground or dead blooms, they wanna see the pretty flowers and what's been created here—you know? So, that's what I try to do to maintain that."
When it comes to his favorite part about volunteering over the years, Bill was torn with his answer. One thing he loves is being able to interact with guests and help them with any questions they may have; even if he doesn't know the answer, at least he and the guest can both learn something new! His other favorite thing has been assisting in the transition periods between each show and watching each show come to life. Bill's hard work will guarantee that your next visit is incredibly beautiful!
Photo © Phil Johnson II