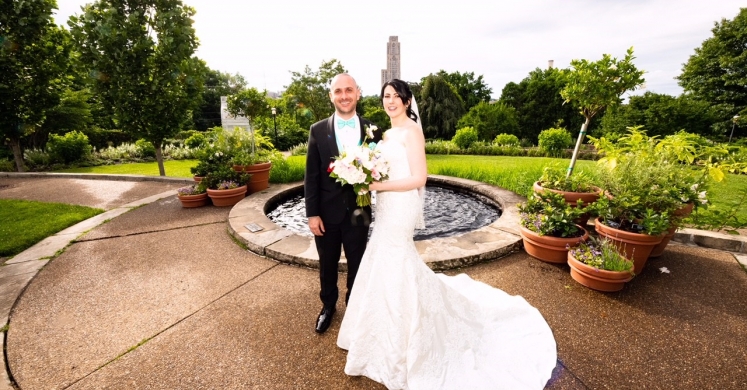 Weddings Under Glass: Beckie and Mattia
Weddings Under Glass is a monthly blog series where we highlight the stories of couples who chose to begin their happily ever after in the lush backdrop of Phipps, named one of the best outdoor garden wedding venues by Elle and Harper's Bazaar.
Beckie and Mattia met at Cruze Bar in Pittsburgh's Strip District in April of 2015. Beckie was just looking to spend a fun night out of her friends and had no intention of starting a relationship. But she and Mattia caught each other's eye on the club balcony and from there, the rest is history. The pair talked and danced all night and Beckie ended up giving Mattia her phone number.
After dating for a while, the pair moved to New York City together in June of 2016. After about a year of living in the new city together, Beckie and Mattia planned to go out on a date to a club in New Jersey. Mattia called an Uber to the apartment and told Beckie that they were going to a place called the "Red Hedgehog," however, much to Beckie's surprise, the Uber pulled off at the Chelsea Piers on the Hudson River instead and she and Mattia boarded a schooner sailboat for a river tour of the New York City Upper Bay!
At sunset, the schooner sailed past the Statue of Liberty, and Mattia got down on one knee, asking Beckie to marry him. At first, all Beckie could think to do was tell Mattia to get up off the floor, repeatedly asking him, "Are you sure? Are you sure?" Of course, Mattia replied that he was very sure, and Beckie finally said, "Yes!" The crew took photos of the proposal and the other passengers cheered and applauded for the couple.
Beckie and Mattia chose Phipps as their wedding venue because of their love of the conservatory. Beckie grew up in Pittsburgh and had fond memories of Phipps and Mattia, who spent four years in Pittsburgh for graduate studies at CMU, was also familiar with and excited about the location. "Ever since we got engaged, Phipps just always seemed a fantastic place to get married," said Beckie.
The pair's Venice-themed wedding took place in the Outdoor Garden at Phipps during the summer of 2018. They chose their theme based on an inside joke that they shared about how Beckie thought Mattia might propose on a trip to Venice they took together. One of the most special things about the ceremony was that the couple each wrote five reasons why they love the other person and communicated them to their officiant privately. The pair did not know what the other had written until their officiant read them out loud at the ceremony to the couple and all of their guests.
Beckie and Mattia loved the Outdoor Garden at Phipps for its beauty and ability to create a unique atmosphere. Their favorite part was working with Phipps staff to plan the wedding and they applaud the events team for making the process feel so effortless while simultaneously bringing every detail of their day perfectly to life. "All of the Phipps staff literally went above and beyond to make our day so much more special and stress-free," says Beckie.
For now, the couple is still planning their honeymoon for 2019 and are deciding between an exotic beach trip or touring Europe's capitals! Currently, Beckie and Mattia are busy working in New York City, but plan on moving back to Pittsburgh in mid-August of this year!
Would you like to plan your special day at Phipps? Please contact our events team by email or by calling 412/315-0685.
Vendors
Flowers: Robin Powell of Ridgemont Farms
Photographer: David Chung

Photobooth and Green Screen: Michael Berreth of TapSnap

Music: Max Leak (ceremony) and DJ Sean R. (reception)

Transportation: Elite Coach Transportation

Cake: Bethel Bakery, Gluuteny and Prantl's Bakery

Officiant: Pittsburgh's Officiants, Rev. Dana Hardy Bingham