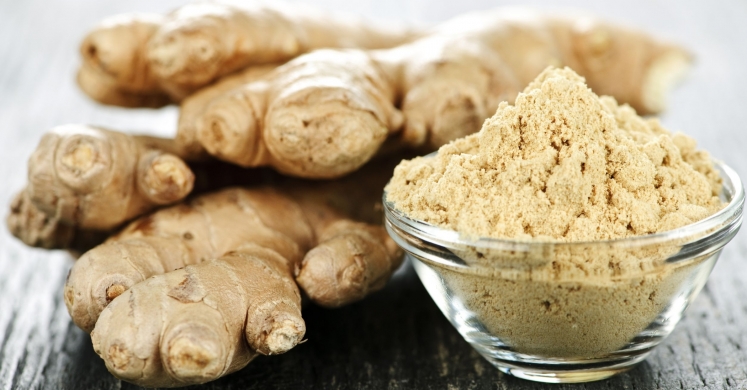 What We're Cooking With Now: Ginger
Looking for adventure in the kitchen? Our monthly What We're Cooking with Now post features a fresh produce ingredient, explains how to find the market's finest, and includes a recipe or suggestions to try at home.
Ginger
Why: Ginger is rich in antioxidants and low in calories and has a very strong flavor. It is high in Vitamins B-5 and B-6, potassium, manganese, copper, and magnesium.
Shopping Tip: Fresh ginger root should be firm, heavy, juicy and fragrant. The peels should be free of dark spots or mold. Ginger holds very well in the fridge, up to a month or longer.
Preparation: Ginger root is easily peeled with a spoon. It is easy to mince, and can be sautéed similarly to the way garlic is prepared and cooked. It is best added to recipes at the end of cooking to prevent from burning it. Frequently used in Asian and Indian cooking, ginger is great when added to a stir-fry and can also be boiled and used to flavor soups, sauces or teas.
Recipe: Sesame-Ginger Veggie Stir Fry
1 small head of broccoli, cut into small florets
½ cup snow peas
½ cup julienned carrots
1 cup chopped cabbage
¼ cup julienned white onion
3 Tbsp. minced fresh ginger (about 3 inches of fresh ginger root)
2 teaspoons of minced fresh garlic
¼ cup sesame oil
2 Tbsp. soy sauce
¼ cup water
1 Tbsp. cornstarch

Mix cornstarch, soy sauce and water until cornstarch is dissolved. Set aside.
Heat ½ of the oil in a pan and add the julienned onion, then cook for 2 minutes on medium heat. Add the rest of the vegetables and cook for 5 minutes, stirring often. Add the rest of the oil, then the ginger and garlic. Cook until you can smell the garlic, be careful not to let the garlic turn brown. Add the water, soy sauce and cornstarch mixture, and cook until it starts to thicken and coat the vegetables.
Add salt, pepper or chili paste to taste. Serve over cooked rice or noodles.