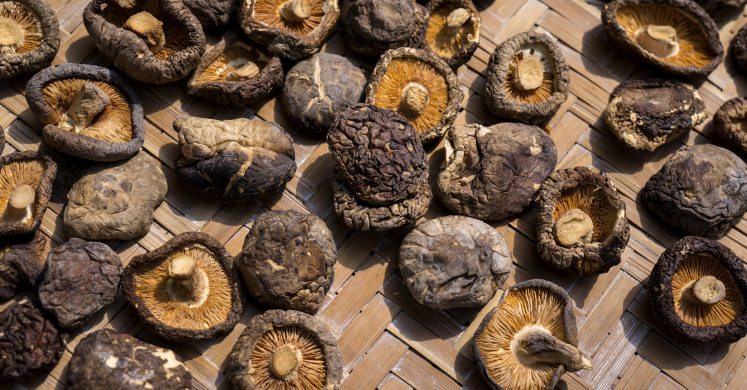 What We're Cooking With Now: Shiitake Mushrooms
Looking for adventure in the kitchen? Our monthly What We're Cooking with Now post features a fresh produce ingredient, explains how to find the market's finest, and includes a recipe to try at home.
Shiitake Mushrooms
Why: Low in calories good amount of fiber as well as vitamin B and health promoting compounds.
Shopping Tip: Look for shiitakes with the thickest caps. The sides of the caps should curl under. Avoid those that look wet or shriveled.
Preparation: Remove the stems and wash the caps. They can be grilled, sauteed or roasted. Add them to any recipe you would use button mushrooms to add a little more texture and depth of flavor to a recipe.
Recipe: Shiitake Mushroom Stir Fry
Ingredients:
2 tablespoons of sesame oil
2 tablespoons of garlic, minced
2 tablespoons of ginger, minced
10 shiitake mushrooms, stem removed and sliced
3 carrots sliced on a bias
1 cup of broccoli florettes
1 red pepper cut into strips
¼ cup of Water
½ cup of low sodium soy sauce
1 teaspoon of chili garlic paste
1 tablespoon of corn starch
In a wok or heavy bottom pan, saute the garlic and ginger in the sesame oil. Cook on medium high heat for a minute. Add carrots and continue to cook until the carrots are just starting to be fork tender. Add mushrooms, broccoli and red pepper. Cook until vegetables start to become tender. Deglaze the pan with the water. Add soy sauce and chili paste and cook for a minute. Mix cornstarch with a little water to make a pourable. Add cornstarch to hot liquid a little at a time. The sauce will thicken immediately. Stop adding cornstarch when you have reached desired thickness.