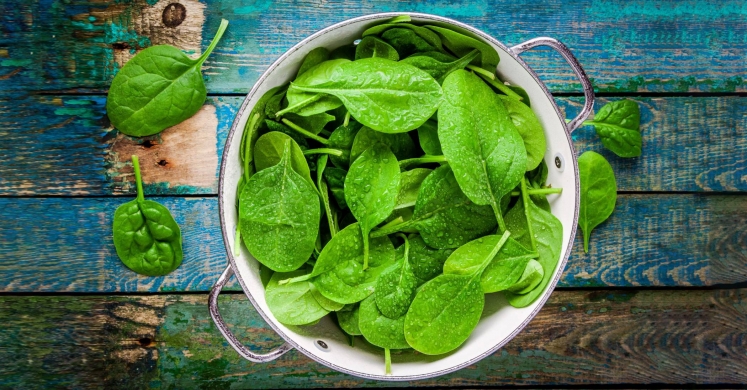 What We're Cooking With Now: Spinach
Looking for adventure in the kitchen? Our monthly What We're Cooking with Now post features a fresh produce ingredient, explains how to find the market's finest, and includes a recipe or suggestions to try at home.
Spinach
Why: Spinach is high in Vitamins K and A, and also contains Iron, potassium and fiber.
Shopping Tip: Look for vibrant deep green leaves and stems. Avoid signs of yellowing, wilting or bruised leaves.
Preparation: Spinach is wonderful to eat without any special preparation. If the leaves have heavy stems you may want to remove them. Spinach also a great addition to salad greens and particularly delicious when sautéed. Add it to soups, pasta sauces and other recipes to add some nutrients and color.
Recipe: Spinach Vichyssoise
2 large leeks, white and light green parts only, diced and rinsed
1 Tbsp. chopped dill, or to taste
1 bay leaf
5 cups vegetable stock
1 ½ lbs. Yukon potatoes (about 4 – 5, medium sized), peeled and diced
½ lb. spinach
Zest of one lemon
1 cup unsweetened almond milk
Salt and pepper to taste
Place leeks into a large pot and sauté until tender, about five minutes. Add the dill and bay leaf and cook for another minute. Add the vegetable stock and potatoes and bring to boil. Cook for 15 – 20 minutes until the potato is tender. Add the spinach, lemon zest and season with salt and pepper. Cook for another five minutes until spinach is wilted. Puree with an immersion blender or in batches in a blender with a tight fitting lid, covered with a towel. Return the soup to a pot add almond milk and chill until ready to serve.