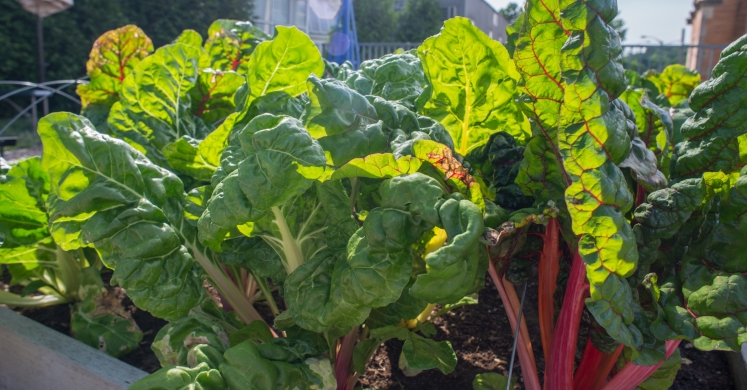 What We're Cooking With Now: Swiss Chard
Looking for adventure in the kitchen? Our monthly What We're Cooking with Now post features a fresh produce ingredient, explains how to find the market's finest, and includes a recipe to try at home.
Swiss Chard
Why: Swiss chard is a nutritional powerhouse — an excellent source of vitamins K, A, and C, as well as a good source of magnesium, potassium, iron and dietary fiber. One cup of chopped Swiss chard is only 35 calories and provides up to 300% of daily allowance of vitamin K.
Shopping Tip: Swiss chard should be stored in a chilled area of the grocery store. The longer it stays chilled, the more crisp and sweet it will be. Stalks should be firm and crisp, not wilted. The leaves should be bright green and shiny, not wilted or showing any brown or yellow spots or holes.
Preparation: Swiss chard has an earthy, mildly sweet flavor. Cut the leaves from the stalks, stack the leaves, and slice them thinly. Save the stems and cut them into thin pieces, like celery. The stems are fibrousand should be blanched in boiling water for 2 – 3 minutes to soften. The quick boil releases the acids in the stems, bringing out the natural sweetness. The leaves can be sautéed, just like spinach. The blanched stalks can be added to the sautéed leaves to add a bright color and a sweeter flavor profile to complement the earthy flavor of the leaves.
Recipe: Wine-Braised Swiss Chard with Shallots and Garlic
Ingredients
2 large bunch of Swiss chard
1 Tbsp. extra virgin olive oil
4 cloves of garlic
2 small shallots
½ cup dry white wine (even slightly stale wine is fine)
Salt and pepper to taste
Directions:
Fill up a pan with water and bring to a boil. Cut the leaves from the stalk. Rinse the leaves quickly under cold water and then pat dry. Stack the leaves and slice them thinly. Cut the stalks into thin, 1" long pieces like celery. Add the stalks to the boiling water and blanch for 3 minutes uncovered. Drain and discard the water.
Mince the garlic and shallots together.
Heat the extra virgin olive oil in a sauté pan and add the blanched stalks, then cook for 2 minutes. Add the leaves, and cook until wilted. Add the shallots and garlic and saute for 1 minute until fragrant. Immediately add the wine before the garlic starts to brown. Cook until the wine has almost completely evaporated, then add salt and pepper to taste. The braised Swiss chard will have a sweet and earthy flavor profile which is a nice complement to just about any protein on a main course and can also be used as a topping to a pasta, polenta or side dish.