Summer Flower Show: The Hidden Life of Trolls
Opens SAT., MAY 9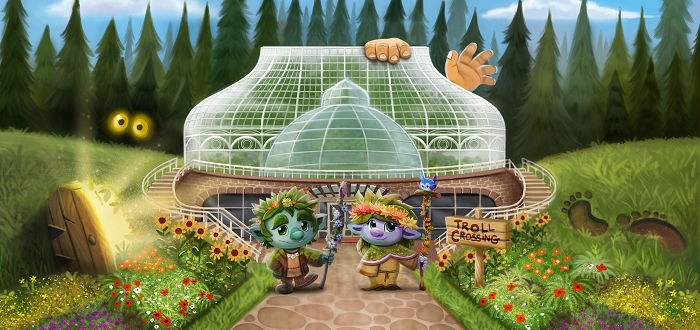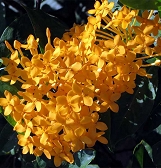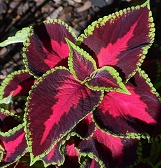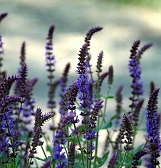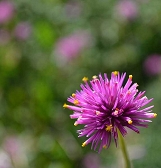 Join us for a magical adventure throughout the conservatory this summer!
Starting Sat., May 9, prepare for a magical adventure at Summer Flower Show: The Hidden Life of Trolls! Featuring massive, one-of-a-kind displays of trolls inspired by the mythological creatures found in Scandinavian folklore, this immersive, interactive exhibit is unlike anything Phipps has displayed before.
Surprises await upon every turn – but fear not! Upon entry to the conservatory, guests will encounter two friendly trolls who will prepare them for the adventure ahead, introducing each unique troll to come and giving tips for how to handle the most mischievous. Guests should heed the advice wisely because sharing the Palm Court with the two troll guides is a six-eyed topiary troll standing at 6 feet tall and made of grasses and dried plant materials.
As guests traverse through the conservatory, the adventure continues! In the Serpentine Room, follow the path under a rustic, ivy-covered stone bridge where a troll crouches by a fire, asking riddles which guests must answer before he allows them to pass. This troll has stored trinkets throughout the room, and clever guests may notice that the answers to the riddles are hidden among the treasures!
Other magical features throughout the show include a whimsical troll in the South Conservatory taking the tradition of 'forest bathing' quite literally as he washes up in a pond in the center bed of the room. Four massive muddy footprints lead to the bank of the pond, where the troll sits at 10 feet tall, scratching his back with a broken-off branch of a nearby tree. His body is made of dried plant materials, while fluffy ferns create his hair and beard.
In the Victoria Room, an island planted with buttonwood trees, willow trees and a variety of flowers and grassy plants floats atop a pond. This seemingly calm feature will come alive upon closer inspection as it is revealed to be a troll living under the water! Guests can push buttons on an interactive panel to watch him growl and shoot water in the air.
The large trolls are not the only trolls in this show, however, as guests should keep an eye out for several dozen tiny doors throughout the conservatory which they can open to reveal a series of tiny trolls hiding behind!
Summer Flower Show: The Hidden Life of Trolls, designed by Associate Director of Exhibits Jordyn Melino, opens Sat., May 9. Hours are 9:30 a.m. – 5 p.m. dailyand 9:30 a.m. – 10 p.m. on Fridays.
More Events You'll Enjoy
May 8 – 9; Friday, 9:30 a.m. – 7 p.m.; Saturday, 9:30 a.m. – 5 p.m.

A fun family outing held just before Mother's Day, our 84th annual May Market features a wide selection of plants, gardening accessories, handmade goods and more.

Now Open

Experience the natural beauty and culture of Cuba, one of the most biodiverse Caribbean island nations on Earth, in our immersive new Tropical Forest exhibit.

Free with Admission Mondays, Wednesdays and Fridays, Plus Additional Days As Available

Join us for one of our weekly scheduled Discovery Programs to engage our youngest visitors with the wonders of the natural world. All programs are free with admission and require no advance registration.