As a busy landscaper, you need quality continuing education to stay ahead of the sustainable curve. Our programs are taught by experts in the fields of horticulture, arboriculture, turf management, and forestry. These classes are designed to help landscapers build the skills they need to offer more environmentally-friendly services while taking care of their bottom line.
For more details about our programs, or to receive personalized class recommendations from our helpful staff, please feel free to contact us at edu@phipps.conservatory.org.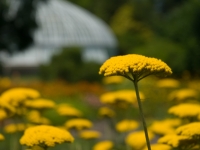 Sustainable Landcare Accreditation Program
2022 Training Open for Registration!
Tuesdays and Thursdays: Feb. 1, 3, 8, 10, 15, 17, 22 and March 1, 3 6 – 9 p.m. (online)
Fri., Feb. 25; 8 a.m. – 5:30 p.m. (in person at Phipps Special Events Hall)
Presented as a live webinar through Zoom with one day mandatory in-person training
Rate for Professional Landcare Providers:
$350 on or before Jan 11, 2022 ($400 after)
(additional attendees from the same business receive a 50% discount)
Reduced Rate for Environmental Nonprofits and Government and School Grounds Staff:
$262.50 on or before Jan 11, 2022 ($312.50 after)
Scholarship Opportunities:
Partial scholarships are available for nonprofit, government and school staff as well as qualifying individuals. Download and complete our application and return to Juliette Olshock at jolshock@phipps.conservatory.org for consideration.
CEUs pending in the following areas:
PA Certified Horticulturist
Sustainable Landscape Certification
Pesticide recertification training credits
ASLA
APLD
To learn more, see our complete Sustainable Landcare standards and curriculum.
Virtual Native Plant and Sustainability Conference
Thursday, January 27, 2022 | 1 – 4 p.m.
Early registration (ends Jan. 7):
Members: $40 | Non-members: $45
Late registration:
Members: $50 | Non-members: $55
Virtual program through Zoom
1 – 1:15 p.m. - Introduction and Welcome
1:15 – 1:45 p.m. - Certified Organic Ornamentals: The how and why of a new approach to tree production, Steve Black, Owner Raemelton Farm
In 2015 Raemelton Farm became the first and only nursery in the United States to sell USDA Certified ORGANIC B&B trees. The Organic market is no longer a hippie thing; consumers now put a value on the way in which plants are produced. In addition to a more valuable end product, Organic production also protects and sustains the farm ecosystem. Healthier soil, cleaner water, more beneficial insects (and animals) all make for continuous improvement in tree production and plant health. The presentation will cover Raemelton's innovative techniques for pest and weed control, soil conservation, and farm management.
Steve Black is Owner and Operator of Raemelton Farm, Adamstown Md. Raemelton Farm produces landscape-ready B&B trees and shrubs for the Mid-Atlantic and Northeastern markets. Steve started the farm in 2004 and grows nearly 350 different species and cultivars, including many USDA Certified Organic landscape trees. In addition to farming, Steve is Past-President of the Maryland Nursery, Landscape, Greenhouse Association (MNLGA), he has served on two USDA Specialty Crop Research Initiative Advisory Boards, and is a member of the board of the University of Maryland's Harry R. Hughes Center for Agro-Ecology.
1:50 – 2:20 p.m. - Spotlight on Native Plants, Jess Horenstein, Phipps Outdoor Foreman
We will spotlight 10 native plants from our collection of Phipps recommended Sustainable Plants. Learn how they grow and where to fit them into your landscape. Then you can pre-order with our Native Plant Pre-Sale and pick up just in time for planting in the spring.
Jess Horenstein is the Outdoor Foreman at Phipps. She worked for several years for a private landscaper before getting hired at Phipps. Before that she worked for the Audubon Society and several zoological institutions in avian care before getting interested in horticulture. She is an avid birder and native plant enthusiast.
2:25 – 2:55 p.m. - Sustainable Garden Awards Winners, Juliette Olshock, Phipps Sustainable Landcare
The Sustainable Garden Awards started in 2021 with the goal of inspiring Western Pennsylvania residents to design and maintain gardens that are both environmentally friendly and beautiful. With so many wonderful gardens to choose from this year, it was a challenge to decide on the winners. We are happy to announce the champions from the following categories: Native Plantings and Wildlife Gardens, Micro-Gardens, Abundant Edible Gardens and Gardens for Personal Retreat (large and small!).
Juliette Olshock is the Sustainable Landcare Program Coordinator for Phipps Conservatory and Botanical Gardens, where she organizes trainings and educational opportunities for local landcare professionals and homeowners focusing on sustainable landcare principles and practices. Juliette enjoys growing a variety of plants, learning about local wildlife and creating a backyard oasis at her home in Hazelwood.
3 – 4 p.m. – The Fundamentals of Garden Layers, Benjamin Vogt, Owner Monarch Gardens
When designing any garden, there is an opportunity to eschew the norms of beauty as the only priority. With careful planning, we can create a space that works in harmony with nature, expands biodiversity, builds healthy soil, and nurtures pollinators and other wildlife. Let's learn from natural plant communities to increase ecosystem function and climate resilience at home in our designed gardens. From the fundamentals of seasonal and yearly plant succession, to using plant reproduction and sociability to fill ecological niches, the right native plant communities make all the difference for beautiful gardens both wildlife and people crave.
Benjamin Vogt owns Monarch Gardens, a prairie-inspired design firm. His landscapes have been featured in Garden Design, Fine Gardening, and The American Gardener. Benjamin speaks nationally on a variety of topics and is the author of A New Garden Ethic: Cultivating Defiant Compassion for an Uncertain Future and the forthcoming Prairie Up: An Introduction to Natural Garden Design (fall 2022).
Approved for 2.00 PCH CEUs and 2.00 SLC CEUs. Additional CEUs are pending. Please provide your professional license number at registration to receive credit.