Achieving WELL at the Exhibit Staging Center
Project Stats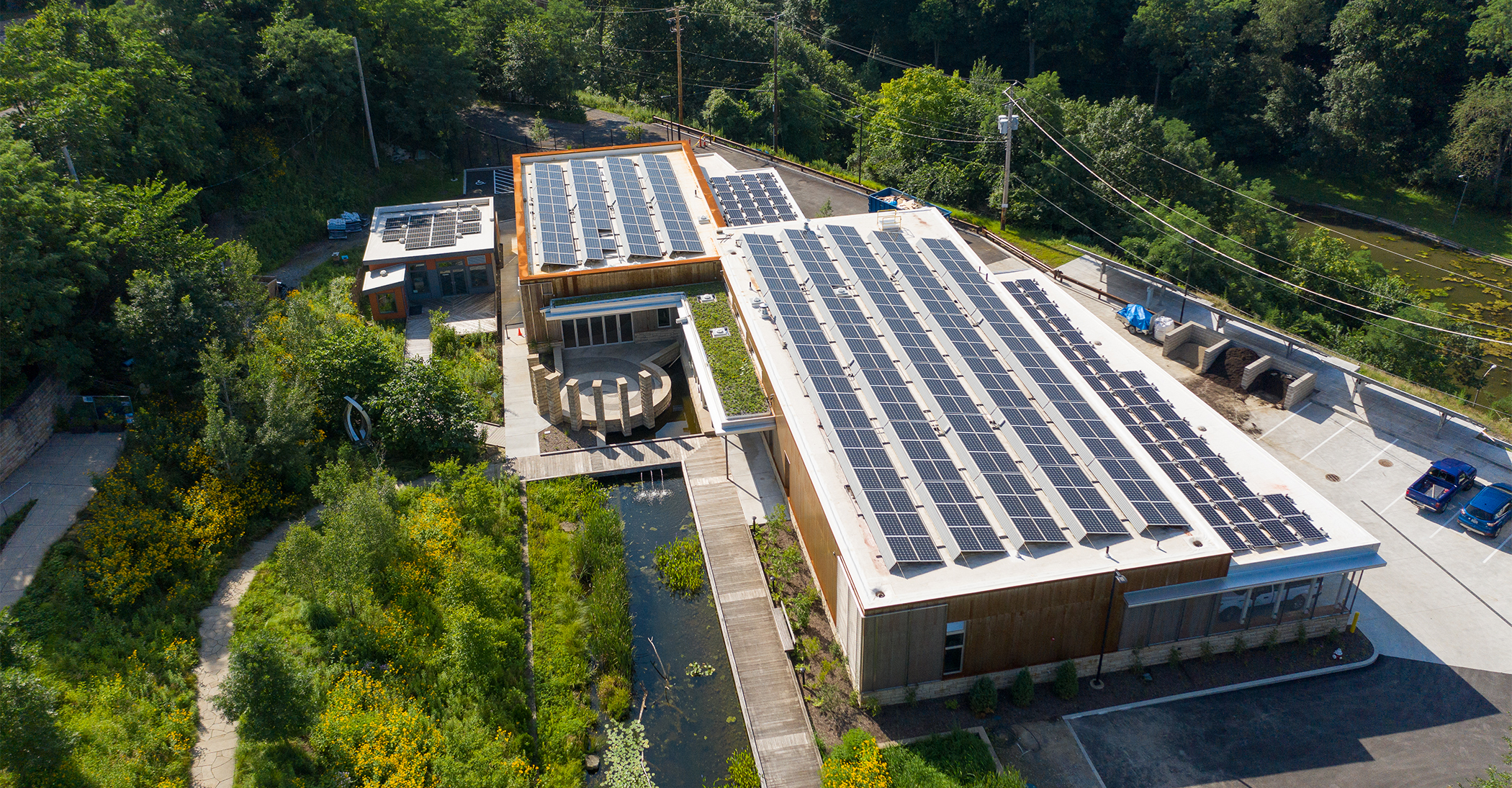 Name: Exhibit Staging Center
Location: Pittsburgh, PA
Size: 10,670 square feet
Type: Maintenance and Employee Wellness Facility
Certification: WELL version 2 pilot Platinum
---
Certification Timeline
| | |
| --- | --- |
| November 2017 | Construction begins |
| August 2018 | ESC registered as WELL project |
| May 2019 | ESC opens |
---
Certification Features
The WELL Building Standard is a performance-based certification system that focuses on the health and wellness of building occupants. It contains ten categories. Click below to reveal more information about each:
Air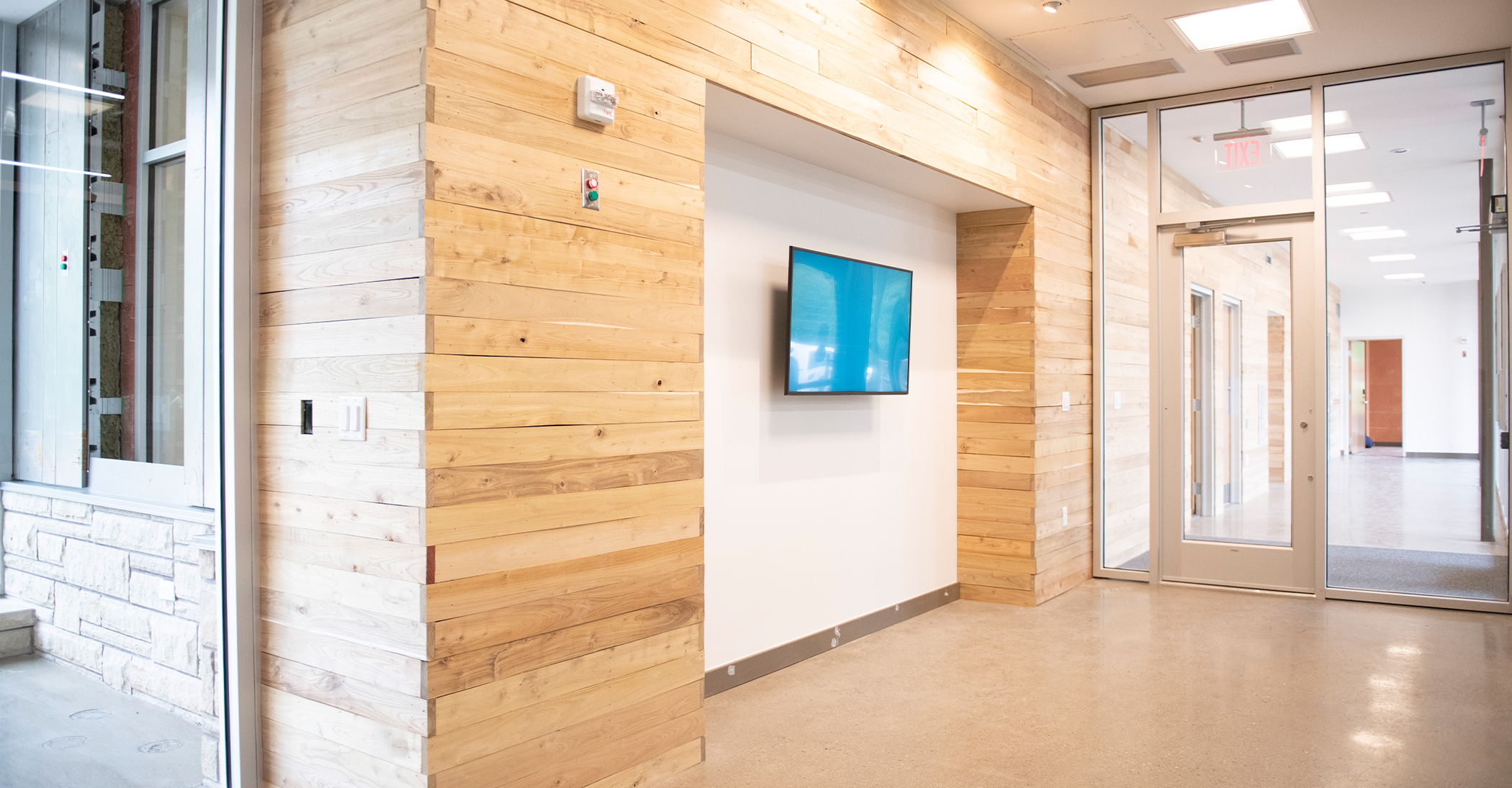 Indoor air quality isn't always the best. VOC levels indoors can be up to five times higher than outside! To help combat this problem, none of the interior finishes and furnishings used at the ESC contain any items on the Living Building Challenge Materials Red List, a list of chemicals and materials that are harmful to humans. Indoor and outdoor air quality sensors at the ESC, whose measurements are viewable with the use of an air quality dashborad, also monitor conditions to determine when outdoor air quality is better than indoors and opens the building's windows to let in fresh air. NanaWalls are also used to increase air flow on warm days.
Air Features Pursued:
Preconditions:
Fundamental Air Quality
Smoke-Free Environment
Ventilation Effectiveness
Construction Pollution Mangement
Optimizations:
Enhanced Air Quality
Enhanced Ventilation
Pollution Infiltration Management
Combustion Minimization
Air Filtration
Active VOC Control
Microbe and Mold Control
Water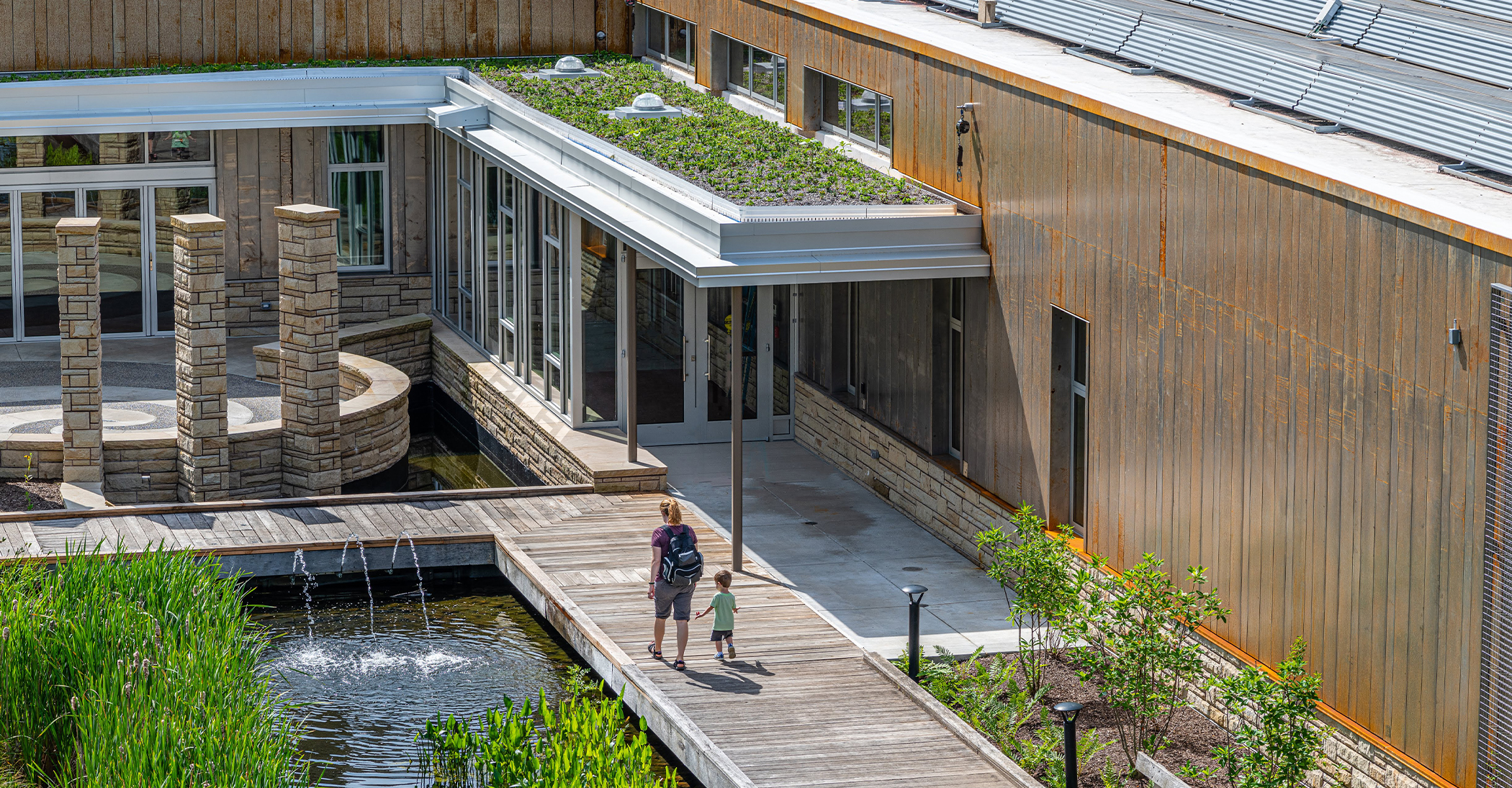 Filtered, potable water provided by the Pittsburgh Water and Sewer Authority meets all specified criteria for suspended solids, dissolved materials, chlorine, fluoride, and water hardness. All non-potable water, or storm and sanitary water, generated by the ESC is treated onsite with filters and is used for toilet flushing. Once treated, the non-potable water is cleaner than municipal water!
Water Features Pursued:
Preconditions:
Fundamental Water Quality
Water Contaminants
Legionella Control
Nourishment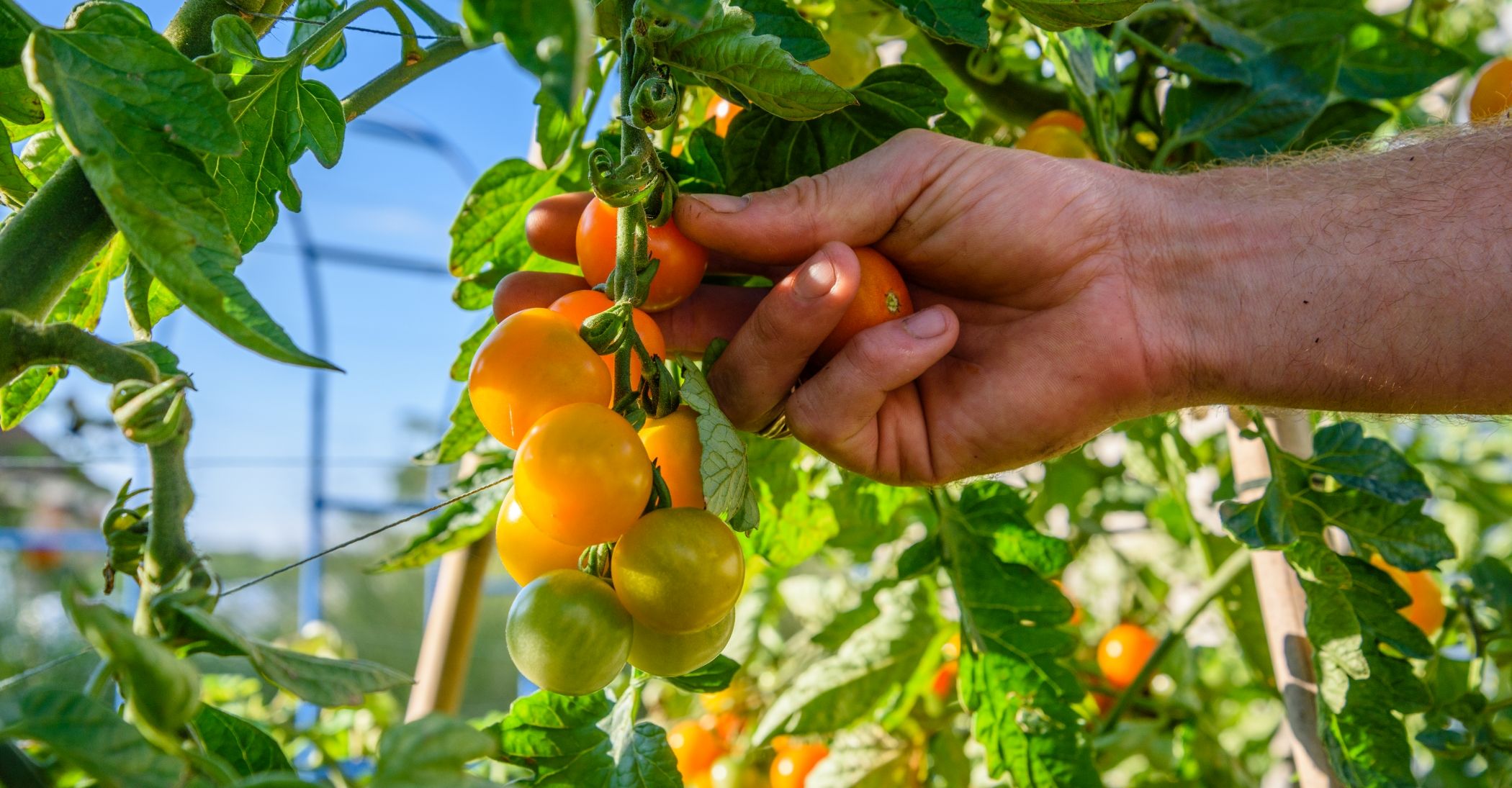 Café Phipps features local and organic foods and utilizes produce grown in on-site display gardens. All food provided at the ESC contains 100% organic produce and vegetarian-fed meat and dairy free of growth hormones and antibiotics. Filtered water is available for all staff and visitors.
Nourishment Features Pursued:
Preconditions:
Fruits and Vegetables
Nutritional Transparency
Optimizations:
Refined Ingredients
Food Advertising 
Artificial Ingredients
Mindful Eating
Special Diets
Food Preparation
Responsible Food Sourcing
Local Food Environment
Light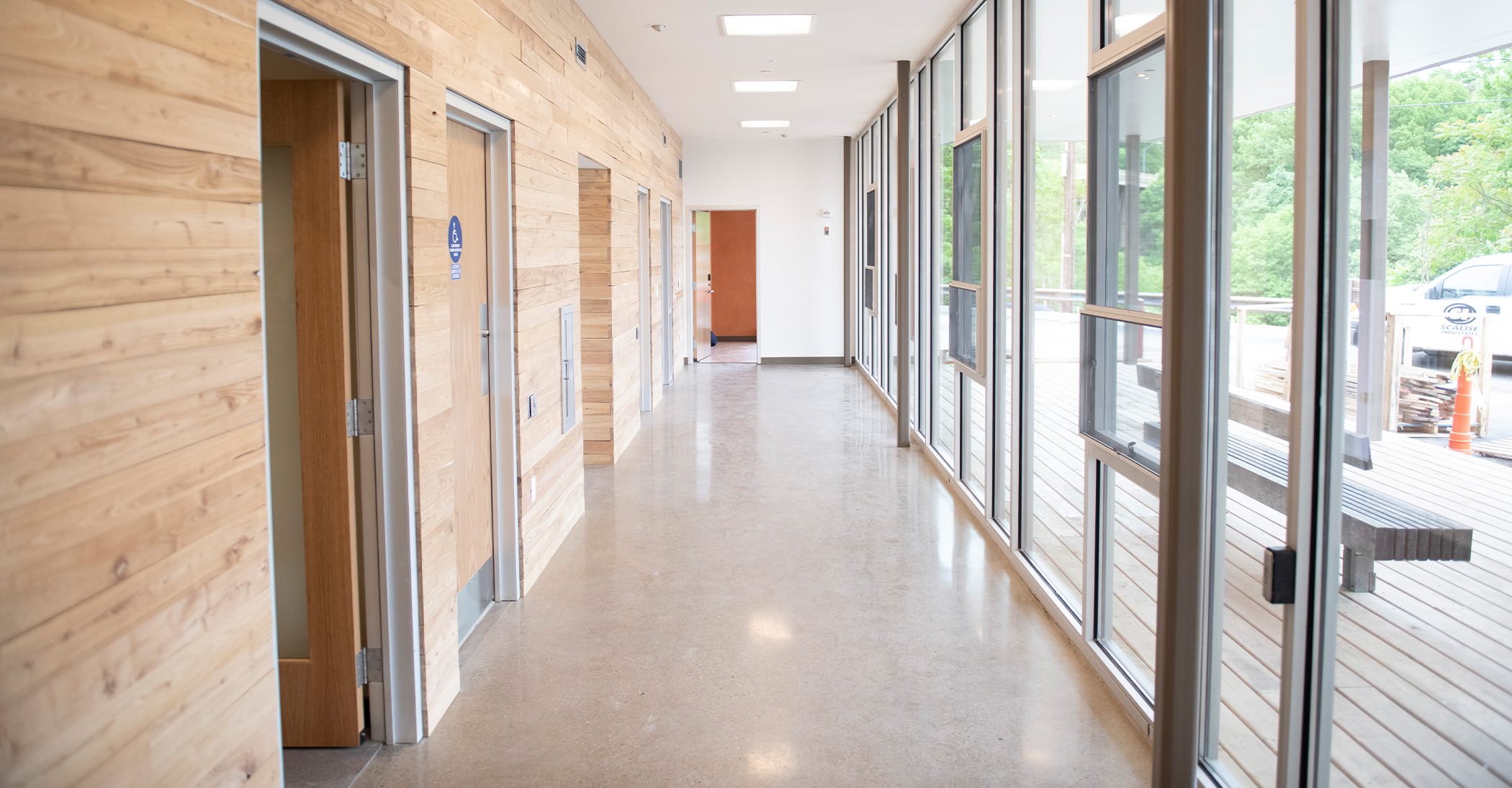 To minimize the use of harsh overhead lights, windows and NanaWalls are placed amply and strategically around the building for the use of daylighting.
Light Features Pursued:
Preconditions:
Light Exposure and Education
Visual Lighting Design
Optimizations:
Circadian Lighting Design
Glare Control
Enhanced Daylight Access
Visual Balance
Electric Light Quality
Occupant Control of Lighting Environments
Movement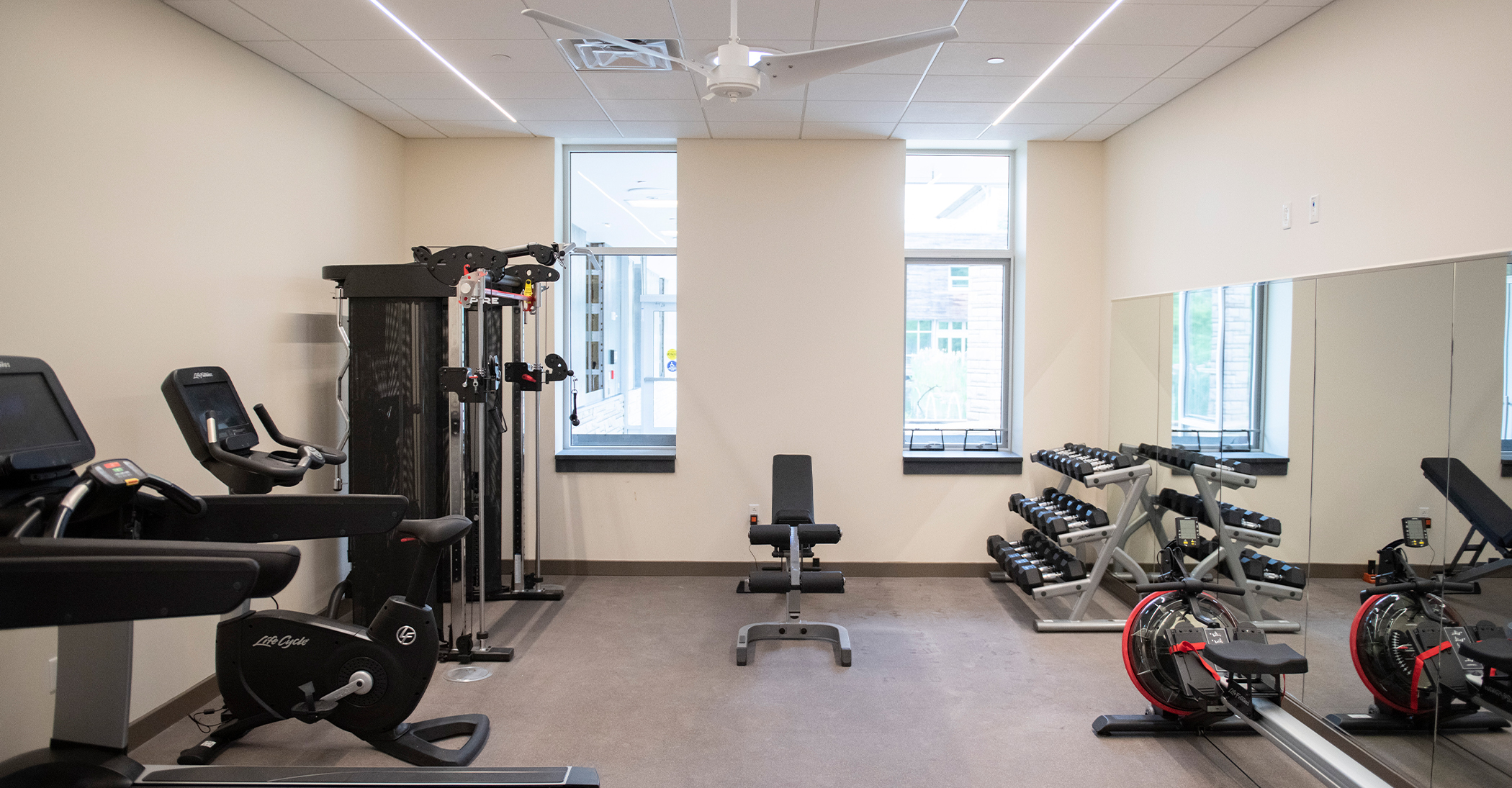 The design of the ESC, with its wide, well-lit hallways offering stunning views of the nearby Schenley Park, promotes movement throughout the space. Yoga and fitness rooms also afford staff opportunities for fitness throughout the day. Additionally, the building is situated within Schenley Park, which provides ample trail access for staff to enjoy.
Movement Features Pursued:
Preconditions:
Active Buildings and Communities
Visual and Physical Ergonomics
Optimizations:
Movement Network and Circulation
Active Commuter and Occupant Support
Site Planning and Selection
Physical Activity Opportunities
Active Furnishings 
Physical Activity Spaces and Equipment
Exterior Active Design
Thermal Comfort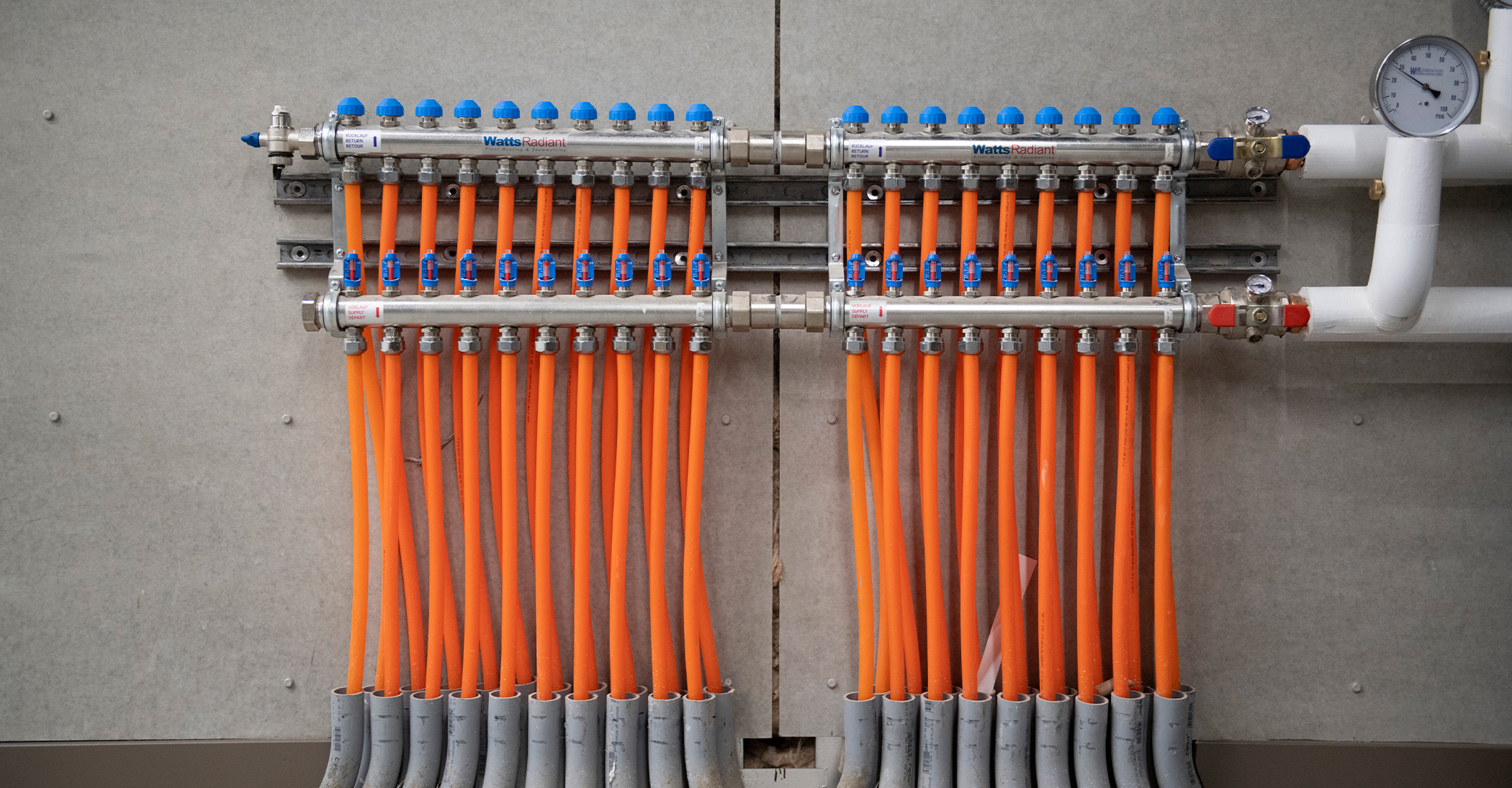 Thermal comfort is highly subjective. To maximize individual modifications, humidifiers and personal fans are provided, building windows can be opened manually when outside air quality conditions allow, and building occupants can adjust zoned temperature controls to address temperature. 
Thermal Comfort Features Pursued:
Precondition:
Optimizations:
Enhanced Thermal Performance
Thermal Zoning
Individual Thermal Control
Radiant Thermal Control
Humidity Control
Sound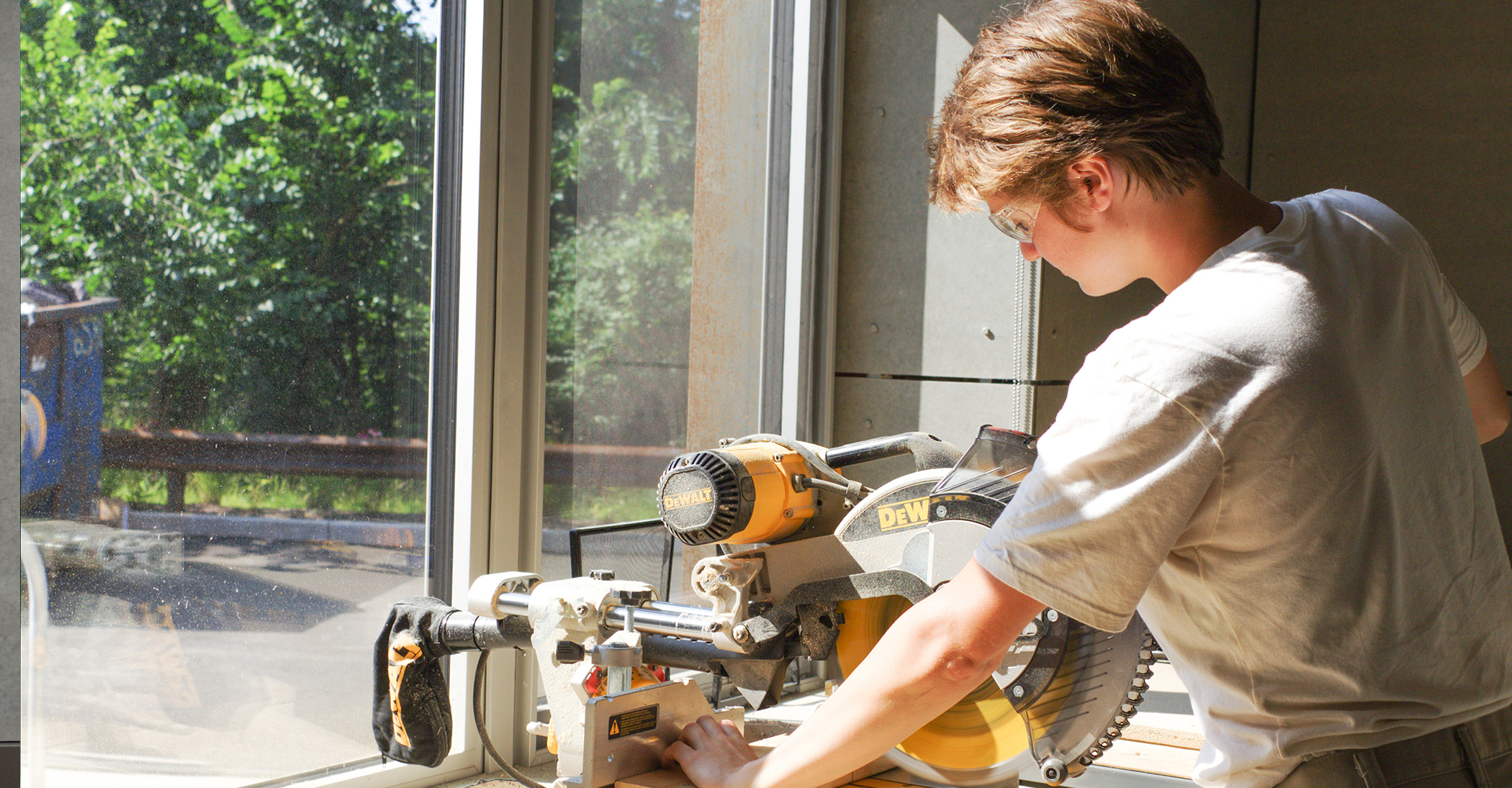 Given the range of uses in the ESC, from an active workshop to staff offices to a meditation space, particular attention was paid to noise control to ensure the mix of uses did not disturb occupants. Sound-absorbing materials and thoughtful design measures were incorporated to locate like uses together. 
Sound Features Pursued:
Precondition:
Optimizations:
Maximum Noise Levels
Sound Barriers
Sound Absorption
Materials
Phipps adheres to the precautionary principle, electing to purchase and install materials vetted to ensure environmental and human health. Especially relevant on a remediated brownfield site, these materials include building products, interior furnishings, and paints. Health impacts of cleaning products are also reviewed to ensure the safety of both building occupants and housekeeping staff.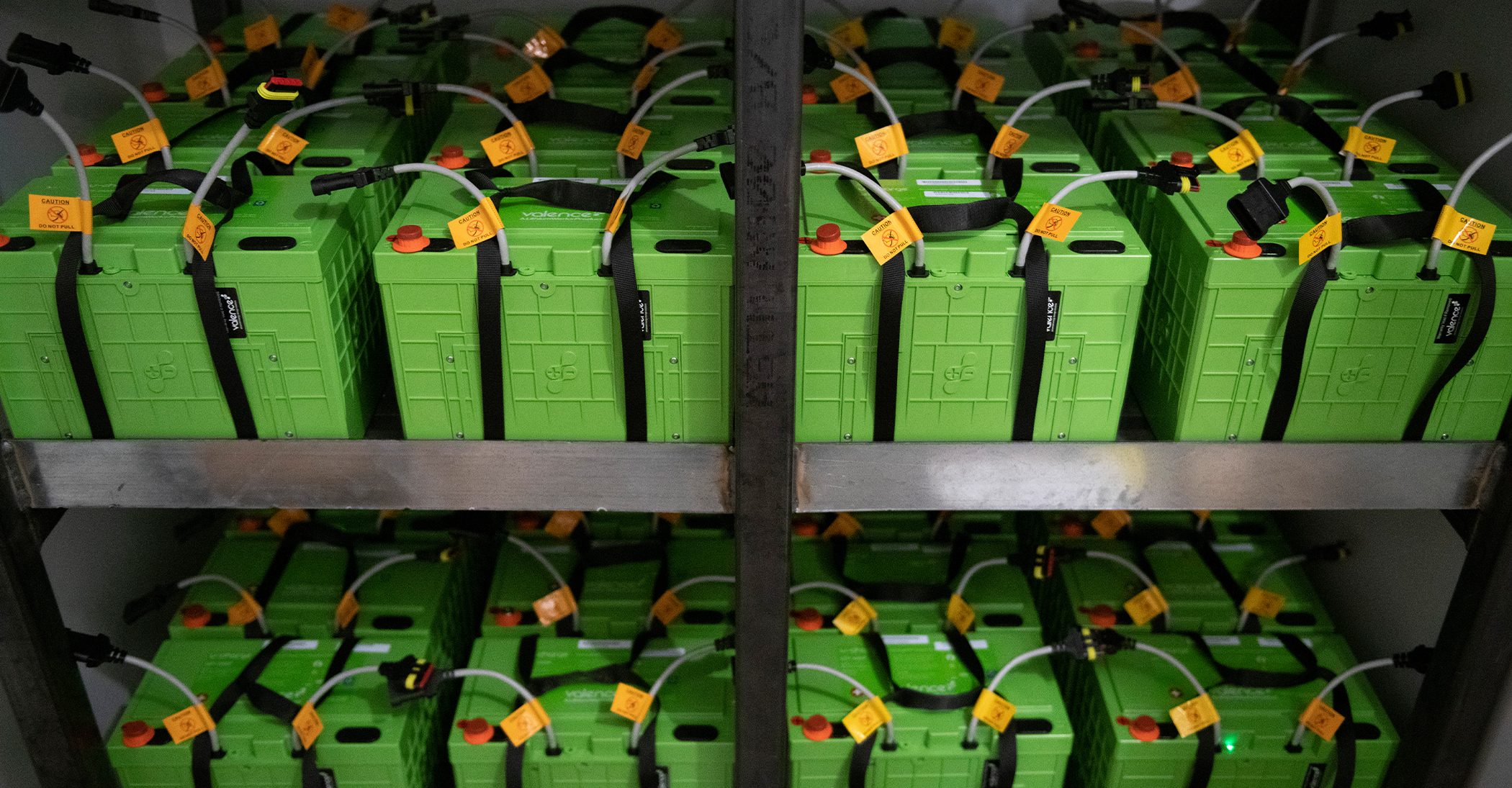 Materials Features Pursued:
Preconditions:
Fundamental Material Precautions
Hazardous Material Abatement
Outdoor Structures
Optimizations:
Site Remediation
Pesticide Use
Hazardous Material Reduction
Cleaning Products and Protocol
Volatile Compound Reduction
Long-Term Emission Control
Short-Term Emission Control
Enhanced Material Precaution
Mind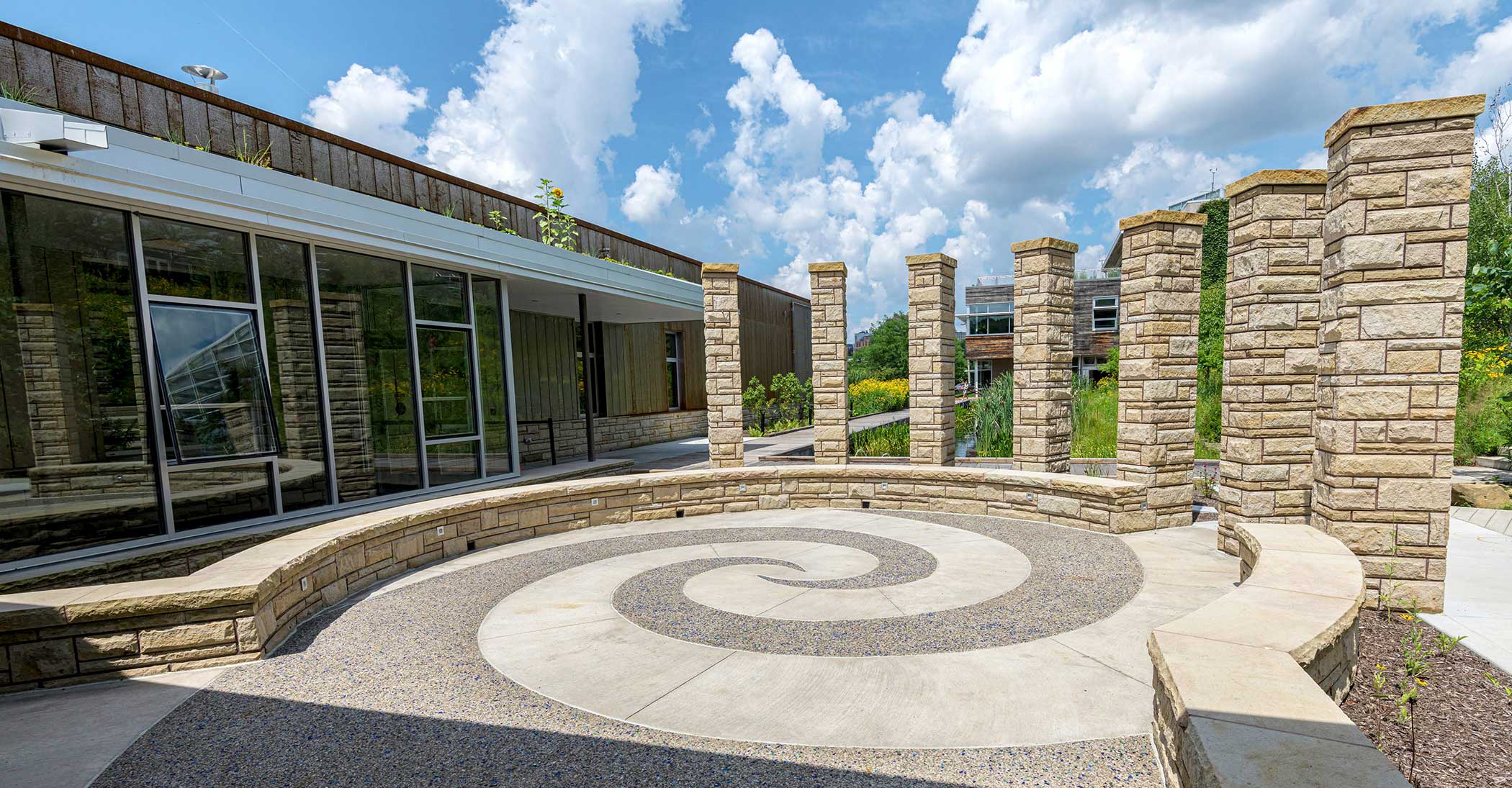 Biophilic design principles are incorporated throughout the ESC, including the use of light, nature-inspired artwork, tall ceiling heights, and expansive views. The building is also situated near the lower campus sustainable landscape area and immediately adjacent to Schenley Park, both of which provide direct access to nature. 
Mind Features Pursued:
Preconditions:
Mental Health Promotion
Access to Nature
Optimizations:
Mental Health Support
Stress Support
Enhanced Access to Nature
Tobacco Prevention and Cessation
Substance Use Education and Services
Community
To develop a culture of health, the building was designed in an integrative manner, taking into account input from a variety of stakeholders. Ongoing occupant satisfaction is collected via quarterly survey. 
Community Features Pursued:
Preconditions:
Health and Wellness Awareness
Integrative Design
Occupant Survey
Optimizations:
Health Services and Benefits
Health Promotion
Community Immunity
For more detailed information on the WELL Building Standard, visit the WELL website.