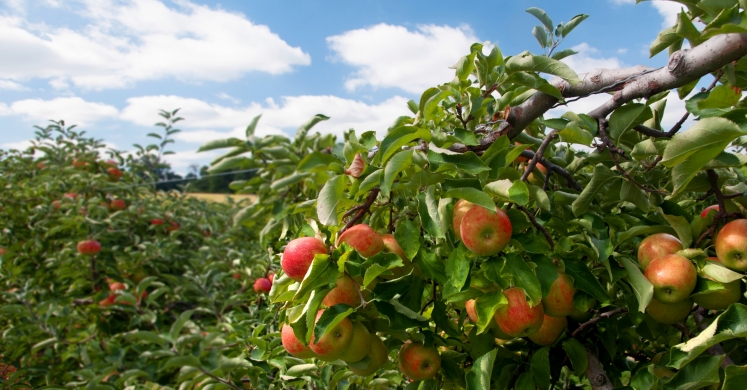 #bioPGH Blog: Apples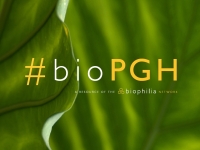 A resource of Biophilia: Pittsburgh, #bioPGH is a weekly blog and social media series that aims to encourage both children and adults to reconnect with nature and enjoy what each of our distinctive seasons has to offer. From the best times to plant seasonal flora and enjoy their peak blooms, to astronomical events and creatures to keep an eye and ear out for, Phipps will keep you in the know with what's going on in our environment!
Nothing pairs better with a pumpkin patch than an apple orchard and there are several to choose from right here in Pittsburgh. With the variety of colors, tastes and textures that this iconic fruit comes in it is no surprise as to why it is one of the most popular species of fruit. Apple trees (Malus domestica) are deciduous trees, meaning they shed their leaves annually, and are also members of the Rosaceae family. That's right, apples are in fact related to roses and similar to roses there are also hundreds of species of apple trees. In fact, one species of apple tree, the Hawthorn tree, even comes equipped with long, sharp thorns!
Connecting to the Outdoors Tip: Did you know that Pennsylvania is home to the National Apple Harvest Festival? Although it may not seem like it there are several local farms that allow you to 'pick your own' produce from pumpkins to apples in and around Pittsburgh! October is the ideal month for apple picking and it's not too late to head out to a local farm or orchard such as Trax Farm, Triple B Farms or Soergel Orchards to harvest your own apples. If you don't have time to travel to an orchard, however, you can visit some of these local farms right on Phipps' front lawn during our last Farmers at Phipps event of the season next Wed., Oct. 28 from 2:30 – 6:30 pm. Being the versatile fruit that they are, apples can be used for everything from baking to crafting! Take a break from the traditional apple pie and add some flare to your desserts while paying a little homage to the Rosaceae family by crafting some decorative, edible rose pastries from thin slices of apple. If you have a set of little hands that you need to keep busy while baking, you can keep with the theme of the season and cut leftover apples in half to create quick and simple apple or pumpkin paint stamps that little ones can easily decorate!
Continue the Conversation: Share your nature discoveries with our community by posting to Twitter and Instagram with hashtag #bioPGH, and R.S.V.P. to attend our next Biophilia: Pittsburgh meeting.
Additional Resources:
U-Pick Farms - VisitPittsburgh
Find the Perfect Apple - Pennsylvania Apples
Apple Rose Pastries - The Love Nerds
Pumpkin Apple Stamps - Frugal Mom Eh
Farmers at Phipps
Photo © Paul g. Wiegman