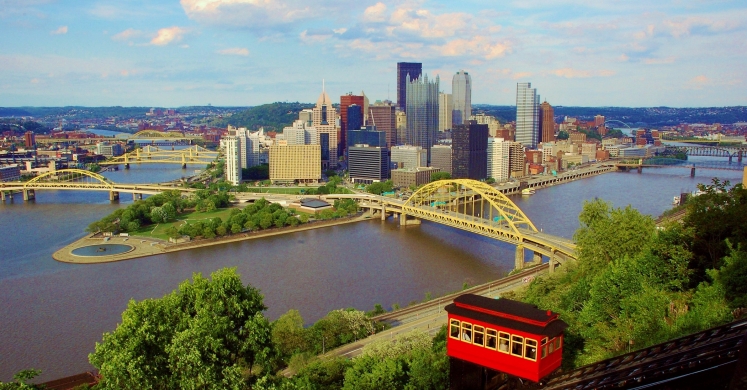 #bioPGH Blog: The Trees of Pittsburgh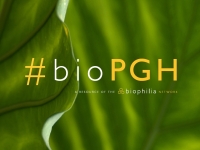 A resource of Biophilia: Pittsburgh, #bioPGH is a weekly blog and social media series that aims to encourage both children and adults to reconnect with nature and enjoy what each of our distinctive seasons has to offer.
As students are heading back to the classroom, I can't help but remember my freshman year of college…and how a space among the trees helped when my whole world felt overwhelmingly new. As excited as I was for my academic adventure, the newness quickly became a whirlwind of lab notebooks, calculators, and names that I kept forgetting. Lucky for me, though, I found a space that recharged me —a place where even though I was in the middle of town, I could feel like I was surrounded by a forest. I had found a place in the trees. Technically, what I found was "my" spot in a city park, right off campus. Something about being surrounded by ancient giants gave me a sense of continuity and calm, and I could feel my stress level go down and my motivation go up after just a few minutes of listening to the rustling of leaves - Alright, bring on the next research paper!
That magic that I experienced in those days was really mixed in with some biology. Trees change the dynamic of a city and its people, and they have an incredible impact on everything from infrastructure to public health to economics. My own story aside, here are a few other evidence-based examples:
Mature trees stabilize hillsides—a benefit that cannot be overlooked in cities built into hills like Pittsburgh.
Strategically placed urban trees can lower urban heat island temperatures by 4 to 15 degrees Fahrenheit during warmer months, which lowers climate control costs for buildings and reduces the health impacts of heat waves.
Trees reduce storm water damage. Urban trees absorb water from rainfall events, reducing the amount of water that floods or flows into streams and sewers.
Trees stimulate the economy. Tree-lined business districts tend to have higher revenues than tree-free or low-tree areas. Shoppers spend more time in business districts with more trees and will even pay higher parking fees to patronize business districts with greater tree cover.
City trees provide habitat for urban wildlife, which can increase in biodiversity.
Trees reduce physiological indicators of stress, such as blood pressure and levels of the "stress hormone" cortisol, and their presence also reduce self-reported stress from study participants.
Trees manage air pollution by catching fine particulates that are in the air. This can offer some relief to those suffering from respiratory illness or really just any of us who want to breathe clean air.
Trees capture carbon and convert carbon dioxide, helping to combat climate change.
Pittsburgh has well over 40,000 trees representing at least 226 species within the city limits. Over half of these trees are in residential areas, and roughly a quarter of our trees are in parks and commercial areas. The numbers sounds promising, but Allegheny County overall has had a bit of a problem since 2010 with tree loss—10,148 acres of tree cover loss, to be exact. While some of the decline can be traced back to invasive pests like emerald ash borer or the loss of aging trees, the vast majority comes from human activity. If you love nature, this is disheartening on its own; but it's also problematic because of the many benefits of trees in urban landscapes mentioned already.
With all of this in mind, what are a few things that we can do about to help the tree population in our city? I talked to Joe Stavish, Community Education Coordinator for TreePittsburgh to get some ideas.
What are some species that Tree Pittsburgh would recommend for folks to plant at home?
Tree Pittsburgh often gets asked about the best trees for a yard. There is not a simple answer as many factors should be considered. It is best to consider why you would want a tree; spring flowers, shade, fall color, edible fruits, privacy, winter color (evergreens trees), wildlife habitat and more. The Arbor Day Foundation has a great online tool (Tree Wizard) to help narrow down the search based on multiple answers you input. It will generate a list of trees that would do well in that area. The big theme is "Right Tree Right Place" as there are often conflicts with underground and aboveground utilities. The next step would be finding a nursery that sells the species you select and to ensure that there are no current pests and diseases associated with your choice. Phipps has a recommended local nursery webpage here. City of Pittsburgh Forestry has an approved species list for street trees in different situations and is worth a look. There are also other resources on their website when it comes to city code and plating trees in the sidewalks.
If someone wanted to plant trees of their own, what would you say is the best time to plant trees in our area?
The best time of year to plant trees are spring (April) and fall (October-November). Remember that trees will need to be watered during the growing season (April through November) as they go into transplant shock and can easily dry up.
How can folks get involved with urban forests in Pittsburgh?
There are many ways to become involved with the urban forest. One way is to plant trees. Tree Pittsburgh will be posting the fall planting schedule on our event calendar soon. You can also attend one our tree care events. We call them mulching parties as we pull weeds and spread new mulch around city trees. Newly planted trees really need care for the 3 years after planting to ensure they become established. Another way is to care for trees and take a course to become a Tree Tender. Over 1800 residents have graduated through the course which cover tree biology, identification, pests and disease, proper planting techniques, aftercare, pruning, and stresses the benefits and environmental services provided by trees.
Or you can put in an application for free street trees through the TreeVitalize Pittsburgh grant program, which currently supports street tree plantings within the City of Pittsburgh by providing forestry expertise, trees, supplies, and planting event coordination for neighborhood groups. The Spring 2019 TreeVitalize application for community tree plantings in Pittsburgh is now available. Learn more here.
Any other suggestions?
Get out and enjoy trees every season. Check out Tree Pittsburgh's resource page for information on selecting an arborist, benefits of trees, Pittsburgh's 20 year Urban Forest Master Plan and more! Also, get a free tree at one of our fall giveaways. We will be posting information soon with all the details, but mark your calendar for Saturdays, October 13 and November 3 as we have selected these days to give away 500 trees sponsored by Duquesne Light Company and the Arbor Day Foundation.
Thanks, Joe! So if you're reading this and thinking about planting trees either at home or as part of a group effort, check out any of the above resources or see the Arbor Day Foundation's suggestions—and always remember to call before you dig!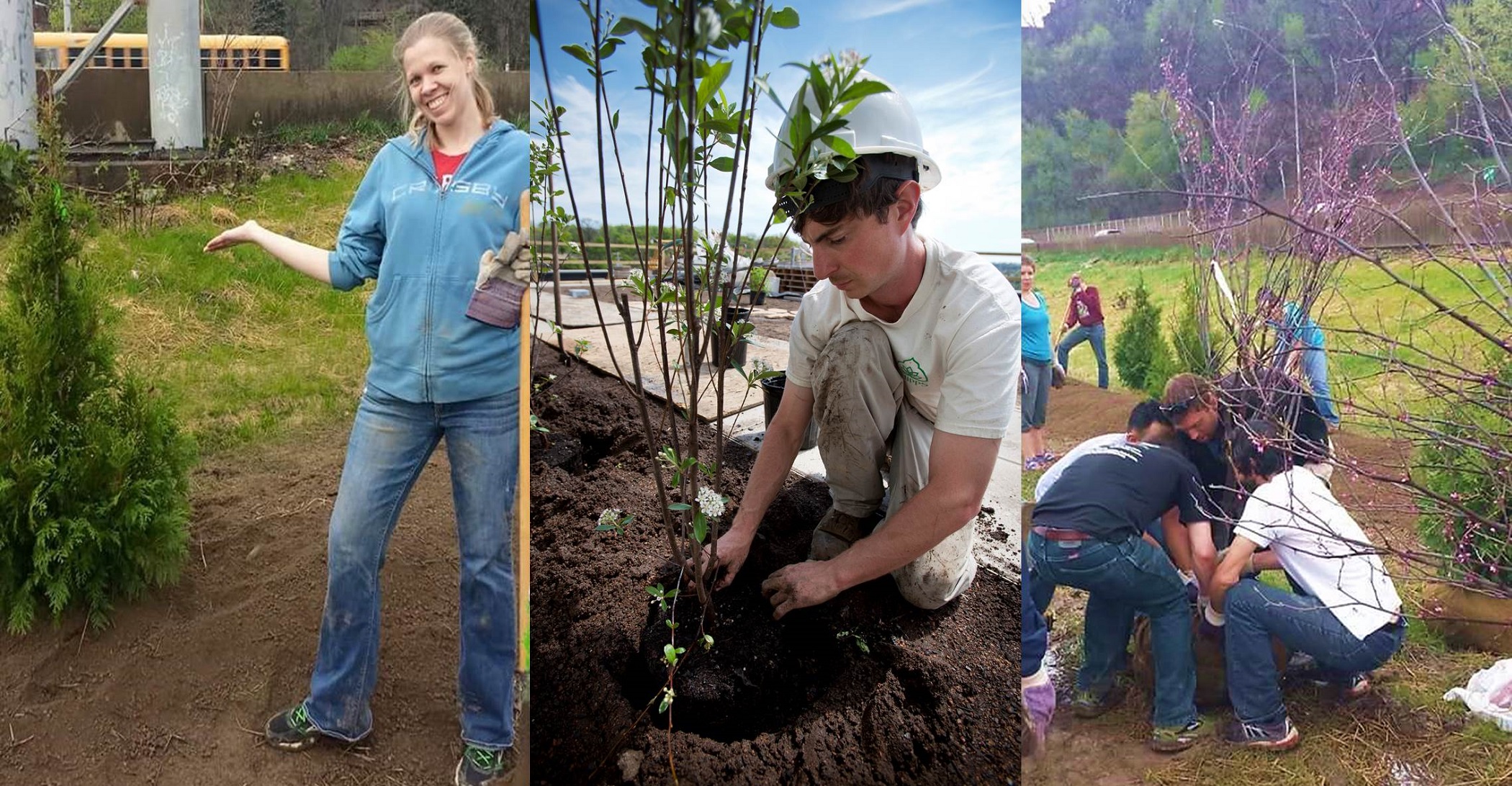 Connecting to the Outdoors Tip: You heard Joe, get out there and enjoy our trees!
Continue the Conversation: Share your nature discoveries with our community by posting to Twitter and Instagram with hashtag #bioPGH, and R.S.V.P. to attend our next Biophilia: Pittsburgh meeting.
Resources
Western Pennsylvania Regional Data Center - City of Pittsburgh Trees
Post Gazette—Tree Canopy Loss in Allegheny County 'Significant'
Food and Agriculture Association of the United Nations—Building greener cities: nine benefits of urban trees
Jiang et al. 2014—A Dose-Response Curve Describing the Relationship Between Urban Tree Cover Density and Self-Reported Stress Recovery
New York State Department of Environmental Conservation—Health Benefits From Forests
Wolf, Kathleen— Business district streetscapes, trees, and consumer response
Photo © Denmarsh Photography, Inc (center in tree planting collage), Wikimedia users Chloe Fan (banner) and Derek Cash (cover)