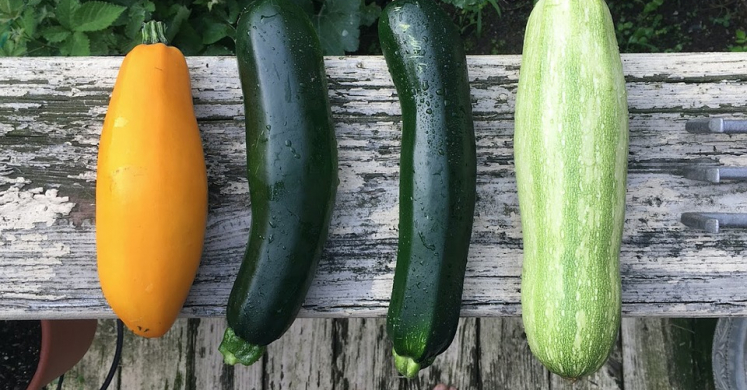 Cheesy Stuffed Zucchini Boats
Zucchini has a reputation in home gardens. You plant one seed and suddenly your countertops are stacked high with this prolific summer veggie. Needless to say, summer squash can be overwhelming if you don't have a game plan on how to use them. Don't fret! I have a solution for you: stuffed zucchini boats. This hearty, cheesy comfort dish is a delicious way to cook up your garden harvest throughout the season. It's a quick and easy family favorite!
Cheesy Stuffed Zucchini Boats
Prep Time: 15 minutes Cook Time: 30 minutes Servings: 4 servings
Ingredients:
1 cup green lentils, dry
4 zucchini squash
2 cups baby spinach
1.5 cups shredded mozzarella
1 cup marinara sauce (or make your own bolognese sauce)
2 teaspoons olive oil
¼ teaspoon red pepper flakes
Salt and pepper to taste
Directions:
Rinse the lentils under running water for 1 minute thoroughly. Bring 3 cups of water to a boil, add lentils and cook for 15 minutes. If your lentils are older, they may require several additional minutes. Once cooked, drain the lentils in a strainer.
Position rack in center of oven and preheat to 400F. Grease 9x13 baking dish. Using a 1 teaspoon measuring spoon, scoop out the center of the zucchini leaving a ¼ inch border on all sides. Line zucchini in the prepared baking dish with skin side down. Place zucchini in oven and bake for 25 minutes.
Heat olive oil in skillet over medium-high heat. Add baby spinach and lentils. Once spinach starts to wilt, stir in marinara sauce, and heat all the way through, 1-2 minutes. Add red pepper flakes and seasonings to taste.
Divide the lentil mixture into cooked zucchini. Top with mozzarella cheese. Bake for 5 minutes or until cheese is melted.