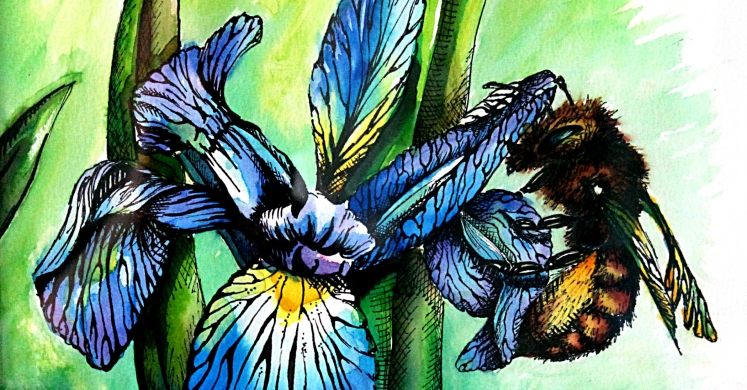 Fairchild Challenge at Phipps: Challenge #3
Challenge #2: Visual Art
This wouldn't be the Fairchild Challenge at Phipps if we didn't involve plants! Prepare to be amazed by Challenge #3. This challenge is for both the artist and the scientist, so feel free to team up for a strong duo. Schools are encouraged to submit two entries for Challenge #3. Read on to learn about the additional perk of participating in this challenge!
Middle School Challenge: "Beneficial Bugs"
Did you know the estimated ratio of insects to humans on Earth is 200 million to one! Insects are critical to ecosystems; in fact, many benefit specific plants. Your job is to investigate the lives of insects and find one that benefits a plant. From your findings depict both the bug and plant in a painting or drawing. Be sure to show your research by including a brief description of how the plant-insect relationship is beneficial. Selected artwork will be exhibited in the Center for Sustainable Landscapes gallery space in summer 2017!
High School Challenge: "Companion Plants"
Mammals are not the only organisms that help their comrades out — plants do it too! Companion plants support the growth of other plants by creating shade, deterring pests and improving soil nutrients. Depict the astounding plant companionship in a drawing or painting and tell us about the inner workings of the plant relationship. Selected artwork will be exhibited in the Center for Sustainable Landscapes gallery space in spring 2017!
You can find everything you need for Challenge #3, including specific requirements, posters, standards and rubrics, on our website.
This challenge is due at Phipps Conservatory and Botanical Gardens by Fri., Jan. 27. Good luck!
Have questions? Contact Emily Nye at enye@phipps.conservatory.org or 412/622-6915, ext. 3905.
Developed by the Fairchild Tropical Botanic Garden in Miami, Fl., and adopted by Phipps as a satellite partner in 2008, The Fairchild Challenge offers a menu of interdisciplinary challenges for grades 6 – 8 and 9 – 12, attracting students of diverse interests, abilities, talents and backgrounds. The Challenge empowers young people to engage in civic life and encourages them to become energetic and knowledgeable members of their communities.
Illustrations © Fairchild Challenge Winners Sami Beining and Miranda Miller
Commenting is not available in this channel entry.