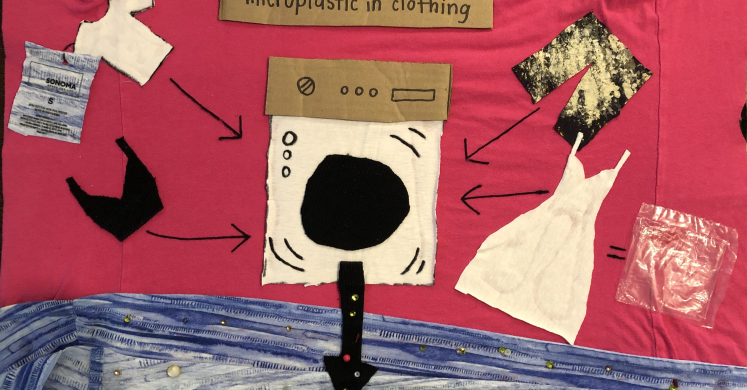 Fairchild Challenge at Phipps: Slow Fashion Collage
Thank you to all of the students who submitted entries in the recent high school Fairchild Challenge, Visual Arts: Slow Fashion Collage. For this challenge, students researched the impacts of the fashion industry. Clothing is something that we use every day. It protects us, keeps us warm and comfortable and allows each of us express our identity and individuality. In recent years, the fashion industry has ballooned into what is called "fast fashion." Clothing is produced and sold at low costs and styles change frequently, encouraging consumers to buy new items often. The quick turn-over and increasing demand for cheap products results in heavy environmental and human impacts. Students completing this challenge researched these impacts along with solutions and actions that individuals, companies and governments can take to combat them. They then chose an issue or solution that they found particularly important and created a repurposed fiber collage drawing attention to it.
Thank you to all the students who participated in this challenge as well as the many educators and families who continuously support students in the Phipps Fairchild Challenge.
We received a wide variety of creative and impactful fiber posters. Please enjoy a selection below:
Central Catholic High School: Aidan Rocovich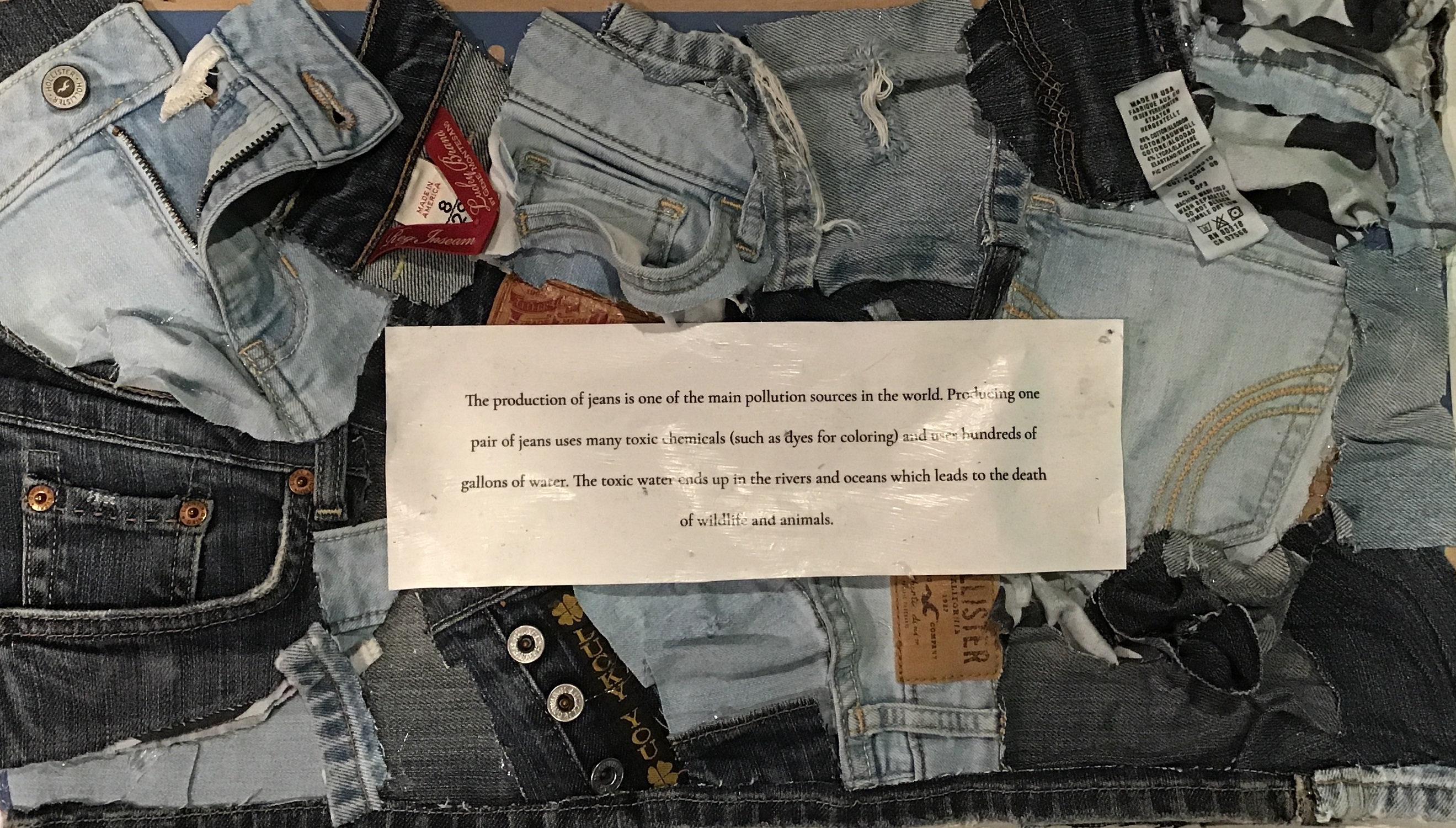 "The production of jeans is one of the main pollution sources in the world. Producing one pair of jeans uses many toxic chemicals (such as dyes for coloring) and uses hundreds of gallons of water. The toxic water ends up in the rivers and oceans which leads to the death of wildlife and animals."
North Allegheny Senior High School: Fast Fashion by Mirae Choe and Venice Lin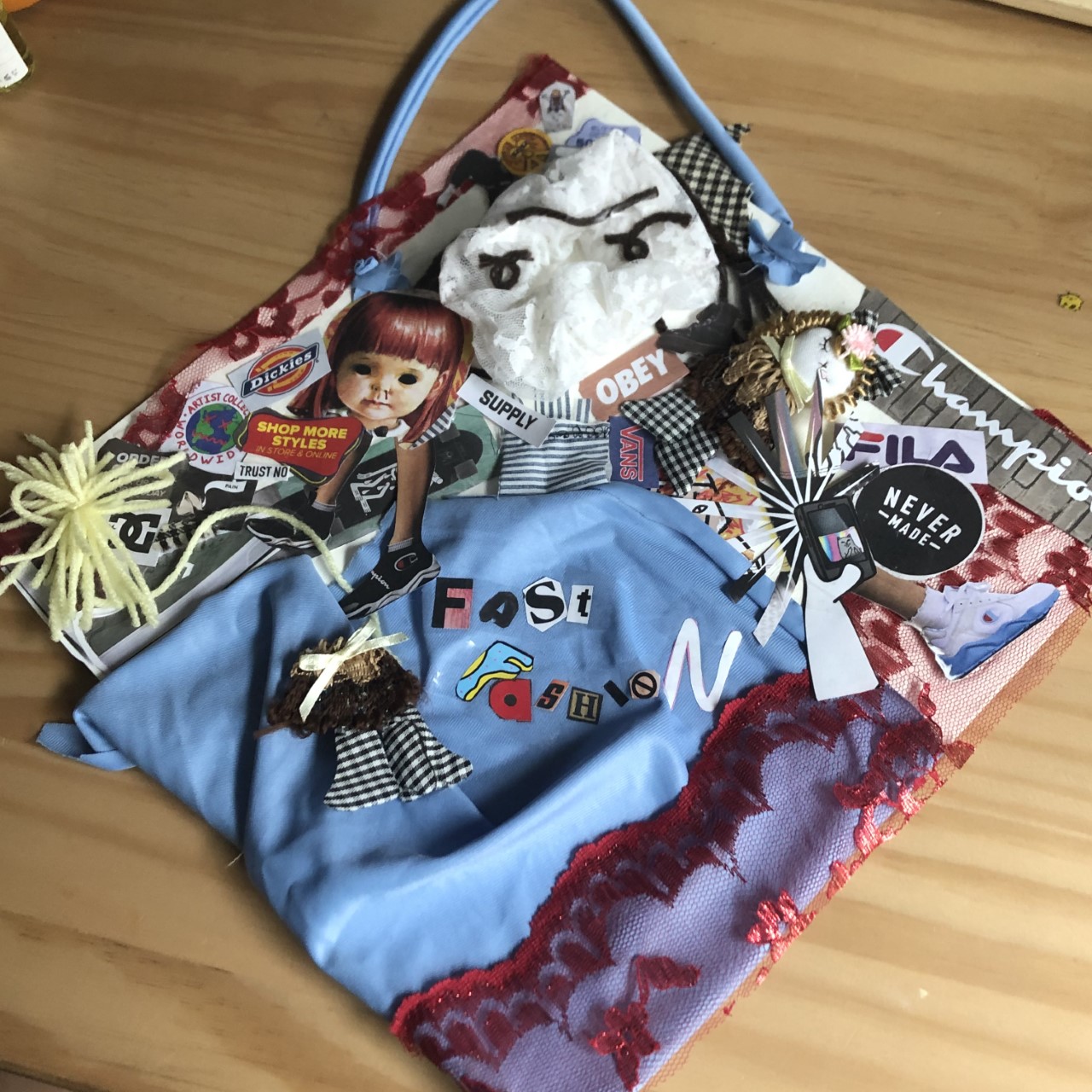 "With the fast pace that the fashion industry is experiencing now, the woman in the blue dress is overwhelmed with the numerous brands out there. However, these branded clothing will soon go out of trend and later be thrown back into the environment, resulting in a more toxic living space for all organisms (represented by the red lace)."
Shaler Area High School: 200 by Kylie Brooks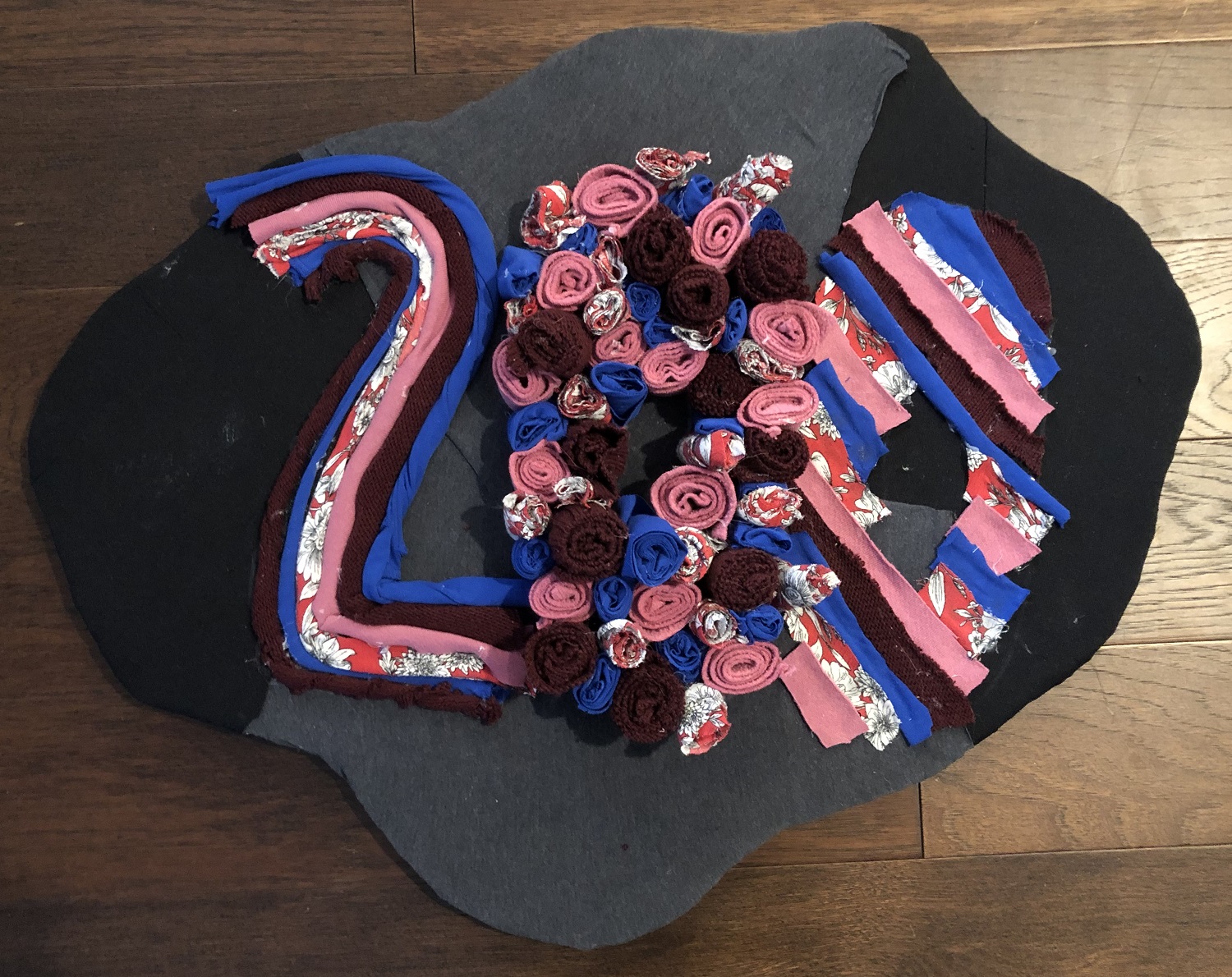 "According to Forbes magazine, "nearly 70 million barrels of oil are used each year to make the world's polyester fiber, which is now the most commonly used fiber in our clothing, but it takes more than 200 years decompose." In my collage, I depicted an oil spill with the use of black and gray fabrics. I then used old clothes containing polyester to make a large 200, the amount of years it will take for this fabric to decompose."
West Mifflin Area High School: WASTE by Kayla Adam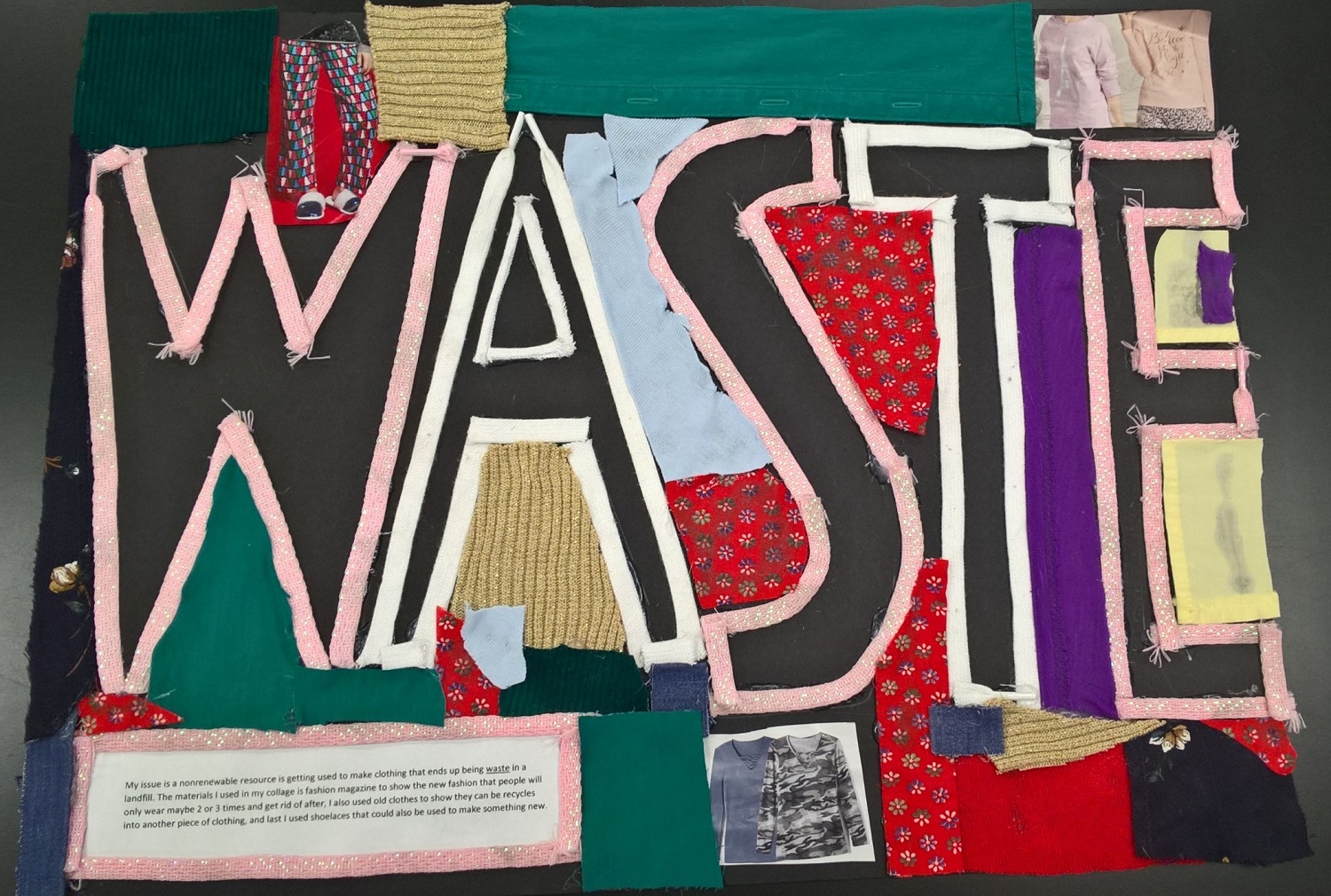 "My issue is that a nonrenewable resource is getting used to make clothing that ends up being waste in a landfill. The materials I used in my collage are fashion magazines, old clothes and shoelaces."
Westmont Hilltop High School: Sophia Tuinstra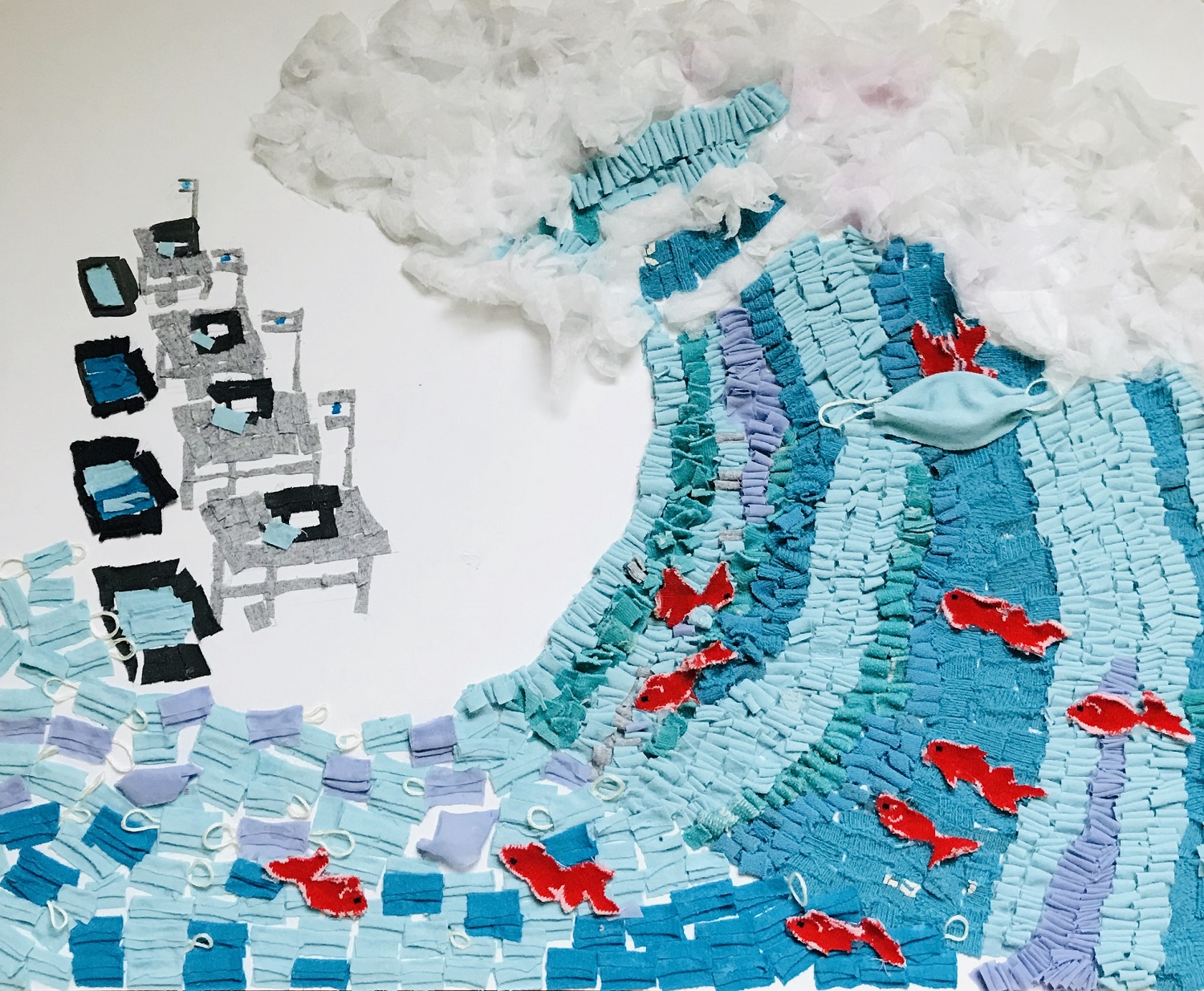 "Since the emergence and detection of Covid-19 last year, various measures have been put in place across the world to contain the virus and its further spread- most notably hand washing, social distancing, and wearing disposable face masks. The increase in production and consumption of face masks across the world has given rise to a new environmental challenge, adding to the vast plastic and plastic particle waste in the environment. In my fiber art collage, I have collected old shirts, socks, and dryer sheets to create an image depicting the cycle of disposable face masks- starting with their mass production, waste, and how these masks ultimately affect the environment and society."
Have questions? Contact Emily Johns at ejohns@phipps.conservatory.org or 412/622-6915, ext. 6936.
Developed by the Fairchild Tropical Botanic Garden in Miami, Fl., and adopted by Phipps as a satellite partner in 2008, The Fairchild Challenge offers a menu of interdisciplinary challenges for grades 2 – 5, 6 – 8 and 9 – 12, attracting students of diverse interests, abilities, talents and backgrounds. The Challenge empowers young people to engage in civic life and encourages them to become energetic and knowledgeable members of their communities.
Cover Art: Microplastic in Clothing by Anna Sholties and Jamie Eichmiller, Shaler Area High School
Header Art: Natalie Gross, Emily Lenart, Mark Harris, Delena Steimer, Kate Malley, Sydney Herrmann, Dakota Dandrea and Talitha Brobst, Penn-Trafford High School