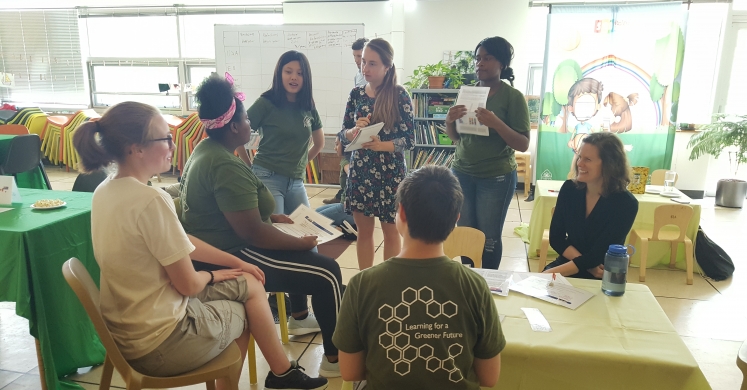 Learning for a Greener Future: Week 3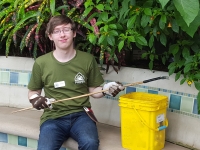 The Learning for a Greener Future internship is a six-week program offered by Phipps to Pittsburgh-area high school students. Jacob Herrup completed the internship last summer and has returned this year as the Intern Leader. In this blog he will document the interns' weekly experiences and add in a few interesting facts along the way!
Although reaching the halfway point of the internship, due to an obligatory day of patriotism we took a short break from our usual schedule. Outside of our brief July 4th break, we had another packed week of information and hands on experience. We started off with individuals shadowing members of the horticulture staff, getting one-on-one experience and information from the people who maintain all the wonderful plants and exhibits Phipps displays. It really helped us see ourselves in the role of someone who works a full time job with plants. Then we were led into our topic for the week: climate change. Climate change is the most heavily debated and perhaps even controversial of our topics this summer, and this led to a series of serious discussions surrounding both our impact on the environment in the long term and the future of humanity if we continue our lives with "business as usual."
However the idea of controversy was mostly swept aside in our Climate Change Simulation (using C-ROADS), which was a mock United Nations meeting working on an improvement to the Paris Agreement in 2015. We focused on the science behind climate change, and were educated on the very real long-term effects that are already coming to pass. It became no longer a debate on the reality of the situation, but rather a fight for balance between ecological and economical values in the modern world. Each group represented a country or group of countries from the Paris Agreement and we aimed to reach a lower increase in global temperature than what is projected to be the result of the Paris Agreement by 2100. While successfully reaching a whole degree Celsius below that of the Paris Agreement, the goal was still not reached. Despite this reflecting the immense difficulty of the problem humanity has built for itself, we are hopeful that our actions beginning now will allow us to remedy the oncoming crisis.
On a lighter note, we had our second of three meetings with professional photographer Doug Oster, and had a review of our progress thus far. For better or worse, our pictures turned out really well so he's assigned us much tougher assignments for our final meeting later this month! And towards the weeks end we yet again collaborated with Slow Food Pittsburgh in cooking a wonderful meal of beans and rice with cornbread. The great reception of this week's recipe prompts a special mention! Following our cooking activity we met with the interns from Grow Pittsburgh, and while getting to know them discussed the benefits of clean air plants. We toured them throughout the conservatory in groups, showing our knowledge accumulated by our three weeks here. The second half of this program is coming fast, and we hope to make the most of it!
This Week's Tidbits:
For many plants, growing more of them is as simple as taking a cut of the plant and letting it take root on its own in the soil! (*Please consult your local horticulturalist on whether this process is right for your plant!) (Learned from Phipps Horticulturalist Erin Melbert.)
The biggest result of climate change is inconsistency in the natural order. There's more frequent, severe storms and rising sea levels in addition to rising global temperatures. (Learned in introduction to climate change with Phipps High School Program Coordinator Emily Johns.)
After the flowers of the peanut plant are pollinated, they send "pegs" into the ground! From there the peanuts beneath the earth are formed. (Learned from Mike Bechtel, Edible Garden Manager at Phipps Conservatory.)
Most of our edible plant varieties have been lost in recent history due to industrialization of agriculture. Farmers are working very hard to maintain what little we have left. (Learned from the documentary Deeply Rooted: John Coykendall's Journey To Save Our Seeds and Stories.)