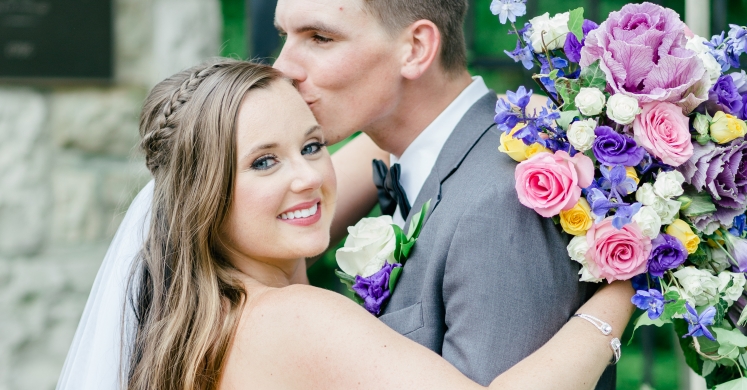 Weddings Under Glass: Alicia and Nolan
Weddings Under Glass is a monthly blog series where we highlight the stories of couples who chose to begin their happily ever after in the lush backdrop of Phipps, named one of the best outdoor garden wedding venues by Elle and Harper's Bazaar.
Alicia and Nolan met through shared friends and couldn't seem to stay away from each other – they would run into each other everywhere they went! They remained friends for a while, and after the last time they met unexpectedly, they decided to plan their next meeting.

Alicia and Nolan dated for two years before moving to Montana to pursue their love of adventure and the outdoors. During one of their visits to Pittsburgh, Nolan popped the question at a party thrown by Alicia's mom. Nolan's sister told Alicia the party was a belated birthday celebration, as Alicia's birthday had been a few weeks before the visit. When everyone gathered around to sing happy birthday, Alicia opened the box of her "birthday cake," and was surprised to find that it read "Will you marry me?" instead. When Alicia turned around, Nolan was there on one knee ready to propose. Of course, Alicia said yes!

The pair chose Phipps for their wedding venue in honor of their shared love of the outdoors. The couple said that Phipps was the perfect place for an outdoor wedding with its peaceful atmosphere and beauty, making them feel as if they were in Montana again while they said their vows. The wedding took place in the spring during Memorial Day weekend and was held in the Outdoor Garden.

Vibrant spring colors decorated Alicia and Nolan's wedding with glorious delphinium blues and pinks, wisteria purples and whites and bright yellow accents (Nolan's favorite color). The couple's favorite moment from the ceremony was when the officiant read out loud a list that Alicia and Nolan had written about each other, detailing each person's favorite thing about the other. "The atmosphere fit so perfectly with the type of ceremony we chose," Alicia says, "It was so peaceful and beautiful. You could feel the love in the air."

Although Alicia and Nolan haven't taken a honeymoon yet, they are in the process of planning a trip to Thailand sometime in the near future. Currently, the pair are living out their Montana dream together and couldn't be happier!

Would you like to plan your special day at Phipps? Please contact our events team by email or by calling 412/315-0685.
Vendors
Photographer: M&M Photography (Melissa Moulden)

Videographer: 2nd II None Productions