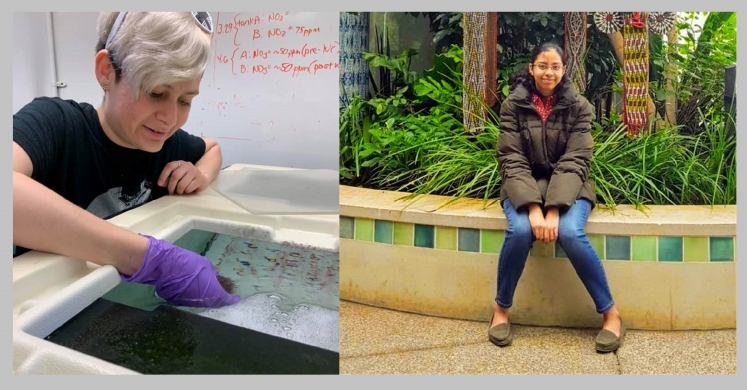 Meet a Scientist: Cam LaJeunesse and Shilpa Rao
All of the researchers featured on our monthly Meet a Scientist Saturdays have been trained through Phipps' science communication workshops. If you are a young professional or graduate student in the sciences and you are interested in the workshop or participating in a Meet a Scientist Saturday, check out our website or email science education outreach manager Dr. Maria Wheeler-Dubas at mwheeler-dubas@phipps.conservatory.org.
This Saturday, October 19, from 1:30 - 3:30 p.m. in the Tropical Forest, come meet two local scientists with some awesome research projects! Cam LaJeunesse, graduate student at Carnegie Mellon University is a molecular biologist who explores genetic mechanisms in sea urchin development, and Shilpa Rao is graduate student at the University of Pittsburgh who studies proteins with future medicinal applications in mind. Read more about them in the interview below, and both are looking forward to your questions on Saturday!
Introduce yourself in 5 sentences or less
Cam: My name is Cam LaJeunesse and I am a rising third year PhD student studying the development of the sea urchin embryo. I use sea urchins and their close relatives, sea stars and sea cucumbers, to study the evolution of genetic programming. I'm originally from Long Beach, California. I got my bachelor's degree in Biology and Biotechnology at WPI in Massachusetts, and I've spent the last two years in Pittsburgh at Carnegie Mellon University.
Shilpa: I am a Chemistry graduate student at University of Pittsburgh. I am currently in my fourth year. I was born and brought up in India and I moved here to pursue my graduate studies. Before moving here, I briefly worked in a pharmaceutical company in India as a research assistant (6 months).
Why did you become a scientist?
Cam: I was obsessed with Pokemon, Digimon, and Monster Rancher as a kid, which bred a fascination with how unique each animal species is and how they became so different from each other. It was only natural that I'd grow up to research evolution and animal development.
Shilpa: In my early childhood days, my mother introduced me to the periodic table of elements. As I learned about different elements, I was surprised by how we routinely use these elements in our daily life. From brushing your teeth in morning (fluoride toothpaste) to turning your lights off at night (tungsten filament in light bulbs), these elements have made a deep impact in our lives. As I wanted to learn more about these elements, I majored in Chemistry for my undergraduate degree.
What is the most exciting thing you've ever done at work?
Cam: Sometimes when we get shipments of sea urchins and sea stars from California we get something a little extra. Two of the most surprising stowaways we've gotten so far are a lion's mane sea slug and a snake-skinned brittle star. I'd never seen either of those species before their accidental trip into our salt water tanks, so I was really excited about them and showed them to everyone I could! You should look them up if you haven't seen them either!
What inspires you when you work?
Shilpa: Nature is a perfect chemist and every day she performs numerous reactions in our body. Proteins, my research subject, are a common product of these reactions and are necessary for our survival. But it is challenging to build functional proteins in a test tube, and I ended up as a protein chemist because of my decision to tackle this challenge. The ultimate goal of my research is to be able to use proteins for medical applications (as drugs).
What skills do you use in your job?
Cam: Time management is an important skill to have as a developmental biologist. Urchin eggs take a few days to hatch and grow, so planning experiments carefully to get the most out of the downtime that comes with that is key.
Shilpa: As a chemist, I spend most of the time mixing chemicals in a test tube and confirming the formation of the desired product by various techniques.
What's the best analogy you can think of to explain your work or a concept from your work?
Cam: The comparison of a wide range of topics in biology to Lego bricks is a bit cliched at this point, but it's such an effective metaphor on so many levels. DNA is a molecule built up from a limited set of building blocks, just like you'd build something from Legos. The completed DNA then codes for the construction of proteins out of smaller pieces. Developing animals then assemble core sets of proteins in different ways to create unique traits and body shapes.
Shilpa: At the primary level, proteins can be considered as linear chain of building blocks. These chains come together in space to form 3D structures. My research focusses on recreating these stable protein structures in lab, similar to a sturdy tower built using Jenga building blocks.
What's your favorite part of your job?
Cam: My favorite part of my job is the big picture of my work. A lot of the projects I'm currently working on aim to figure out the specifics of one genetic subprogram in the developing sea urchin. Being able to figure out the fine details of how the information coded in DNA becomes something useful to an animal's survival is a really exciting prospect to me.
Shilpa: I love the opportunity of having an enlightening discussion with my peer scientists. My lab consists of people from different backgrounds and when we come together for a discussion, each one brings diverse ideas to the table. As a matter of fact, we don't always discuss about science. We cover various topics like food, sports, politics, movies, TV shows, best cars in the market etc.
Why is science education important?
Cam: I don't think there should be such a big gap in the availability of scientific knowledge for people who are involved in science and people who are not. If science is done for the betterment of society, then for science to do its job right, everyone who makes up that society should have access to the same information as everyone else. It's often said that scientists speak a language of their own, and sometimes we forget how important it is for that language to be translated.