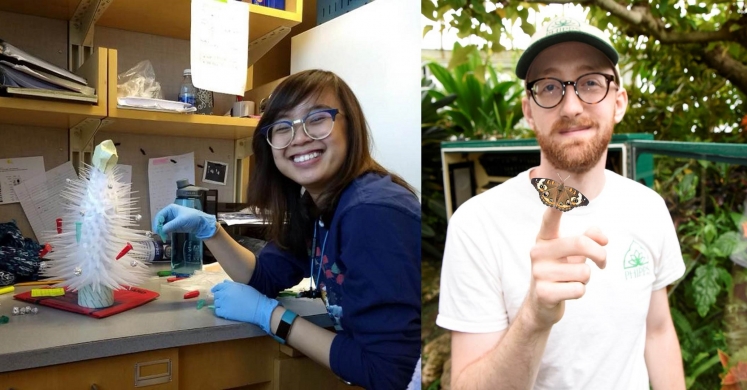 Meet a Scientist: Dr. Ryan Gott and Song-My Hoang
All of the researchers featured on our Meet a Scientist Saturdays have been trained through Phipps' science communication workshops. If you are young professional or graduate student in any field of STEM and you are interested in the workshop or participating in a Meet a Scientist Saturday, check out our website or email Dr. Maria Wheeler-Dubas, science education outreach manager, for more information.
This Meet a Scientist Saturday at Phipps, come explore two exciting fields of biology and meet the local researchers in the middle of the action! One featured scientist is Phipps Conservatory's own Dr. Ryan Gott, the Associate Director of Integrated Pest Management, and entomology extraordinaire. Our other featured researcher is Song-My Hoang, a doctoral candidate at the University Pittsburgh, whose work is focused on how the maintenance of the ends of chromosomes is related to cancer growth. Read a bit more about them in an interview below, then be sure to stop by the new Tropical Forest Cuba this Saturday, September 15, from 1:30 – 3:30 p.m. to meet them!
Welcome! Introduce Yourself
Song-My: I come from Hanoi, Vietnam, and I am currently a PhD candidate in the Molecular Pharmacology program at the University of Pittsburgh. I am in Roddy O'Sullivan's lab, where I study how telomeres (the ends of chromosomes) play a role in cancer cell survival.
Ryan: My name is Ryan Gott, and I am an entomologist and the Associate Director of Integrated Pest Management at Phipps. I received my Ph.D. from the University of Maryland. I work with and study pest and beneficial insects, integrated pest management (IPM), and pesticides. I collect arthropods in my free time and also like to garden, hike, and other "nerd" activities like play video games and Dungeons & Dragons.
Why did you become a scientist?
Ryan: I have always been fascinated by insects, and I wanted to learn more about the natural world and explore how it works.
Song-My: Growing up in Vietnam, I was frequently exposed to alternative medicine to treat illnesses. I was curious about the synergistic nature of the bags of dried plants, fruits, and twigs that were given to me. This exposure to herbal medicine ignited a curiosity for me to pursue science in order to acquire a more concrete explanation. I am driven to understand biological mechanisms to develop more effective therapies against diseases.
What is the most exciting thing you've ever done at work?
Song-My: My favorite technique is live cell imaging. We added a fluorescent probe on telomeres so that we could track telomere movement in live cells! It was cool to be able to visualize these small structures in real-time.
Ryan: I also take care of the honey bees at Phipps, and it is always exciting to open up the hives and see how the bees are doing. They are an amazing integrated system to care for.
What skills do you use in your job?
Ryan: Observation is a key skill in my job and in science in general. I have to sometimes find the smallest of insects and mites or notice that certain leaves on a tree are discolored as a sign of a problem. After that critical thinking and research/reading skills are always important. You have to use all the evidence you can find to determine what pest or other issue is affecting a plant. Critical thinking and planning also play a big part in the research I do, planning IPM experiments and collecting data.
Song-My: I use my critical thinking and problem solving skills on a daily basis to tackle my research goals. A lot of times, I have an overarching plan to pursue, but the direction can change depending on the outcome of the experiments. It's important to be able to think of solutions to research problems that arise.
What is your favorite part of your job?
Song-My: Science is two steps forward, one step back. I enjoy facing the trial and tribulations of research because venturing into the unknown stimulates my curiosity and allows me to think beyond conventional boundaries. It's incredibly exciting when an experiment finally works after multiple, time consuming optimizations!
Ryan: Entomology and working with pest insects always brings up weird and interesting challenges. The mysteries that make you really be a detective are always the most fun. Sometimes a pest shows up that is only found in one other county in the whole United States, so there's very little information about it. So you read, research, and contact experts to find your answer!
If you weren't a scientist, what would you be?
Ryan: I would probably be a biology teacher. I can't imagine I would have ever studied anything other than something related to biology, so if I weren't doing science I would definitely be teaching it. Not that the two are mutually exclusive!
Song-My: I would definitely be a chef because I love to cook and try new foods. Cooking is a science and an art. It's the perfect union between technical skills and creativity, which is also a major component of science research!
Why is science education important?
Song-My: I think it is important to promote a curiosity for learning. Science is everywhere in our lives and the scientific method imparts universal applicable skills, such as critical thinking, problem solving, and perseverance, that can be applied to any challenges. I believe that science education instills the notion that you don't have to be a scientifically trained person to become engaged with scientific questions. Science education also equips individuals with the scientific skills to develop more informed decisions about important scientific issues and policies that affect the community.
Ryan: Not everyone wants to be a scientist, and that's okay! We need people doing all kinds of jobs, but it's still important for everyone to understand science as a process. Learning about science in general from news articles or "deep diving" into a subject that interests you will help you understand and evaluate new scientific findings. Science literacy is critical for us all to recognize and work together on big issues facing us today like global climate change. You can follow me on Twitter @Entemnein and Instagram @ryangott for science content about bugs, pest management, and plant health care as a start to getting a daily dose of science!