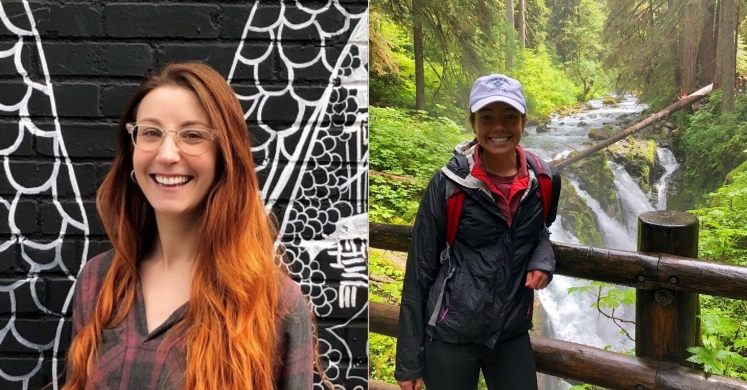 Meet a Scientist: Lauren Schricker and Rachel Reeb
All of the researchers featured on our Meet a Scientist Saturdays have been trained through Phipps' science communication workshops. If you are professional or graduate student in any field of STEM and you are interested in the workshop or participating in a Meet a Scientist Saturday, check out our website or contact Phipps' Science Education Outreach Manager Dr. Maria Wheeler-Dubas.
This Saturday, come hear from two ecologists who have recorded the calls of a thousand birds and counted a thousand plants! Well, you will have to ask them for those exact numbers and details, but University of Pittsburgh graduate students Lauren Schricker and Rachel Reeb are two local biologists who will be in the Tropical Forest this Saturday, December 14, from 1:30-3:30 pm, for Meet a Scientist Saturday! Read interviews with our two scientists below, and on Saturday, come learn all about Lauren's research that looks at the impact of human activity on biodiversity and Rachel's work on invasive plant ecology. (If Rachel's name is familiar, she is also one of Phipps' Botany in Action fellows.)
Introduce yourself in 5 sentences or less
Rachel: Hello, my name is Rachel Reeb and I'm a PhD student in invasion ecology at Pitt. Plant communities are a lot like trail mix… you want to find a variety of different things inside, like peanuts or chocolate, but too much of an ingredient that doesn't belong, like potato chips or celery, can mess up the whole batch! Nonnative species are the like the potato chips of plant communities. My research investigates when and how these plants invade, and what are the best ways keep them out of the mix.
Lauren: I'm Lauren and I'm a spatial ecologist, meaning I study how and why species are found in some places but not others. I wasn't always an ecologist though—I have a degree in geology and astronomy, and I've also worked as an after school program teacher, managed a bike shop, and as an assistant to an environmental health lawyer. When I'm not doing science, I love to draw, make crafts, and hang out with my pets (I have two tailless cats, a corn snake, and some fish in my aquaponic herb garden)!
Why did you become a scientist?
Rachel: I've always been happiest in nature, and like many fellow ecologists I originally became attracted to research because it allowed me to spend my summers outside. The more time I spent in the field, the more curious I became about the hidden world of plants and animals around me.
Lauren: I wasn't really sure what I wanted to do in college, so I tried out lots of subjects—languages, art, history, and science. I enjoyed them all, but I loved that science was hands-on and that it involved so much learning by doing! I love getting outside and investigating nature to learn something new.
What is the most exciting thing you've ever done at work?
Rachel: Travel! Science has taken me to beautiful places all over the country. I've done fieldwork in 26 states now, and hopefully that number will keep increasing.
Lauren: When I was in Costa Rica studying leaf cutter ants, I got to spend three days working on a sustainable coffee farm. It sounds like hard work, but it was actually really cool to see how farmers can preserve forests and encourage biodiversity while still growing delicious food that we love and need! I learned about a lot of edible plants there, and it was so fun to be able to walk through the forest and pick food and snack while I worked!
What skills do you use at your job?
Rachel: I ask questions every day- dozens if not hundreds of questions. Sometimes I'll stumble upon something that no one knows the answer to yet, and that's where the real work begins! This helps me to direct my research onto unexplored paths.
Lauren: I read—A LOT! I also am learning how to code, which is really important to my job. When I do fieldwork I also use really fun skills like climbing, hiking fast, navigating, identifying plants and animals, and cooking on a campfire. Probably the most important skills I use every day whether I'm in the field or the computer lab are adaptability and problem solving. In science, projects often go wrong or fail, and I always need need to be able to come up with a plan B or C or even Z! Learning that failure okay is really important—science is about testing things to see if they work, and they often don't, but we learn something from our mistakes every time!
What is your favorite part of your job?
Rachel: Getting to work with ecologists who love their job just as much as I do – it's an infectious energy that I've never found anywhere else.
Lauren: It's a tie between all the time I get to spend in nature and all the new things I get to constantly learn!
If you weren't a scientist, what would you be?
Rachel: I'd probably be working in environmental policy or with a conservation nonprofit.
Lauren: I'd be an artist or an art historian! I love art and I make a lot of art in my free time. I paint, embroider, alter my own clothes, and do wood burnings, and I especially love ancient art from around the world.
Why is science education and outreach important?
Rachel: Science is unifying. We all live on an amazing, complex planet and share the resources it has to offer. I think that education, especially in biology, allows us humans to realize that we all are more similar than we are different.
Lauren: Science outreach reminds us why we do science—for the betterment of the community! Plus, outreach fun and rewarding—it feels really good to share our science and see how it can impact others.