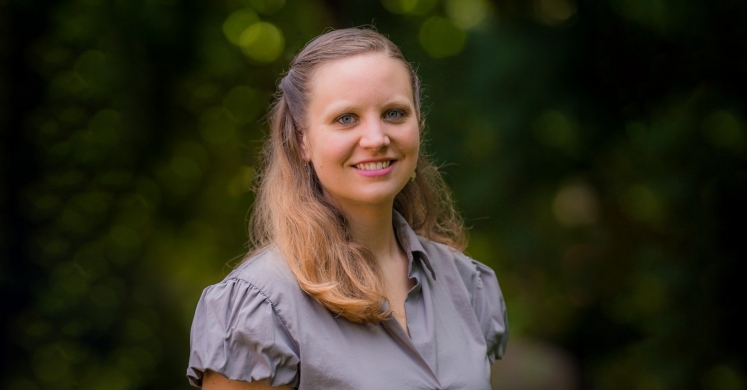 Meet a Scientist: Vickie Bacon
All of the researchers featured on our Meet a Scientist Saturdays have been trained through Phipps' science communication workshops. If you are professional or graduate student in any field of STEM and you are interested in the workshop or participating in a Meet a Scientist Saturday, check out our website or contact Phipps' Science Education Outreach Manager Dr. Maria Wheeler-Dubas.
This Saturday at Phipps, come meet local scientist Vickie Bacon, studying public health genetics at the University of Pittsburgh! Vickie will be in the Tropical Forest Cuba on Saturday, October 20, from 1:30 - 3:30 pm. Learn a bit more about her in the interview below, then be sure to stop by and learn more about her work!
Introduce yourself in five sentences or less.
My name is Vickie and I am a graduate student at the University of Pittsburgh. I am studying Public Health Genetics and Genetic Counseling. I am fascinated by genetics and want to make sure that everyone has access to genetics to improve their health.
Why did you become a scientist?
As a kid, I used to work on cars with my dad. I loved learning how things worked, how to figure out what was wrong when they didn't work, and how to fix it. I love science because I want to know how the world around us works. Learning about DNA is like reading an unfinished instruction manual for the human body. There is still so much we don't know, and finding the missing pieces is incredibly exciting to me.
What is the most exciting thing you've ever done at work?
Right now I'm a student, so most of my time is spent learning from some amazing scientists. Hearing about research and scientific breakthroughs from the people who made them is really exciting to me. It's like meeting the director of your favorite movie. It also reminds me that scientists are just people and we can all do great things if we put our minds to it.
What skills do you use in your job?
It's important to be attentive to detail and be able to write and communicate clearly. One of the most important things I've learned is to be comfortable asking questions. It's perfectly okay to not know everything. If we already knew everything, science wouldn't so fun! I talk to a lot of people who aren't scientists about genetics and genetic research, so I need to be able to connect with people.
What is your favorite part of your job?
I love talking to people about genetics, both people in and out of the field. Everyone has a story and it's great when people choose to share those with me. I think it's important that everyone have access to genetics and hearing people's stories reminds me why I study the things I do.
If you weren't a scientist, what would you be?
It's hard to think of something I would be as passionate about as science since it's all around us. We all use and do science every day; we are all scientists! If I were to have a job as something other than a scientist, I would still want to do something involving Public Health, possibly working with policy development or community outreach.