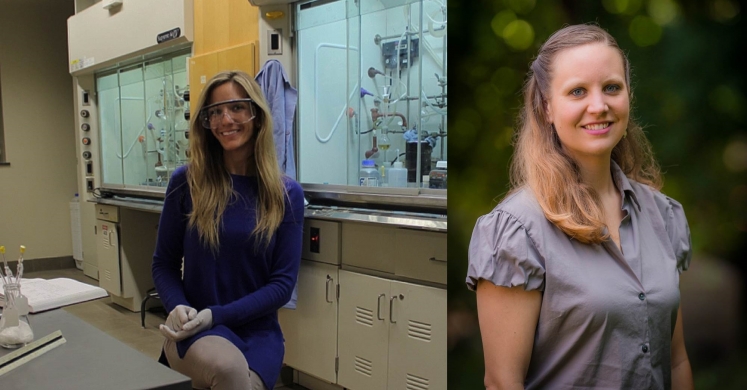 Meet a Scientist: Vickie Bacon and Alyssa Lypson
All of the researchers featured on our Meet a Scientist Saturdays have been trained through Phipps' science communication workshops. If you are young professional or graduate student in the sciences and you are interested in the workshop or participating in a Meet a Scientist Saturday, check out our website or email our science education outreach manager Dr. Maria Wheeler-Dubas for more information.
Come meet two local scientists this Saturday at Phipps! Vickie Bacon and Alyssa Lypson, both of the University of Pittsburgh, will be tabling in the Tropical Forest from 1:30 – 3:30 pm this Saturday, June 16. Both of these women in science are interested in human health, but from excitingly different perspectives—masters' student Vickie studies public health and genetics counseling while doctoral candidate Alyssa studies organic chemistry and molecular recognition for advancements in drug design. Alyssa also serves as the Marketing and Communications Manager for sciVelo and the Center for Commercial Applications of Healthcare Data (CCA). These organizations, in collaboration with the Innovation Institute, accelerate Pitt health sciences research into clinical and commercial technologies to improve health. Read more about Vickie and Alyssa, and be sure to stop by Phipps this Saturday to learn more about their work!
Why did you become a scientist?
Vickie: As a kid, I used to work on cars with my dad. I loved learning how things worked, how to figure out what was wrong when they didn't work, and how to fix it. I love science because I want to know how the world around us works. Learning about DNA is like reading an unfinished instruction manual for the human body. There is still so much we don't know, and finding the missing pieces is incredibly exciting to me.
Tell us a Little About Your Research:
Alyssa: I oversee the Wilcox Lab at Pitt, a group well-known for the development of the "molecular torsion balance," a molecular "tool" for studying biological interactions. Knowledge gained from these studies provides insights into protein folding. My work specifically focuses on creating peptide-torsion balance hybrids that have controlled three-dimensional shape for studying peptide stability and for applications in testing and improving drug design methodologies.
What skills do you use in your job?
Vickie: It's important to be attentive to detail and be able to write and communicate clearly. One of the most important things I've learned is to be comfortable asking questions. It's perfectly okay to not know everything. If we already knew everything, science wouldn't so fun! I talk to a lot of people who aren't scientists about genetics and genetic research, so I need to be able to connect with people.
What is your favorite part of your job?
Vickie: I love talking to people about genetics, both people in and out of the field. Everyone has a story and it's great when people choose to share those with me. I think it's important that everyone have access to genetics and hearing people's stories reminds me why I study the things I do.
Alyssa: Research has given me the opportunity to implement creativity in a scientifically and biologically relevant way. I enjoy the intellectual challenge of the experimental design process - strategizing, problem solving, innovating, analyzing. These robust set of skills are invaluable in and outside of the lab and have been pivotal to my teaching and marketing and communications roles. Engaging with scientifically diverse audiences provides another opportunity for me to get creative to facilitate learning by leveraging my research and clinical experiences.
Why is Science Outreach Important to You?
Alyssa: Science is at its best when it aligns itself to benefit the greater good. When scientists understand the needs of the market, the end result is a beautiful thing, as future innovation and discovery rely upon transdisciplinary collaboration amongst STEM fields. When the general public is learning and understanding science through real-world examples that impact their daily lives, they become more open to using scientific technologies to improve well-being. Pittsburgh has fostered a culture of life and health sciences innovation, and it is very exciting to be a part of the ecosystem.