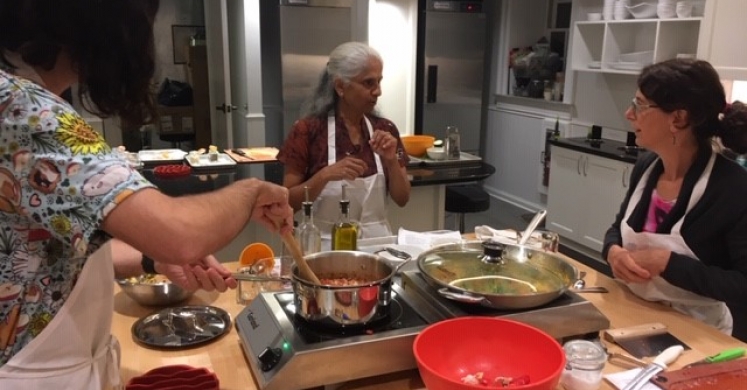 One Pot Indian Cooking: Moong Dhal Kitchedi
In this Let's Move Pittsburgh spotlight, we are featuring this blog post written by a Phipps' favorite, Jayashree Iyengar. As the first instructor of the Phipps' culinary arts classes, Jayashree continues to bring flavor, warmth, and cultural connections to our Botany Hall Kitchen. She is the founder and owner of Popping Mustard Seeds, which offers all-level Indian cooking classes. You can sign up for her spring Vegetarian Indian Series here: https://www.phipps.conservatory.org/classes-and-programs/for-adults/culinary-arts. Scroll to the bottom of this page to see fun snapshots of past classes!
Rice and lentils are two of Indian staples. Therefore, it is not at all surprising to find many Indian recipes that use these two ingredients to create delicious dishes. Adding some vegetables to the rice and lentils results in the tasty and nutritious kitchedi. Kitchedi can be made with other ingredients including cream of wheat (rava kitchedi in South India), tapioca (sabhudana kitchedi in Maharashtra) and millet (sridhanya kitchedi Karnataka). The varieties of lentils (dhal in Hindi and parupu in Tamil) used in Indian cooking far exceeds any other cuisine. One such lentil is yellow moong dhal (split green moong beans), is the most common kind used to make kitchedi. This dish is eaten all over India and is called by a different name in each region and made with various spices. Pongal is a type of kitchedi eaten in south India, especially during the winter months, but made without the vegetables and a minimum of spices: just whole black pepper and cumin seeds. Traditionally it is made with plenty of ghee, perhaps because it is a comfort food, especially in the cooler months.
The recipe below uses rice, moong dhal, vegetables and spices that are typical to North India, many of which were introduced by the Moghuls over 500 years ago.
Moong Dhal Kitchedi - One Pot Dish
Serves 4-6
Ingredients:
2/3 cup basmati or long grain rice
1/3 cup split yellow moong dhal
2 cups water
3/4 tbsp butter, ghee or oil (quantity can be more or less
depending on taste)
1/2 cup chopped onion
1/2 bell pepper chopped (red, yellow or orange)
1/4 cup peas
1/4 cup carrots cut into 1/4 inch cubes
1/4 cup green beans cut into 1/2 inch pieces
1/2 cup chopped spinach or other greens
1/2 cup tomatoes finely chopped
1-inch piece of ginger finely chopped
6 - 8 Indian curry leaves (curry patha) torn into bits
2 green chilies slit
1 bay leaf
1/2 cup chopped cilantro
Salt to taste
Spices
1 tsp black mustard seeds
1 tsp cumin seeds
1/4 tsp asafoetida (hing)
1 tsp turmeric
1 tsp garam masala powder
2-inch piece of cinnamon stick
3 cloves
1/2 tsp whole black pepper
Instructions:
Chop all the vegetables as specified.
Mix the rice and moong dhal and wash them with water and drain. Add enough fresh water to cover the mixture. Keep them soaked for at least 30 minutes.
Place butter, ghee or oil and mustard seeds in a sauce pan (pot) at medium heat. When you hear the mustard seeds pop cover with the lid and wait for about 10 seconds and turn off the heat.
When the popping stops completely, open the lid and add the asafoetida, curry leaves, bay leaf, green chilies, cinnamon stick, cloves and cumin seeds and black pepper.
When the cumin seeds turn reddish brown and aromatic, add ginger and onion. Saute until the onions turn soft.
Add the tomatoes, turmeric and garam masala powder. When the tomatoes are soft and mashed, add all the vegetables and mix them well.
Drain the water from the soaked rice and dhal mixture and save the water. Add the rice and dhal to the pot.
Add 3 cups of water. Use the saved water and more if needed. Add salt and mix well.
When the water begins to boil, lower the heat and let it simmer until the rice is well cooked (15 to 20 minutes).
Add about 1/2 cup of water and mix well. Simmer for another minute. Turn off the heat and garnish with cilantro. Kitchedi will be mushy and can be eaten with chutney or raita.
Not sure where to buy ingredients? Check out the following Indian grocery stores in the Pittsburgh area:
Manpasand Spice Corner, Scott Town Center, 2101 Greentree Road.
Manpasand Spice Corner, 10293 Perry Hwy., Wexford, PA 15090.
Kohli's Indian Imports, 319 S Craig Street, Oakland, near the Carnegie Museum in Oakland.
Bombay Food Market, 4605 Center Ave., near Craig Street in Oakland.
Patel Brothers, 312 Mall Plaza Blvd, Monroeville, PA 15146.
Desi Bazaar Indian Groceries, 3021 Banksville Rd, Pittsburgh, PA 15216.
Spice n Sabzi, 10293 Perry Hwy, Wexford, PA 15090.
Photos: