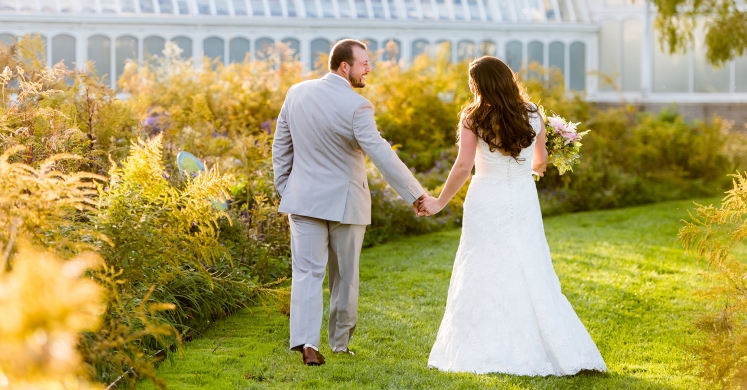 Top 5 Sustainable Wedding Tips
As experts in all things green, the Phipps Events Team is here to help you make your wedding day sustainable, beautiful, comfortable and convenient. From the venue and food to linens and everything in between, read here to learn top planning tips to ensure your wedding includes sustainable practices that will be good for your guests, good for the planet and make the world a better, more beautiful place.
The Perfect Place – Phipps offers a wide range of serene natural backdrops with both indoor and outdoor ceremony and reception spaces. Plus, holding your ceremony and reception in one place cuts back on fuel emissions, as guests won't have to travel from multiple locations. All electricity used at Phipps is renewable and all of the carbon dioxide emitted to heat Phipps' buildings is offset, which goes a long way toward giving your special day an earth-friendly footprint. With plentiful natural light and spectacular views of nature, guests will feel inspired and refreshed at your event.
Fresh, Local and Delicious – Great food is important to any celebration, and Phipps has lots of menu choices that are locally-sourced and organic. From appetizers to desserts, your guests will love what's on the menu!
A Greener Table – Don't go disposable! Use elegant dinnerware and silverware with cloth napkins at each table for a classy and eco-friendly experience. Consider shopping for centerpieces at wedding resale markets, incorporating unique and memorable vintage accents into your décor.
Waste Not, Want Not – Seek venues that recycle and compost after the celebration is complete to minimize waste, making efficient use of food and materials.
Do the Planet a Favor – For distinctive wedding favors at each table setting, supplement table décor with fresh herb plants, succulents or seeded paper that can be planted and will flourish at each guest's home, a treasured memory of your special day.
For more green ideas that will elevate your wedding, connect with the Phipps events team at 412/315-0685, eventsales@phipps.conservatory.org or live-chat with us at phipps.conservatory.org/weddings. And be sure to attend the Phipps Weddings Showcase on Sun., Feb. 24 from 6 – 9 p.m., a one-night-only open-house event for engaged couples and immediate family members who are planning a wedding shower, ceremony or reception. Learn more and R.S.V.P. at phipps.conservatory.org/showcase.
Photos © Pamela Anticole Photography and LeeAnn Marie Photography