Touring Limahuli Garden
As part of the three-year planning and design process behind our upcoming Tropical Forest exhibit, Julianna Razryadov and Adam Haas are traveling to Hawaii to study first-hand the region's biodiversity hotspots, natural resources and culture. Follow their adventures!
Limahuli Garden is one of the five gardens in the National Tropical Botanical Garden network. This garden is particularly unique, though, for its representation of a traditional Hawaiian ahupua'a. Today Katie Champlin, assistant director of Limahuli, showed us around these beautiful gardens. At the base is a set of lo'i kalo — wet taro beds. The dry stone walls that make up these terraces are the original structures built by Hawaiians who lived off this land. They've not only withstood the test of time, they have withstood recent torrential storms that destroyed modern roads and swept the land into the sea. The extreme weather that hit Kauai in April 2018 brought down 50" of rain over the course of 24 hours. While the invasive forests within the Limahuli valley let go of their soil and were swept away, causing major landslides, the primarily native forests stayed their ground as did the old walls of the over 700 year old lo'I (terraced wetlands for growing taro, Colocasia esculenta). While the waters ran high over the land, these old fields absorbed the deluge.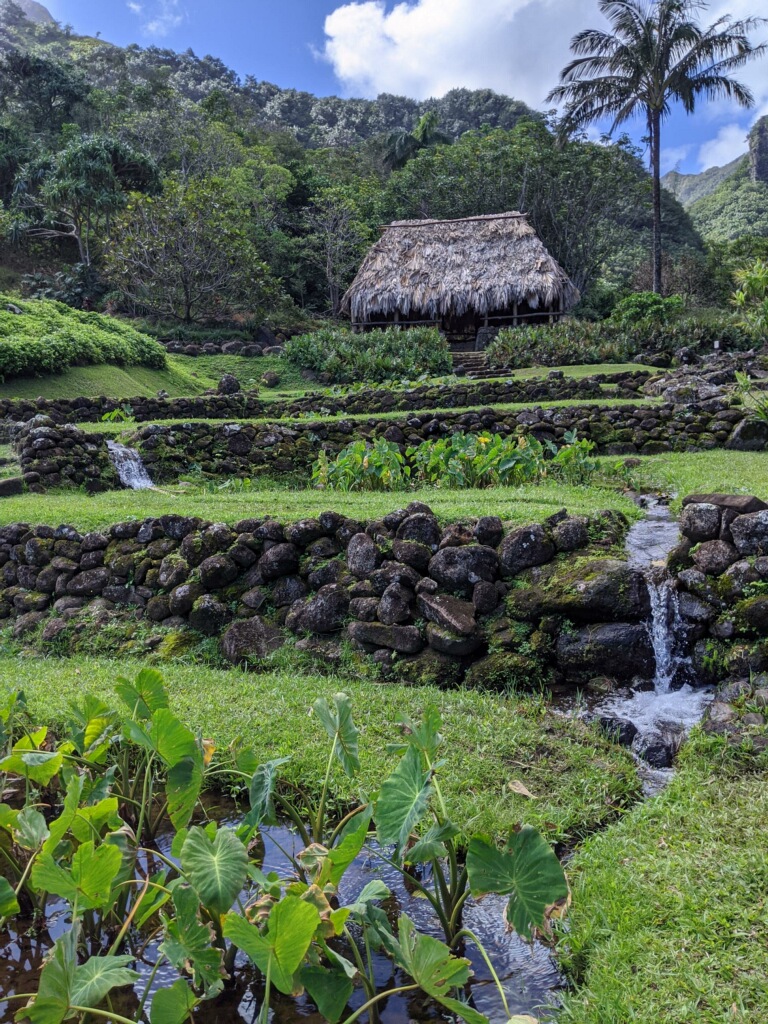 As we traveled up the ahupua'a, the landscape moved to more upland forests where hardwoods would grow to be harvested and some other larger crops were grown. Beyond this area, native forests would be selectively harvested. A look up the valley way out in the distance we knew, and could imagine, a hanging plateau, the land where only a few people would be allowed to go. There, in the Wao Akua (or realm of the Gods), ceremonies would be conducted by the sacred people and a select few would go out to catch birds for their feathers (only a few feathers would be taken and the bird released). This land feeds the watershed and is hard to access — today it is accessed primarily by helicopter. The health of this land determines the health of the rest of the watershed.
Katie told stories to us, about the people that lived here and the people that live here now. She spoke of aina — the land, and the connection to it as a relative, an ancestor. The traditions of Hawaiians are like a string. Maintenance of these traditions ensures the continuity of the land and the story.
We left the garden inspired and enlightened. On the way back to the south side of the island we stopped by the Kilauea Lighthouse. The lighthouse is poised by a cliff face that is a common nesting ground for many pelagic birds. We stayed there looking in awe at hundreds of red-footed boobies as well as some tropic birds, frigate birds, and Laysan albatross. Mahalo Kauai.
Select photos © Julianna Razryadov and Paul g. Wiegman