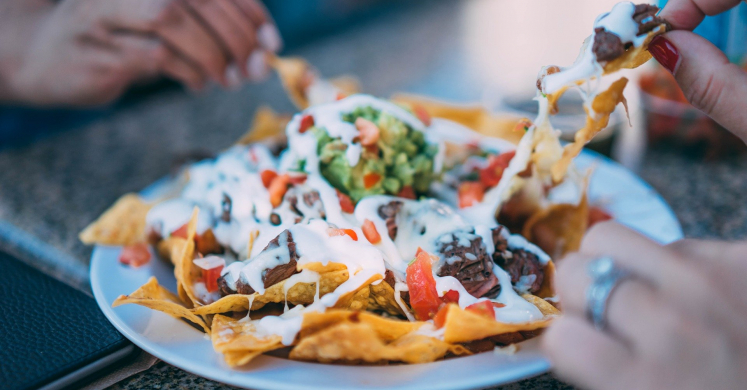 Veggie Stuffed Nachos with Cashew Queso and Green Sauce
Confession: I'm terrible at following recipes. Cookbooks serve as makeshift tofu presses and dust collectors in my kitchen. My bookmarks folder is packed with links to different food blogs, only to be untouched good intentions. And when I actually decide to pull up a recipe, it's almost immediately abandoned once I start cooking. "Winging it" has become my mantra, which is how this nacho concoction was born. The combination of crispy smashed potatoes, smoky queso, crunchy chips, kale, tomatoes and fresh cilantro leaves you asking yourself, "What is this and why is it so good?" To top it off, it's vegan and gluten-free friendly!
Veggie Stuffed Nachos with Cashew Queso and Green Sauce
Prep time: 20 minutes Cook time: 35 minutes Serves: 8
Veggie Stuffed Nachos Ingredients:
1 lb baby Yukon gold potatoes
2 garlic cloves, minced
1 (15-ounce) can black beans, rinsed and drained
1 (8-ounce) bag corn tortilla chips, preferably unsalted
1 medium red onion, finely chopped*
2 Roma tomatoes, finely chopped*
2 cups kale
2 tablespoons olive oil
Black pepper to taste
* Can replace with 1/2 cup pre-made pico de gallo
Cashew Queso Ingredients:
1 cup hot water
1 cup raw cashews
1 clove garlic, chopped
2 Tbsp nutritional yeast
1/2 tsp ground cumin
1 tsp chili powder
½ tsp smoked paprika
1/2 tsp salt, plus more to taste
Green Sauce Ingredients:
1 large bunch fresh cilantro, leaves and tender stems roughly chopped
1 jalapeño, stem removed and roughly chopped (optional)
3 tablespoons fresh lime juice (from about 1 large lime)
¼ teaspoon granulated sugar
½ teaspoon kosher salt, plus more as needed
2 tablespoons water
Veggie Stuffed Nachos Instructions:
Preheat oven to 425°. In a large pot, cover potatoes with water and add a large pinch of salt. Bring water to a boil and simmer until potatoes are tender, about 15 minutes. Drain and let sit until cool enough to handle.
On a large rimmed greased baking sheet, toss potatoes with 1 tablespoon olive oil, minced garlic, and black pepper. Using bottom of a small glass or mason jar, press down on potatoes to smash them into flat patties.
Bake until bottoms of potatoes are beginning to crisp, approximately 25 minutes.
While the potatoes are cooking, make cashew queso and green sauce (recipes below.) Set aside.
Once potatoes are cooked, assemble nachos. Layer ¼ of queso cheese and green sauce on top of potatoes. Add half of the chips followed by half of the beans, onions, tomatoes and kale. Repeat this process adding ¼ queso cheese and green sauce between layers. You should have some queso and green sauce left over. You are welcome to add any leftovers to your nachos, but it may make them too soggy. If you find your beans are rolling off the chips, you can slightly smash them.
Add nachos to oven and cook for approximately 10 minutes on the highest rack of the oven. Serve with your big game favorites!
Cashew Queso Instructions:
Add 1 cup hot water to 1 cup cashews. Let sit for 5 minutes.
Add all ingredients to blender adding more water as needed to blend. If your mixture becomes too thin, you can always add extra cashews as a thickener.
Taste and adjust flavor as needed. For an extra cheesy taste, add more nutritional yeast. For more smokiness, add more smoked paprika.
Green Sauce Instructions:
In a blender, combine the cilantro, jalapeño, lime juice, sugar and salt and blend until smooth. If the mixture is too thick to blend, add up to 3 tablespoons water, a tablespoon at a time.Taste and adjust the salt and lime juice, if needed.