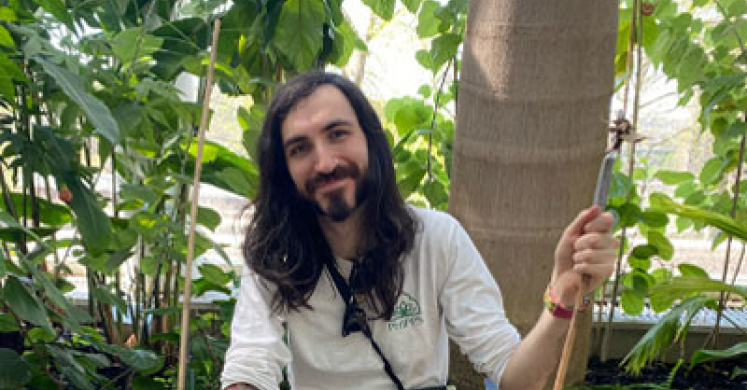 Volunteer Spotlight: Jess Scutella
Phipps is well-known for our beautiful gardens, seasonal flower shows, pioneering sustainability initiatives, informative educational programs and community outreach. None of our work, however, would be possible without the knowledge and dedication of our volunteers. In this series of profiles, we meet some of the people who give their time to make Phipps possible.
Jess developed an interest in plants and the natural world at a young age having parents who were both experienced in gardening. Jess was raised in Waterford just outside of Erie, Pennsylvania, a place they call "the middle of nowhere". Despite being opposite the hustle and bustle of Pittsburgh, the secluded area gave them a lot of backyard space to work with. Jess's family took advantage of this extensive woodsy area to plant many trees in addition to vegetable and flower gardens.
When Jess isn't volunteering at Phipps they work as a tattoo artist at a shop located in Southside. Though they love tattooing, they say a tattoo studio can sometimes feel like being trapped in a box which is why the nature-filled, open ambiance of Phipps is such a lovely change of pace. Jess started volunteering back in 2019 with a somewhat inconsistent schedule due to the pandemic. Now they volunteer at least once a week with no plans of stopping anytime soon!
To expand upon their gardening knowledge, Jess decided to enroll in Phipps master gardener program. When asked about the program, Jess says, "It's been challenging at points, but it has also been beautiful to apply exactly what I learn into my volunteering and really get down to the foundation of everything." This gives them the chance to form a deeper connection with Phipps and create a more special experience for everyone who enters the glasshouse.
Jess does many things to help mantain Phipps beauty such as potting, pruning, dead leafing and even helping construct the topiaries for Summer Flower Show: Monet in Bloom! They love everything what they do here because they want to "make an awesome walkthrough expereince for guests." Out of all the delightful things about volunteering, Jess says their favorite would have to be spending a lot of time on one thing or in one area to get it to its most perfect condition. It is this dedication and attention to detail from Jess and all of our volunteers that allows Phipps to be the amazing place that it is!