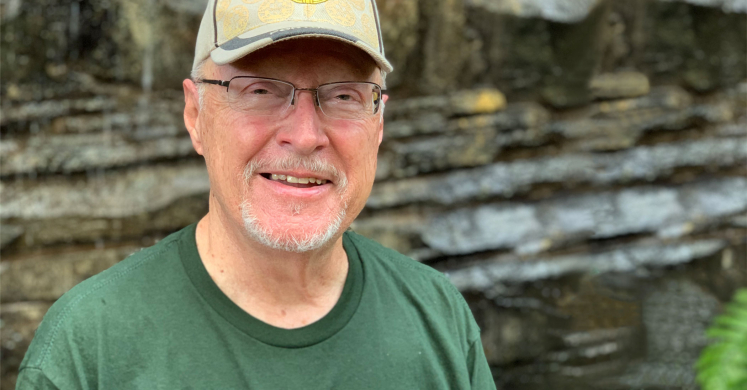 Volunteer Spotlight: Samuel Prepelka
Phipps is well-known for our beautiful gardens, seasonal flower shows, pioneering sustainability initiatives, informative educational programs and community outreach. None of our work, however, would be possible without the knowledge and dedication of our volunteers. In this series of profiles, we meet some of the people who give their time to make Phipps possible.
The now semi-retired chemist, Samuel Prepelka, has spent all his life around gardens and plant life. In fact, his family had owned the only quarter acre garden in the middle of Mount Washington during the 1950's! There was always an easy way for Sam to get produce growing up, he even stated "We ate organic before there was such a thing!". When he wasn't around greenery, Sam had a small business that dealt with weights, balances and scales.
Years ago, Sam's wife went through the Master Gardener Program here at Phipps and because of his history with gardening, he was there to support her through the program. While being involved with Phipps for the program, his wife had discovered there were volunteer positions available and had to relay the message to her plant loving husband!
After hearing this information from his wife, he knew that volunteering here was something he wanted to do because it "is such a wonderful place." Sam states that it was roughly five or six years ago that he began his journey as a volunteer at Phipps. When he first started it was just greeting guests, but it hadn't taken long for him to dive into helping with the plant life. He initially started in the Tropical Fruit and Spice Room, helping to clean and maintain it, until he got stationed in the Tropical Forest. He has grown quite fond of many things about the Tropical Forest Conservatory, especially getting to see the steam rise off the waterfall in these winter months!
Now once a week it has become Sam's routine to get here early in the morning, grab his tools and a bucket and head to the Tropical Forest. It is here that he can do anything from picking up leaf litter, upkeeping plants or helping in the back room. Sometimes there are even occasions where he will assist with cutting and trimming plants when necessary. Over these years, Sam discovered that his overall favorite part about being a volunteer here is the people. He says that "Everybody is nice as opposed to the outside world, where people can get ugly with each other. Here everyone seems to appreciate each other and get along.". Sam and his lifelong love for plants is dedicated to keeping the Tropical Forest neat, and prosperous for everyone to enjoy!
Photo © Paul g. Wiegman