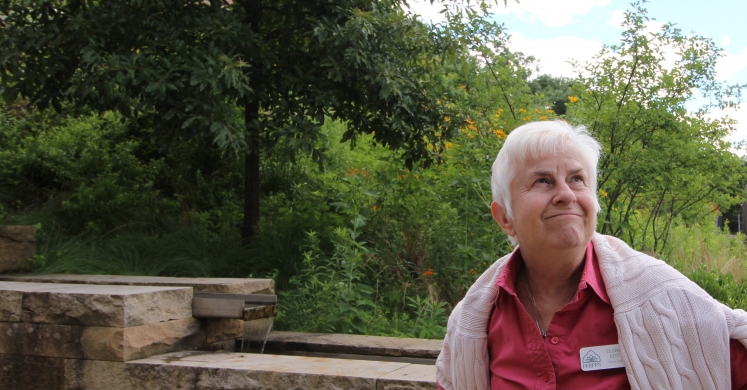 Volunteer Spotlight: Sheila Levine
Phipps is well-known for our beautiful gardens, seasonal flower shows, pioneering sustainability initiatives, informative educational programs and community outreach. None of our work, however, would be possible without the knowledge and dedication of our volunteers. In this series of profiles, we meet some of the people who give their time to make Phipps possible.
When Sheila Levine retired, a friend mentioned offhand that she had spent some time volunteering at Phipps Conservatory. That casual comment sparked a passion for learning and service that has lasted for ten years.
Volunteering was hardly Sheila's first exposure to Phipps' bountiful gardens and historic glasshouse. In fact, the Conservatory had always been one of her favorite relaxation destinations. "It's a place I can just go and forget the world for a while," she says.
Sheila began her Phipps career by guiding visitors through Dale Chihuly's iconic artwork during the 2007-2008 Gardens and Glass show, but soon discovered that her real talents lie outside the public eye. She currently rotates between the membership, development, and science education offices, as well as the Phipps Garden Center in Mellon Park. Her ever-expanding role sees her mailing yearly membership cards, promoting educational events, and finding new ways to spread the word about featured exhibitions.
Though she lives in a city apartment complex, Sheila finds small ways to care for the green in her surroundings. She raises herbs and tomato plants on her tiny balcony, waters all the plants in her building, and sets aside a few hours every Tuesday to come to Phipps. After a decade of dedicated service, volunteering has become a mainstay of her weekly routine. "At this point," she comments with a smile, "I work other things around this."
Although she enjoys wandering through the gardens and marveling at each season's beauty, Sheila most has a special fondness for the way that Phipps has stayed the same over the years. "I love the entire atmosphere of sustainability and beauty and science," she says. "Everything about it." But more than anything else, Sheila has enjoyed getting to know the Phipps staff and participating in so many talented teams. "I'm just blown away by their kindness," she says. "I don't feel like a stranger, and that's a wonderful thing." Her coworkers' friendliness and creativity make coming to the office each week a pleasure.
Sheila has volunteered with several other organizations, but the relationships and passions formed at Phipps have proved to be the hardiest. Her many years of service have strengthened her commitment to this historic place, the people who devote their talents here, and the purpose that keeps them coming to work every day. As she says: "Here, the people and the mission just come together."
For Sheila, volunteering is a natural extension of her love for nature's beauty and variety. "How can you not like being here?" she wonders. "You look out any window and in any office, and it's different any time you come in!"