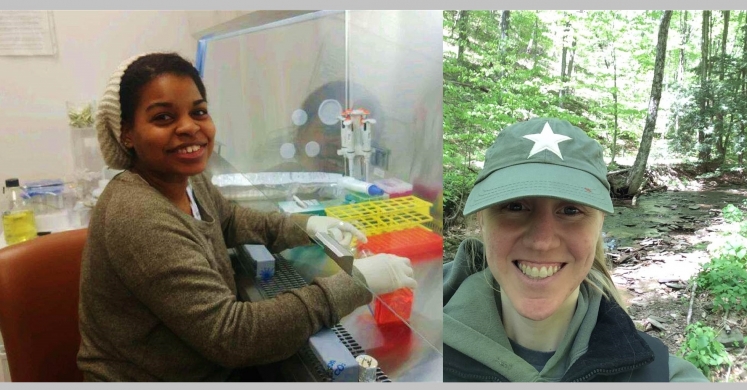 Meet a Scientist: Mondraya Howard and Sara McClelland
All of the researchers featured on our Meet a Scientist Saturdays have been trained through Phipps' science communication workshops. If you are young professional or graduate student in the sciences and you are interested in the workshop or participating in a Meet a Scientist Saturday, check out our website.
This Saturday, Jan. 20, from 1:30-3:30, Phipps Conservatory is excited to host two local researchers for our monthly Meet a Scientist series. Come meet Mondraya Howard, Ph.D. student from the University of Pittsburgh and Sara McClelland, Ph.D. student from Duquesne University. Both of these women are fascinated by the world around us, but focus on very different facets of life on Earth. Mondraya's research is focused on Vibrio cholera, the bacteria responsible for the human disease cholera; and Sara studies how pesticides impact tadpoles and frogs. Mondraya and Sara will be in the Serpentine Room, so be sure to read more about them below and stop by on Saturday to ask them your questions!
Why did you become a scientist?
Sara: I decided to become a scientist because I'm curious about the way the world works, and science gives us a way to answer our questions about the world.
Mondraya: I have always liked science, I grew up watching Bill Nye the Science Guy and Zoom; my sisters and I spent many Saturdays recreating the experiments that were done on these shows. However, I did not know I wanted to be a scientist until high school; in my junior year I took chemistry (my teacher was absolutely wonderful) and that was when I really fell in love with science. I enjoyed chemistry because it just made sense and decided to pursue it for my major in college. As an undergrad, I had to opportunity to do research on viruses and decided to go to graduate school to continue my education.
What is the most exciting thing you've ever done at work?
Mondraya: The most exciting thing I've done was when I was able to use my chemistry background in an experiment. I created a fluorescent probe to study how a compound created by the body to defend against bacterial infection binds to the Vibrio cholerae cell surface. To create the probe, I mixed two chemicals and allowed them to react. The mixture was collected in small volumes to separate the unreacted chemicals from the reacted product (these compounds can be separated by their color). Each volume collected fluoresced (or glowed) a different color and in the end I had a rainbow of glowing tubes.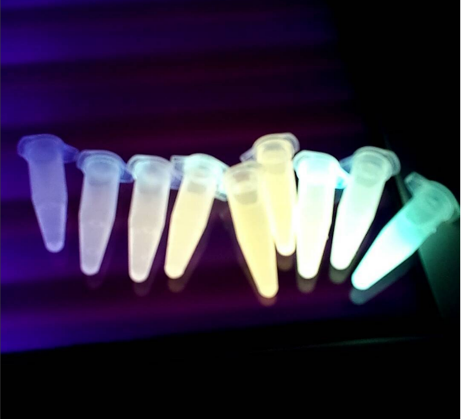 Sara: I think the most exciting thing I've ever done is that I got to work on a team to necropsy a gray whale. Necropsies are like autopsies only for animals, and often times when marine mammals that have died wash ashore, scientists perform necropsies to try to figure out a cause of death. I found this to be particularly exciting because gray whales are extremely large – they can measure over 46 feet long and weigh over 30 tons!
If you weren't a scientist, what would you be?
Mondraya: I love nature, spending time outdoors and learning about cultures different from my own. If I were to choose a non-science dream job I would probably be a photographer for National Geographical, traveling the world and taking pictures of our beautiful planet and the plants and animals it contains.
Sara: If I weren't a scientist, I might be working as a movie theatre manager. I worked at a movie theatre through college and loved it there!
Why is science education important?
Sara: The most pressing issues that face us today rely on scientists doing research to find the answers to our problems or cures to our diseases. In order for these findings to have the most impact in society, people need to trust science. However, I don't think people can really trust science unless they understand how science proceeds and what exactly scientists are doing to come to their conclusions.
Mondraya: Science impacts and applies to things in our everyday life. It is important to have a science literate public to make informed decisions and develop science policies to make our world a better place. Everything we do is informed by understanding science; for example, the cause and effects that impact human health, understanding the necessity of switching to green energy to save natural resource and reduce pollution, or forecasting weather (in terms of major natural disasters like hurricanes, earthquakes and tsunamis) to prepare affect areas for evacuation are all science-based problems that impact large numbers of people. Science is all about discovery, thus teaching the younger generation about science will also develop critical thinking skills. Critical thinking is necessary to avoid the large amount of misinformation we are exposed to because of the rise of social media. Most importantly, exposing people to science education develops curiosity about how and why the world works.