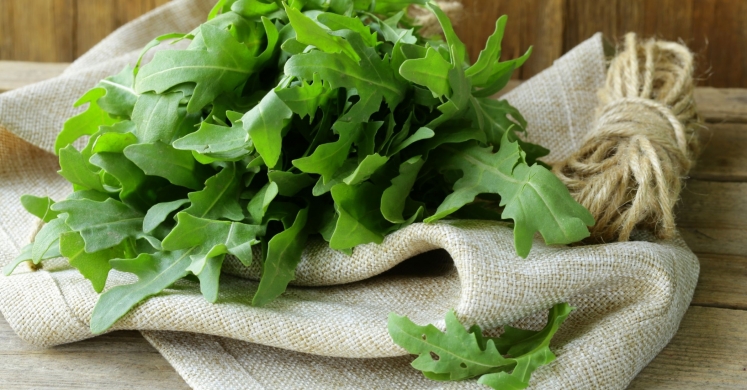 What We're Cooking With Now: Arugula
Looking for adventure in the kitchen? Our monthly What We're Cooking with Now post features a fresh produce ingredient, explains how to find the market's finest, and includes a recipe to try at home.
Arugula
Why: Besides having a delicious peppery flavor, arugula contains high levels of folic acid and antioxidants like vitamins C, K and A, as well as minerals like potassium, manganese, iron and calcium. It is also know to be good for skin.
Shopping Tip: Look for dark greens leaves of a uniform color. Avoid yellowing, damaged, wilted or excessively moist-looking leaves. Be sure to wash the arugula as dirt can sometimes splash onto the stems during watering. The entire stem and leaf of the plant is edible.
Preparation: Use the leaves either on their own as a salad green or mixed in with other greens. The flavor is strong, with the largest leaves having the strongest flavor; if the flavor is too strong for your preference, mix it with other salad greens to make the salad milder. You can also cook the entire stem and leaf as you would with spinach or collard greens. The stems will soften when cooking but retain their peppery flavor. Arugula is delicious when sautéed and served as a side dish and pairs well with just about everything.
Recipe: Organic Apple, Pecan and Arugula Salad with Lemon Dressing
Salad ingredients:
6 oz. fresh arugula, preferably organic
1 small organic tart Granny Smith apple, cored and sliced lengthwise
¼ red onion, thinly sliced
½ cup raw pecans
Dressing ingredients:
1 large lemon, juiced
2 Tbsp. extra virgin olive oil
Pinch of salt and pepper
Directions:
Wash the arugula and pat dry. Slice the cored apple thinly. Whisk the dressing together by mixing the ingredients. Mix the apple slices, arugula, pecans and onions in a bowl. Pour the dressing over the salad and toss thoroughly.