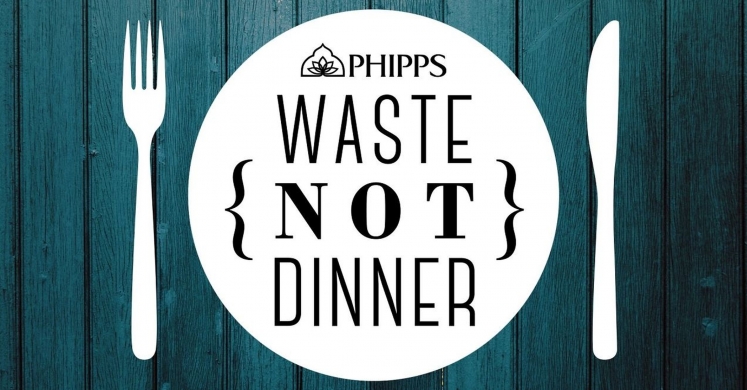 The Recipe for a Waste Not Dinner
On Fri., March 23, Phipps hosted its first-ever Waste Not Dinner. Inspired by popular waste-not-style dinner events held in New York and San Francisco — and seen on Food Network — we brought the up-and-coming movement in creative cuisine to Pittsburgh in style with an abundant four-course meal in which each plate takes an ingredient that is often overlooked or discarded — from beet tops and potato skins to olive jar juice and more — and transforms it into an innovative, flavorful dish that will excite your taste buds. Below, we've included the full menu along with recipes for each of the Waste Not ingredients for you to try at home!
Salad
Beet top salad
utilizing beet tops as greens, grilled zucchini and eggplant, grape tomatoes, cucumbers, red onions, mixed artisan greens and Kalamata olive jar juice vinaigrette
Recipe: Kalamata Olive Vinaigrette
Yields 1 cup
Ingredients:
⅛ cup white wine vinegar
⅛ cup Kalamata olive juice
½ tsp. mustard powder
⅛ tsp. oregano leaves
½ tsp. garlic powder
Salt and pepper to taste
¾ cup extra virgin olive oil
Directions:
Mix all ingredients into a bowl and slowly drizzle in the olive oil while whisking vigorously.

Appetizer
Carrot-fennel risotto
utilizing "juicer carrot" pulp, fresh rainbow carrots, scrap-vegetable stock, chardonnay braised fennel
Recipe: Carrot Pulp Risotto
Ingredients:
¼ small white onion, finely diced
1 cup Arborio rice
1 clove garlic, minced
3 Tbsp. extra virgin olive oil
½ cup dry white wine
½ cup carrot pulp
1 – 1½ quart vegetable stock (depending on preference)
¼ cup carrot juice
¼ cup parmesan cheese
1 ounce butter
Salt and pepper to taste
Directions:
Sauté the diced onion in a large pan with the olive oil until translucent on medium heat. Add the dry Arborio rice and stir for 2 minutes on low heat until rice is lightly toasted. Add minced garlic and sauté until fragrant. Deglaze with white wine and cook until it is evaporated. Add the carrot pulp and stir to mix well. Add 1 ladle of hot vegetable stock and stir constantly until almost totally evaporated. Add 1 more ladle and repeat until rice is al dente or to your desired doneness, stirring constantly. Once rice is finished cooking and soft but still firm to bite, add the carrot juice and parmesan cheese and stir until cheese is melted and some liquid remains. Add the butter and season with salt and pepper.

Choice of Entrée
Seared wild striped bass
Seared bone-in chicken
— or —
Black bean and quinoa cake (vegan option)
served with vegan pesto utilizing wilted arugula, mesquite sweet potato skins, chickpea and asparagus salad, parsley stem vinaigrette
Recipe: Parsley Stem Vinaigrette
Yields 1 cup
Ingredients:
⅛ cup champagne vinegar
⅛ cup lemon juice
1 tsp. Dijon mustard
½ cup of parsley stems and a pinch of leaves
¾ cup extra virgin olive oil
Salt and pepper to taste
Directions:
Blend all ingredients into a food processor, then slowly drizzle the olive oil in while the food processor is running.
Recipe: Wilted Arugula Pesto
Yields 1 cup
Ingredients:
2 cloves of garlic
¼ cup wilted arugula
⅛ c basil leaves
¼ cup pine nuts, toasted
¾ cup extra virgin olive oil
2 Tbsp. nutritional yeast flakes
Salt and pepper to taste
Directions:
Mix garlic, arugula, basil and toasted pine nuts into a food processor and blend until well mixed. Drizzle in the olive oil until it is an emulsified consistency. Add the nutritional yeast flakes and salt and pepper to taste.
Recipe: Sweet Potato Skins
Ingredients:
1 cup sweet potato peelings
1 Tbsp. extra virgin olive oil
½ tsp. mesquite seasoning
½ tsp. smoked paprika
½ tsp. black pepper
1 drop of honey
Pinch of salt
Directions:
Mix the oil, seasonings and honey together. Add the potato peelings and toss until thoroughly coated. Bake at 350 degrees for 3 – 4 minutes until crispy, being careful not to burn the skins.

Dessert
Bread pudding and orange aquafaba meringue
utilizing day-old bread
Recipe: Aquafaba Meringue
Yields 2 cups
Ingredients:
½ cup chickpea juice (the juice from 1 small can of chickpeas)
¼ cup powdered sugar
½ tsp. vanilla extract
½ tsp. orange extract
Directions:
Whip the chickpea liquid with an electric mixer until it makes stiff peaks. Add the powdered sugar and continue to mix. Add the extracts and continue to mix until very stiff peaks form like meringue. A spoon should stand up by itself in the "meringue."