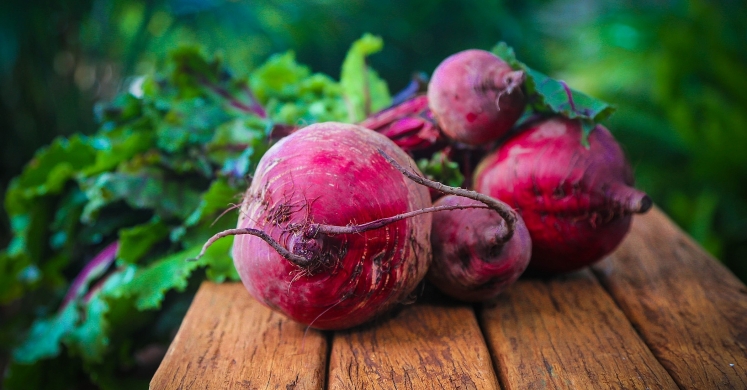 What We're Cooking With Now: Beets
Looking for adventure in the kitchen? Our monthly What We're Cooking with Now post features a fresh produce ingredient, explains how to find the market's finest, and includes a recipe to try at home.
Beets
Why: Beets are recognized as a superfood, offering a variety of vitamins and minerals including fiber, vitamins C and B6, folate, magnesium, potassium, phosphorous, manganese, iron, and inorganic nitrates and pigments which offer a number of health benefits.
Shopping Tip: Start with beets that are heavy for their size, with fresh, unwilted green leafy tops still attached. The bulbs should be firm and not soft without wrinkled skin or discoloration.
Preparation: Beets can be juiced, roasted, boiled, steamed or pickled. Roasting beets with the skin on makes it easy to peel them once they are roasted. Pickling beets by boiling them in an acidic solution of vinegar and then cooling properly and sealing in an airtight container is a great way to preserve them. The skins are edible, but some people are turned off by the taste, which is very earthy. It is very common to peel the bulbs of beets and cut off the stalk end before cooking.
Recipe: Roasted Beet and Farro Salad
Ingredients
3 large ripe beets
1 Tbsp. extra virgin olive oil
1 carrot, shredded
1 cup cooked farro
1 orange, segmented
1 small bunch of fresh chives
1 small red onion, julienned

Dressing:
¼ cup white balsamic vinegar
¾ cup extra virgin olive oil
2 Tbsp. (a splash) of orange juice
½ tsp. Dijon mustard
1 tsp. coriander
salt and pepper to taste
Directions:
Wash the beets and cut off any stalk that remains, then drizzle the beets with olive oil and roast in an oven at 400 degrees for 30 minutes or until fork tender. Let the beets cool to the touch, then use a paper towel or vegetable peeler to rub or peel the skin off. Cut the beets into small wedges and let cool completely. Add the rest of the ingredients to a bowl then add the beets when they are completely cooled. After segmenting the orange, squeeze as much juice as you can into a bowl to start the dressing. Whisk the ingredients for the dressing together and then pour over all the salad ingredients and let cool. Serve as a side dish to any protein, or as an entrée salad over mixed greens.