Saturdays and Sundays; 1:30 p.m. except where noted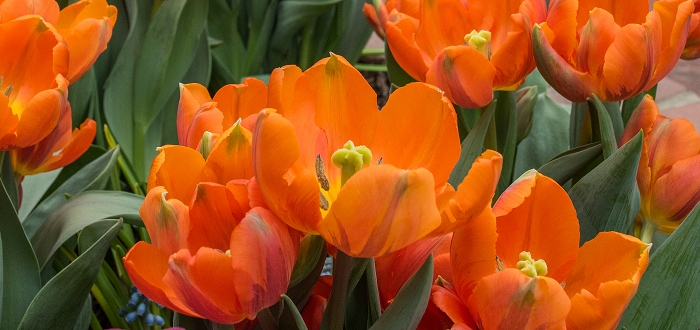 Grow your garden know-how by attending a free-with-admission class.
Join us every Saturday and Sunday at 1:30 p.m. in the Tropical Forest Conservatory (except as noted below) for demonstrations on a wide variety of topics, free with admission! From perfect pansies to forest flora, local experts bring it all to you surrounded by the beauty of our gardens.
Pansies and Violas for Containers | Lorrie Easudes
Sun., April 1
Learn how to plant spring containers.
Essential Oils | Lori Rothschild
Sat., April 7
Discover natural solutions to use in your family's life.
Healthy Eating for Kids | Let's Move Pittsburgh
Sat., April 7 | 11 a.m. – 1 p.m.
Learn how to eat healthy and stay active.
Forest Floor and Fauna | Chris Holt
Sun., April 8
Learn how to make forest-inspired arrangements to delight the senses.
Origami | Origami Club of Pittsburgh
Sat., April 14 | 1:30 – 3:30 p.m.
Discover the secret to making origami flowers.
Botanical Embroidery | Embroiderer's Guild
Sun., April 15 | noon – 2 p.m.
View a beautiful botanical embroidery showcase.
Meet a Scientist | Science Communication Fellows
Sat., April 21 | 1:30 – 3:30 p.m.
Meet real scientists and learn all about their fascinating work.
Bees Please | Burgh Bees
Sun., April 22
Learn all about urban beekeeping.
Papermaking with Plants | Katy Dement
Sat., April 28
Learn all about handmade paper.
Origami | Origami Club of Pittsburgh
Sun., April 29 | 12:30 – 2:30 p.m.
Discover the secret to making origami flowers.
Photos © Paul g. Wiegman
More Events You'll Enjoy
Sat., May 26; 11 a.m. – 4 p.m.

Bring the whole family to our Children's Discovery Garden for hands-on, sensory fun. Together, you'll learn about plants and their pollinators through games, a potting station, crafts and more — all free with Conservatory admission.

Saturdays; 11 a.m. – 3 p.m. Except as Noted

Phipps' revolutionary new SEED Classroom and observational beehive are now open for you to discover. Drop in during our Saturday open hours and a graduate of our Learning for a Greener Future high school internship will show you around. No advance reservation is required.

Mondays, Wednesdays and Fridays, Plus Additional Days As Available

Join us for one of our weekly scheduled Discovery Programs to engage our youngest visitors with the wonders of the natural world. All programs are free with admission and require no advance registration.