Saturdays and Sundays; 1:30 p.m. except where noted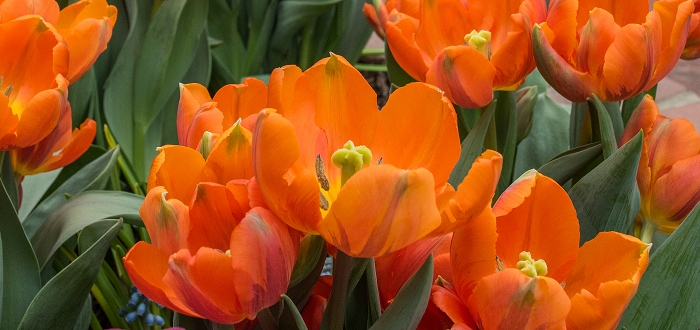 Grow your garden know-how by attending a free-with-admission class.
Join us every Saturday and Sunday at 1:30 p.m. in the Tropical Forest Conservatory (except as noted below) for demonstrations on a wide variety of topics, free with admission! From birds and bees to shrubs and trees, local experts bring it all to you surrounded by the beauty of our gardens.
Healthy Eating for Kids | Let's Move Pittsburgh
Sat., April 1 | 11 a.m. – 1 p.m.
Get smart eating and activity tips.
Origami | Origami Club of Pittsburgh
Sat., April 1 | 1:30 – 3:30 p.m.
Make origami flowers.
Growing Spring Grass for Home Decorations | Lorrie Easudes
Sun., April 2
Learn how to grow spring grass.
Papermaking with Plants | Katy Dement
Sat., April 8
Learn all about handmade paper.
African Foods | Ola Appetit Catering
Sun., April 9
Learn how African food has been translated in the Americas.
Meet a Scientist | Science Communication Fellows
Sat., April 15 | 10:30 a.m. – 12:30 p.m.
Meet real scientists and learn about their work.
Botanical Embroidery | Embroiderer's Guild
Sat., April 15 | 1 – 3 p.m.
View a botanical embroidery showcase.
It's So Bunny | Chris Holt
Sun., April 16
Create celebratory floral arrangements.
Bees Please | Burgh Bees
Sat., April 22
Learn all about urban beekeeping.
Origami | Origami Club of Pittsburgh
Sun., April 23 | 12:30 – 2:30 p.m.
Make origami flowers.
Essential Oils | Faye Silver
Sat., April 29
Discover the benefits of essential oils.
Papermaking with Japanese Knotweed | Albert Pantone
Sun., April 30
Learn how paper can be handmade from the Japanese knotweed plant.
Photos © Paul g. Wiegman
More Events You'll Enjoy
Fridays, April 21 and 28 only

Friday evenings, we're reinventing date night as our award-winning Café Phipps transforms into a gourmet restaurant. A delicious four-course meal provides the perfect prelude to a romantic stroll through the moonlit conservatory.

Sun., April 30; 9:30 a.m. – 5 p.m.

Get ready for a day of healthy fun and a special admission discount at UPMC Health Plan's member appreciation event. With the help of Let's Move Pittsburgh, UPMC Health Plan and Phipps, guests will delight in a day of games, cooking demos, crafts, healthy tips and more.

Open Now

Explore our all-new exhibit featuring some of Africa's lushest landscapes. See botanical specimens never before showcased at Phipps and discover how indigenous peoples use plants to sustain and enrich their lives.