Saturdays and Sundays; 1:30 p.m. except where noted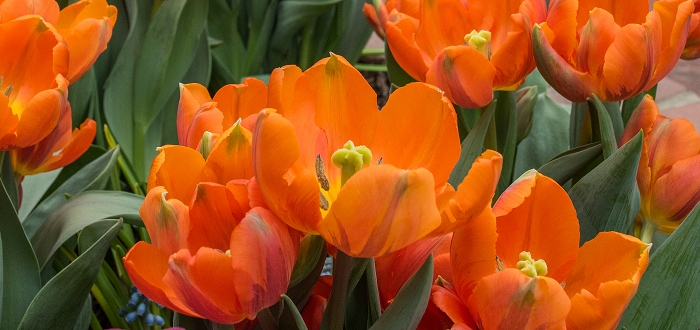 Grow your garden know-how by attending a free-with-admission class.
Join us every Saturday and Sunday at 1:30 p.m. in the Tropical Forest Conservatory (except as noted below) for demonstrations on a wide variety of topics, free with admission! From perfect pansies to forest flora, local experts bring it all to you surrounded by the beauty of our gardens.
Pansies and Violas for Containers | Lorrie Easudes
Sun., April 1
Learn how to plant spring containers.
Healthy Eating for Kids | Let's Move Pittsburgh\
Sat., April 7 | 11 a.m. – 1 p.m.
Learn how to eat healthy and stay active.
Essential Oils | Lori Rothschild
Sat., April 7
Discover natural solutions to use in your family's life.
Forest Floor and Fauna | Chris Holt
Sun., April 8
Learn how to make forest-inspired arrangements to delight the senses.
Origami | Origami Club of Pittsburgh
Sat., April 14 | 1:30 – 3:30 p.m.
Discover the secret to making origami flowers.
Botanical Embroidery | Embroiderer's Guild
Sun., April 15 | noon – 2 p.m.
View a beautiful botanical embroidery showcase.
Meet a Scientist | Science Communication Fellows
Sat., April 21 | 1:30 – 3:30 p.m.
Meet real scientists and learn all about their fascinating work.
Bees Please | Burgh Bees
Sun., April 22
Learn all about urban beekeeping.
Papermaking with Plants | Katy Dement
Sat., April 28
Learn all about handmade paper.
Origami | Origami Club of Pittsburgh
Sun., April 29 | 12:30 – 2:30 p.m.
Discover the secret to making origami flowers.
Photos © Paul g. Wiegman
More Events You'll Enjoy
Sun., June 10; 8:30 a.m. – 4:30 p.m.

Bring the whole family to Phipps for a free, fun festival celebrating science, art and nature! You'll explore the amazing biodiversity right here in our region, participate in real-time science, create unique art and much more.

Now Open

Experience the natural beauty and culture of Cuba, one of the most biodiverse Caribbean island nations on Earth, in our immersive new Tropical Forest exhibit.