Phipps Virtual Date Night
Fri., Sept. 25; 6:30 – 8:30 p.m.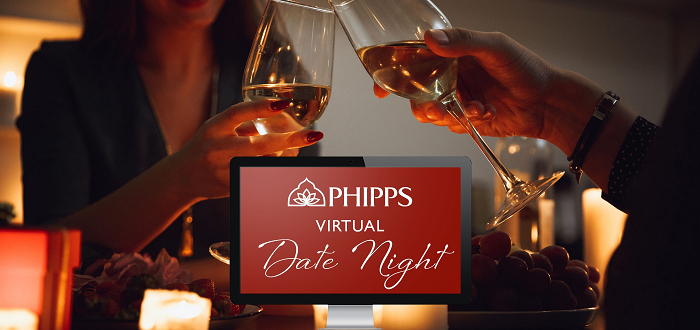 Dim the lights, light the candles and enjoy a romantic dinner for two — right at home!
Join Chef Amy Reed from Café Phipps for a very special Phipps Virtual Date Night at home! You and your date will get the opportunity to connect and create a delicious meal together as our highly-skilled Chef teaches you all the techniques and tricks you need to whip up a four-course gourmet meal from the comfort of your own home. This dinner includes an easy to make appetizer, a fresh seasonal salad, a delicious seafood entree and a smooth chocolate fondue for dessert. Upgrade your package to receive extra goodies from Phipps!
Date Night – Class Only | $50 per couple
Receive a detailed shopping list, an exclusive recipe created by Chef Amy Reed and a Zoom meeting link to learn tips and tricks and cook along with our chef. ($50 per couple)
Date Night – Grocery Pick Up and Class | $100 per couple
Sit back and relax as we do the shopping for you! Phipps staff will source the freshest local ingredients for your meal, including a delicious drink mixture to add to any alcoholic or nonalcoholic beverage. Come to Phipps for a contact-less pick up of your groceries brought to you in a Phipps tote bag. Plus, receive Phipps wine glasses. ($100 per couple)
Date Night – Full Package | $150 per couple
Our full package date night includes the groceries you will need for class, drink mix, tote bag and wine glasses, plus a little love from Phipps. The full package will include a locally-made growing candle, three sustainable dishcloths and bees wrap for your food storage needs (a Phipps gift shop favorite).
More Events You'll Enjoy
Opens Sat., Oct. 10

Vibrant colors and tranquil scenes abound at our annual Fall Flower Show: The Poetry of Nature.

See description for dates and times

Now some of our most popular courses are available to attend from the comfort of your own home. Peruse our offerings for an exciting variety of fun and enriching programs on vegetable gardening, orchid care and more to let your inspiration grow. Enrolled students will receive a...

Now Open

In this series, photographer Donald M. Robinson highlights the ever-changing nature of light and wildlife found throughout Pennsylvania.