Little Sprouts: Fun with Let's Move Pittsburgh
Join the team from Let's Move Pittsburgh, Phipps' health and wellness program, to explore healthy foods and learn how they help our bodies grow. Adult accompaniment is required for each of these programs. To learn even more, please call 412/441-4442, ext. 3925.
Ages 2 – 4
Mondays, 9:30 – 10:30 a.m.
$15 MEMBERS | $20 NONMEMBERS
Interested in a class that's already sold out? Email us to be placed on our waiting list.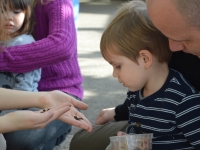 Fun with Seeds
Oct. 21
Try our favorite seed snacks, including chia seed protein balls and pumpkin seed snacks, and learn what makes seeds so good for us.
Fun with Growing
Oct. 28
What do our plants need to grow? What do we need to grow? Learn how nutrition helps keep people, plants and animals healthy.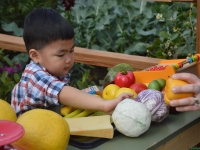 Fun with Harvest Foods
Nov. 4
Harvest time is one of the most colorful times of year! Learn about eating the rainbow and try some of nature's seasonal goodies.
Fun with Apple Snacks
Nov. 11
Reusing our extra food is important! Try making some apple snacks and use the leftovers.
Select photos © Cory Doman, Mark Regan