Phipps Conservatory and Botanical Gardens Presents Eye Candy, A Sweet Treat for the Senses
For Immediate Release: Wed., Jan. 9
Contact: Julie LaBar | Director of Marketing and Communications
412/638-6008 ǀ jlabar@phipps.conservatory.org
Phipps Conservatory and Botanical Gardens Presents Eye Candy, A Sweet Treat for the Senses
Escape the cold and enter a decadent, dazzling paradise in all-new Orchid and Tropical Bonsai Show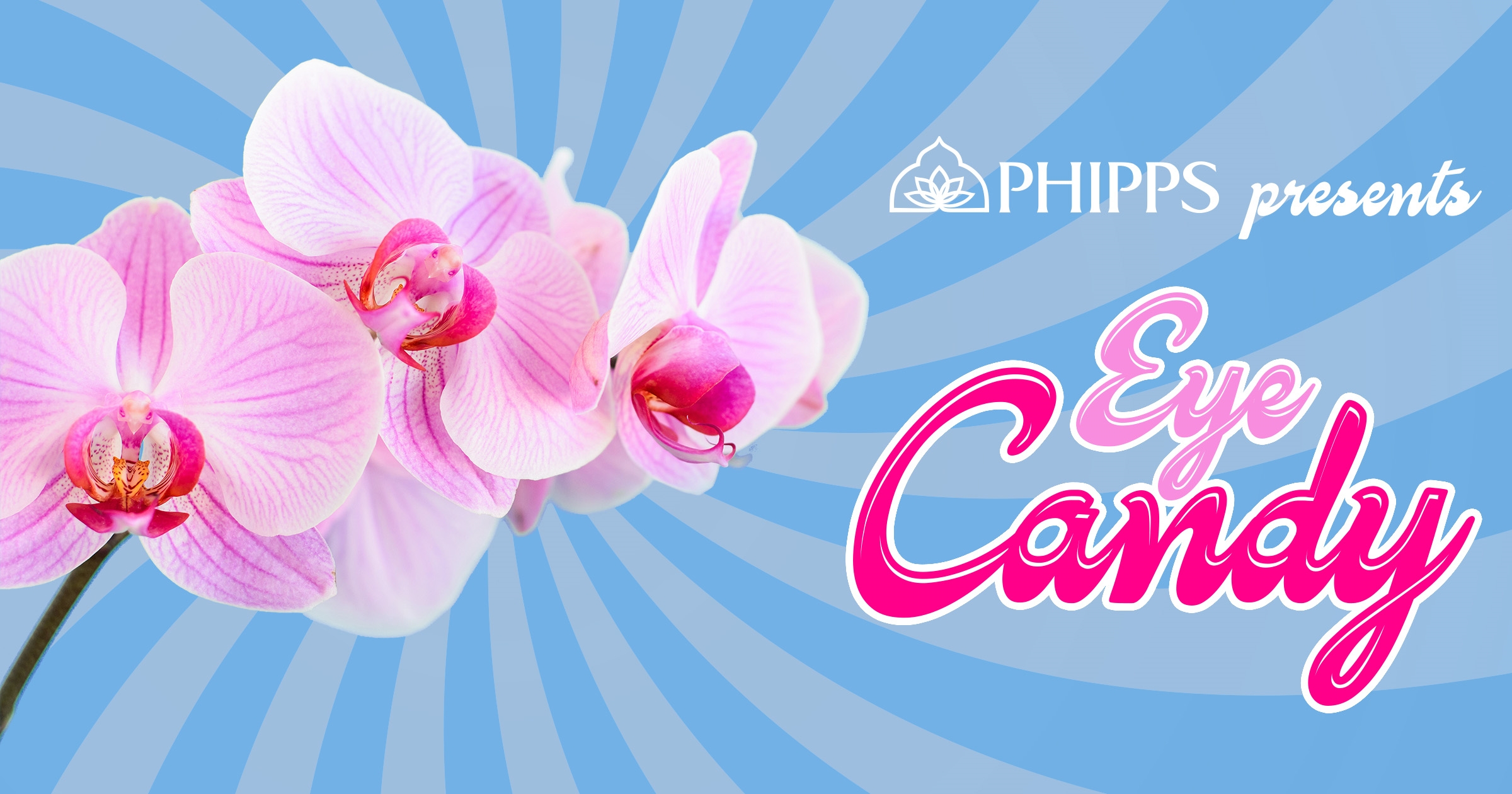 Pittsburgh, PA — Phipps Conservatory and Botanical Gardens presents Orchid and Tropical Bonsai Show: Eye Candy, inviting visitors to a sweet escape of candy-inspired natural beauty, opening Sat., Jan. 12. Phipps is transformed with beautiful candy-striped orchids, orchids planted in the shape of oversized lollipops, confectionery-scented varieties and more, with over 1,000 spectacular blooms to enjoy. Visitors will also have the chance to immerse themselves in the delectable detail of tropical bonsai trees, meticulously trained for years and beautifully showcased in this special exhibit.
A true treat for the senses, guests will be surrounded by deliciously-scented orchids, including Wilsonara Eye Candy 'Pinkie,' Oncidium Sharry Baby 'Sweet Fragrance,' Phalaenopsis varieties, Oncidium Aka Baby 'Raspberry Chocolate' and many more blooms in a wide variety of vibrant colors, shapes, scents and textures throughout the Conservatory. Plus, in Phipps' signature Orchid Room, visitors can explore the beauty and wonders of miniature orchids, in addition to exotic hybrids and exquisite selections from the Barbara Tisherman Slipper Orchid collection, curated in collaboration with the Orchid Society of Western Pennsylvania. The unique Frank Sarris Orchid, named in honor of the founder of Pittsburgh-based Sarris Candies, will make an appearance when in bloom.
Phipps' esteemed collection of ornate tropical bonsai trees will also be on display in Eye Candy. Classified by size and style based upon the shapes of their trunks, roots and branches, bonsai take many forms, from the iconic informal upright bonsai to the more dramatic slant bonsai that resemble windswept, centuries-old trees. Rich in tradition, these time-honored trees will captivate audiences. New miniature mudmen — small clay figurines popularized in China about 1,000 years ago to lend scale to the miniature landscapes the artisans were recreating — will be tucked within the collection, adding a fun treasure hunt surprise that all ages are sure to enjoy.
Additional free-with-admission features at Phipps:
Tropical Sundays return this year, reminding guests that no matter what the temperature is outside, it is always tropical at Phipps. Guests who wear a tropical floral shirt on Sundays in February will take 50% off regular admission on a single ticket to relax under the palm trees.
Don't miss all of the sweet sights, scents and surprises at every turn it Phipps' new show — a much needed dose of Eye Candy to dazzle your spirits this winter! Phipps' Orchid and Tropical Bonsai Show runs from Sat., Jan. 12 – Sun., March 10. Hours are 9:30 a.m. – 5 p.m. daily and until 10 p.m. on Fridays and Saturdays through Sat., Jan. 26. Admission is $17.95 for adults, $16.95 for seniors and students, and $11.95 for children 2 – 18. Members and kids under 2 enter free. Learn more at phipps.conservatory.org.
###
About Phipps: Founded in 1893, Phipps Conservatory and Botanical Gardens in Pittsburgh, Pa. is a green leader among public gardens with a mission to inspire and educate all with the beauty and importance of plants; to advance sustainability and promote human and environmental well-being through action and research; and to celebrate its historic glasshouse. Learn more: phipps.conservatory.org.
Photo © Paul g. Wiegman