Saturdays and Sundays; 1:30 p.m. except where noted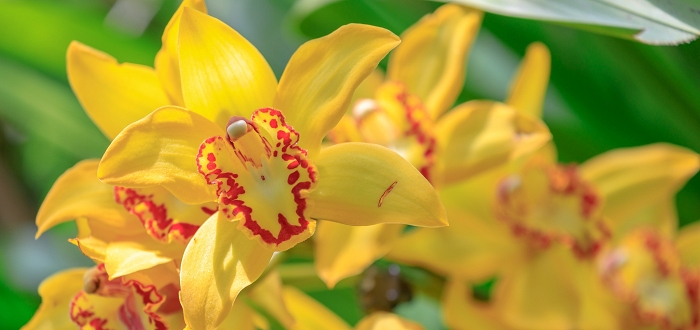 Grow your garden know-how by attending a free-with-admission program.
Join us each Saturday and Sunday in the Tropical Forest Conservatory for interactive demonstrations, activities and speakers that will deepen your connections to the beauty and wonders of nature, all free with admission! Make an origami creation, learn about orchids, meet a scientist, sample delicious healthy foods and more with Phipps' team of experts and partners. See the full schedule below to explore all Phipps has to offer and make plans to visit. Public programs are held at 1:30 p.m. except where noted.
Healthy Eating for Kids | Let's Move Pittsburgh
Sat., Jan. 5 | 10:30 a.m. – 1 p.m.
Essential Oils | Deb Bosco
Sat., Jan. 5 | 1 – 3 p.m.
Flower Arrangements with a Winter Flair | Chris Holt
Sun., Jan. 6 | 12:30 – 2:30 p.m.
Wonderful World of Orchids | Demetria Marsh
Sat., Jan. 12
Vanilla Orchids | Cyndi Fink
Sun., Jan. 13
Meet a Scientist | Science Communication Fellows
Sat., Jan. 19 | 1:30 – 3:30 p.m.
Wonderful World of Bonsai | Dave Metzgar
Sun., Jan. 20
What Is an Orchid? | Tim Choltco
Sat., Jan. 26
Origami | Origami Club of Pittsburgh
Sun., Jan. 27 | 12:30 – 2:30 p.m.
Photos © Paul g. Wiegman, Phil Johnson II
More Events You'll Enjoy
Opens Sat., March 23

Marvel at the kaleidoscope of color as tens of thousands of breathtaking spring blooms burst forth in all the season's vibrant hues.

Mondays – Fridays, 11:30 a.m. – Close; Saturdays – Sundays All Day

Switch your home electricity to 100% green power while visiting our Tropical Forest Conservatory and you can receive a free Phipps membership!

Fridays, Feb. 1 and March 1; 7 – 11 p.m. (Ages 21+)

Make our paradise your own as you indulge in sweet and savory morsels, taste unique cocktails, and dance to the beats of a live DJ in our Tropical Forest Conservatory. Entry is free with Conservatory admission.