Saturdays and Sundays; 1:30 p.m.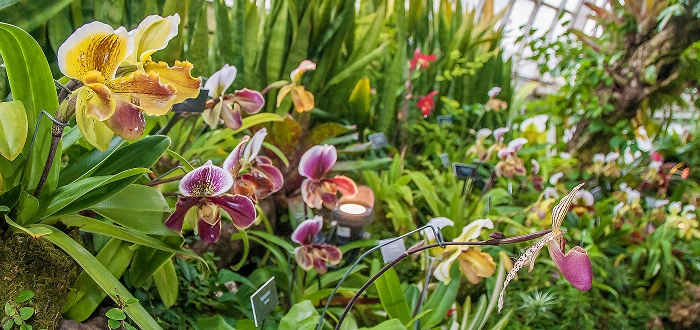 Grow your garden know-how by attending a free-with-admission class.
Join us every Saturday and Sunday at 1:30 p.m. in the Tropical Forest Conservatory (except as noted below) for demonstrations on a wide variety of topics, free with admission! From orchids and bonsai to health and fitness, local experts bring it all to you surrounded by the beauty of our gardens.
Healthy Eating for Kids | Let's Move Pittsburgh
Sat., Jan. 6 | 11 a.m. – 1 p.m.
Learn how to eat healthy and stay active.
What is an Orchid? | Tim Choltco
Sat., Jan. 6
Learn about these special tropical plants.
Origami | Origami Club of Pittsburgh
Sun., Jan. 7 | 12:30 – 2:30 p.m.
Discover the secret to making origami flowers.
Basic Orchid Culture | Demetria Marsh
Sat., Jan. 13
Learn all about basic orchid care.
Vanilla Orchids | Cyndi Fink
Sun., Jan. 14
Learn all about these aromatic beauties.
Meet a Scientist | Science Communication Fellows
Sat., Jan. 20 | 1:30 – 3:30 p.m.
Meet real scientists and learn all about their fascinating work.
Orchid Repotting | Tim Choltco
Sun., Jan. 21
Learn to repot orchids.
Growing Orchids on a Windowsill | Timothy Choltco
Sat., Jan. 27
Learn how to grow these beauties at home.
Successfully Start Bonsai | Dave Metzgar
Sun., Jan. 28
Learn to grow bonsai successfully.
Photos © Paul g. Wiegman
More Events You'll Enjoy
Fridays, March 2, April 13 and May 4; 7 – 11 p.m. (Ages 21+)

Make our paradise your own as you indulge in sweet and savory morsels, taste unique cocktails, and dance to the beats of a live DJ in our Tropical Forest Conservatory. Entry is free with Conservatory admission.

Wed., Feb. 21; 8:30 a.m. – 4:30 p.m. (Opening Reception Tues., Feb. 20; 5 – 8 p.m.)

In this interactive workshop, Phipps will walk through some of the most important rating systems related to green buildings, human health and landscapes, and show how to use them to help you to clearly define your expectations and set yourself up for success.

Select Dates in February

Phipps joins with 11 leading Pittsburgh organizations to say "thank you" to our members by offering free admission on select dates this February. Check out the calendar and plan your visit to one of our amazing neighbor institutions!