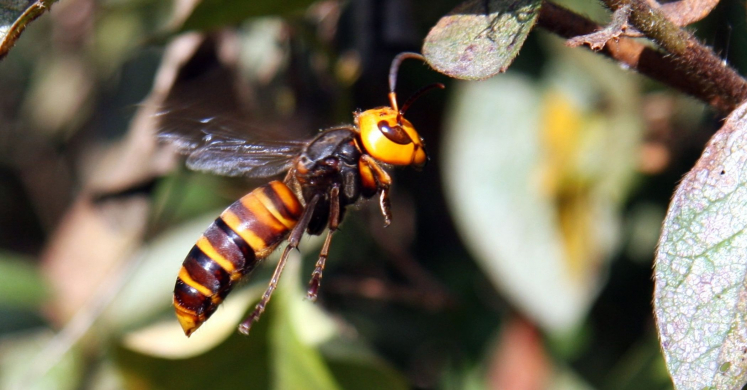 #bioPGH Special Update: Asian Giant Hornet
The Asian giant hornet or sparrow wasp (Vespa mandarinia Smith) is a species of wasp from areas of eastern and central Asia. These wasps were detected in the state of Washington and in British Columbia, Canada, in August of 2019 and recently made national headlines with the dubious name "murder hornets." But we're here to tell you there is no reason to panic about these wasps. (They are not present in Pennsylvania!) Instead this is a good time to learn about their biology and what is already being done to detect and control them in North America.
Asian giant hornets are distinctive animals. They are very large, with workers at around 1.5" in length and queens at around 2" with a 3" wingspan - making them some of the largest wasps in the world. Their colors are also striking - a yellow-orange head with large front-facing eyes, a black thorax, and a yellow-orange and black or brown striped abdomen giving them a distinctly Halloween-themed feeling.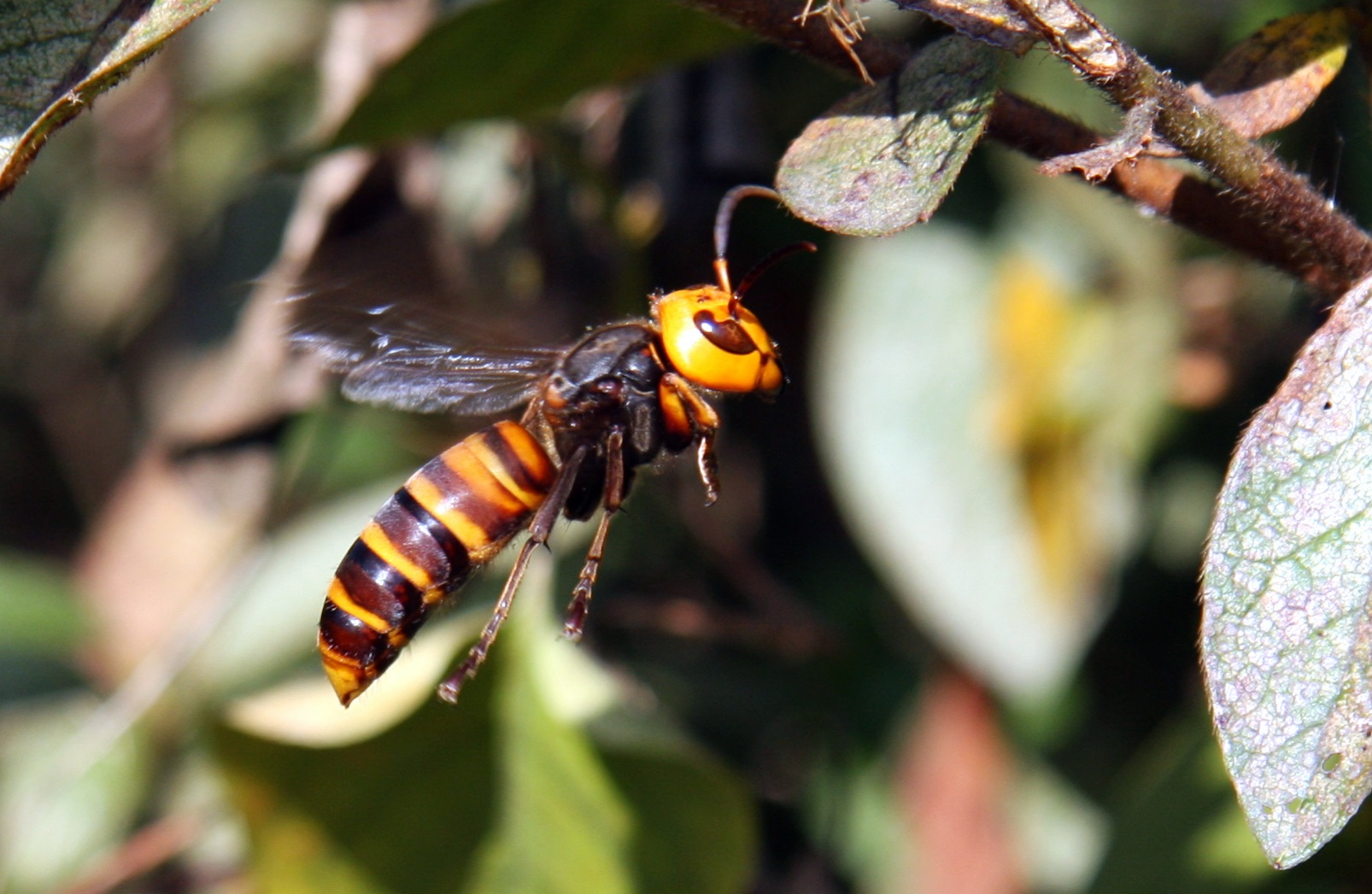 An Asian giant hornet showing its very distinctive coloration. (Photo: Fulfill on Wikimedia).
It is extremely important to note that because of their coloration Asian giant hornets may resemble other species of insects, many of which are native to North America including Pennsylvania. Do not indiscriminately kill insects around you that seem to resemble an Asian giant hornet! As noted before, the Asian giant hornet is currently only known in the northwest corner of Washington state and in British Columbia. The likelihood of seeing this insect in Pennsylvania or anywhere else in the eastern U.S. is near zero. If you are unsure of what you are looking at, take a photo and submit it to your local Penn State Extension office to be identified.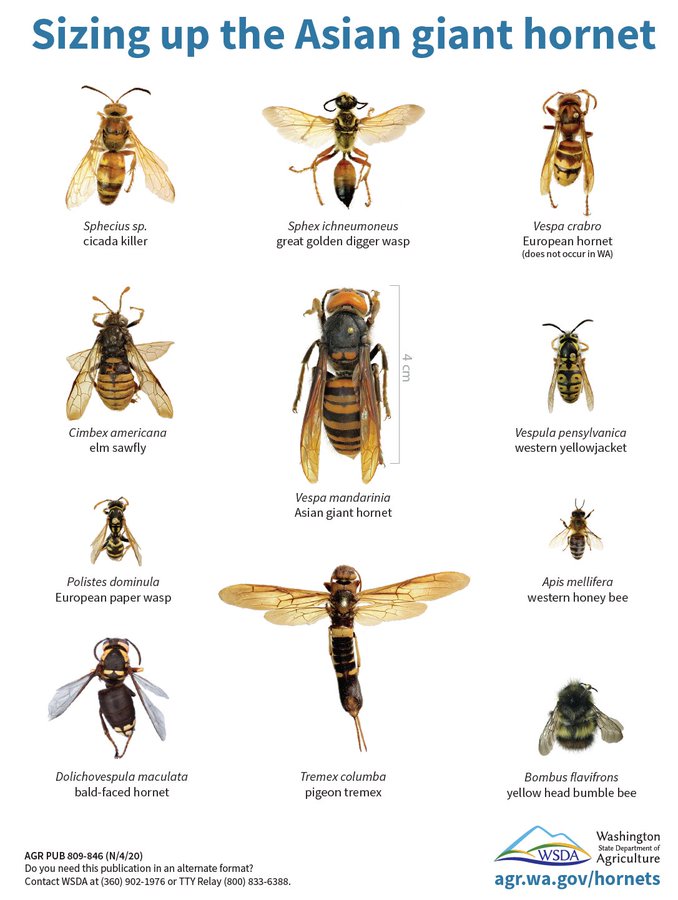 Chart from the Washington State Department of Agriculture showing some of the other species of insects that may resemble the Asian giant hornet. (Credit WSDA)
Since the first detections of the Asian giant hornet in August in Washington state and British Columbia and the first nest being eradicated on Vancouver Island in September, monitoring and detection efforts have been underway to find any other nests of these insects. Baiting and trapping helps kill emerging overwintered foundress queens and monitor populations through the spring and summer. Active nest searching in the summer will locate nests for eradication. And informing the public of what to look for and report on also helps detect these wasps. A description of the activities underway can be found in the USDA's New Pest Response Guidelines: Vespa mandarinia.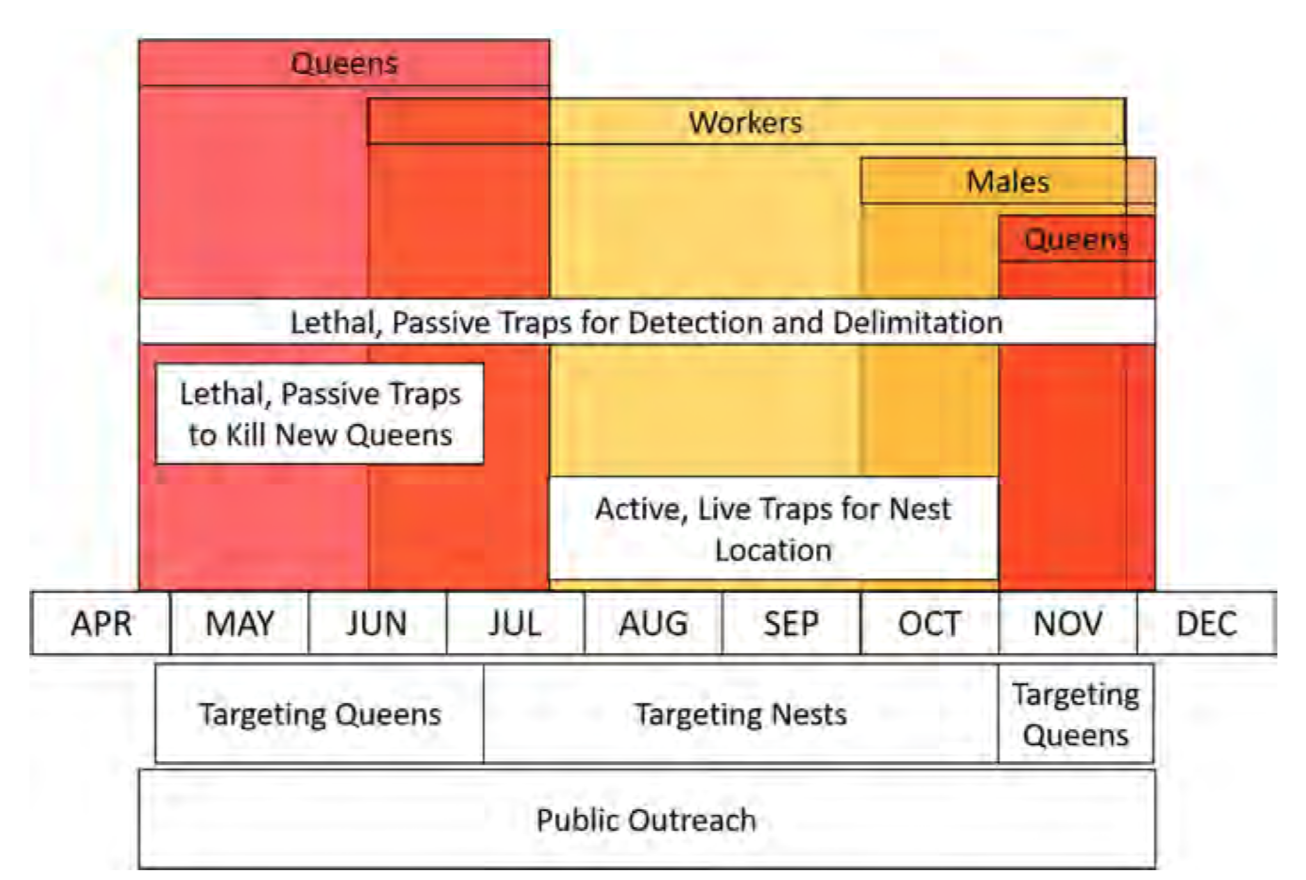 An outline of the monitoring and control efforts underway for the Asian giant hornet. (Credit USDA)
The concerns with the Asian giant hornet relate to agriculture and human health. Most of the year, the Asian giant hornet behaves like other wasps, hunting smaller insects to provision the colony and usually only becoming aggressive if the hive is disturbed. In the late fall, however, these hornets enter what is called the "slaughter and occupation" phase of their colony cycle. This phase refers to the hornets seeking out the nests of other social bees and wasps and killing all the adult insects in the attacked colony without any return trips to their own nest. Once all the adult insects in the attacked colony are dead, the hornets take all larvae, pupae, and dead adults back to their own nest to feed their young. This is of concern agriculturally in the U.S. because the hornets may target Western honey bee (Apis mellifera Linnaeus) colonies. Managed Western honey bee colonies produce honey, wax, and agricultural pollination services, so the Asian giant hornet may threaten the livelihood of beekeepers. It is unclear right now if the hornets will target other species of social wasps in addition to Western honey bees and, if so, which species.
The human health concern around Asian giant hornets is similar to that for other bees and wasps. Their sting injects venom that causes strong pain and swelling, and individuals who are allergic may go into anaphylactic shock. However, it is unclear that their sting is any more likely to lead to death than any other bee or wasp. Michael Skvarla, Ph.D., Assistant Research Professor of Arthropod Identification at Penn State sums this up very well in their recent Extension article:
"Asian giant hornets have been reported to kill 50 people a year due to sting-induced allergic reactions and, more rarely, multiple organ failure due to a large number of stings. This statistic is often alarming for people. However, for perspective, an average of 62 Americans are killed every year by bees and wasps for the same reasons. Further, the reported death count is from across the entire range of Asian giant hornets, which includes large swaths of eastern Asia. In Japan, where they are most common and abundant, an average of 21 people from 2000–2018 died per year from all wasp, hornet, and bee sings [sic] combined, with Asian giant hornets accounting for only a subset of those deaths."
Overall there is no reason to panic about the Asian giant hornet. They have been found in only Washington state and British Columbia. Current efforts are underway to detect, monitor, and control the wasps as well as determine if they are established and to what extent. There are no known accounts of these wasps anywhere else in North America at this time. By reading past the sensationalist headlines about these animals to learn about their biology, possible invasiveness and damage potential, and what you can do to detect and report sightings, you are playing your part in preventing the spread of this insect and other invasive species as well.
Resources
https://extension.psu.edu/asian-giant-hornets
https://s3.wp.wsu.edu/uploads/sites/2091/2020/04/AGHPreReview4Factsheet.pdf
https://cms.agr.wa.gov/WSDAKentico/Documents/PP/PestProgram/Vespa_mandarinia_NPRG_10Feb2020-(002).pdf
https://www.purduelandscapereport.org/article/murder-hornets-should-you-panic-probably-not-heres-why/