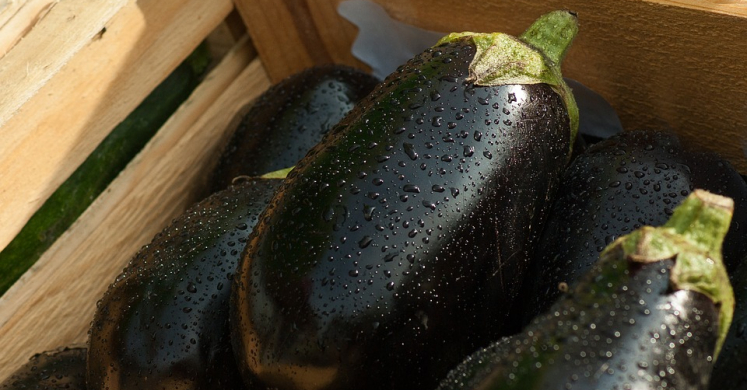 Eggplant Parmesan
Happy September! This is always an exciting time with a lot of new things on the horizon: new school years, changing seasons, and you might even be looking forward to your favorite holidays about now. But summer isn't quite over, and a lot of things are still in season in Pennsylvania. One thing that stays the same no matter the season: eggplant parmesan is always delicious. It's a great in-season option for this time of year and one way to get your veggies in the form of a hearty, delicious meal!
Baked Eggplant Parmesan
Prep: 15 minutes Cook: 35 minutes Servings: 8
Ingredients:
2 medium eggplants (about 2 pounds total), sliced half an inch thick
2 cups Panko breadcrumbs
1 tablespoon Italian seasoning
1 teaspoon garlic powder
1 teaspoon fine sea salt (extra if sweating eggplant)
1/2 teaspoon black pepper
2 large eggs
4 cups chunky marinara sauce
2 cups shredded mozzarella cheese
2/3 cup finely-grated or shaved parmesan cheese, plus extra for serving
1 cup chopped fresh basil leaves
Directions:
Sweat eggplant (optional). This step can remove some of the bitterness of the eggplant. Line a large sheet pan with paper towels and place the eggplant rounds on the sheet in an even layer. Sprinkle evenly and generously with salt, then let the eggplant rest for 30-60 minutes. Rinse with cold water to remove the salt, then pat dry with a paper towel.
Prep oven and baking sheet. Heat oven to 425°F. Line a large sheet pan with parchment paper. Set aside.
Bread the eggplant. Whisk together the Panko breadcrumbs, Italian seasoning, garlic powder, sea salt, and black pepper until combined. In a separate bowl, whisk together the eggs with 2 tablespoons water. Dip an eggplant round in the egg mixture and coat evenly, then transfer to the breadcrumb mixture and coat on all sides. Place it on the prepared baking sheet. Repeat with the remaining eggplant rounds. Bake for 25 minutes, until the eggplant is softened and mostly cooked through.
Layer the casserole. Spread 1/2 cup marinara sauce evenly across the bottom of a 9 x 13-inch baking dish. Place half of the eggplant along the bottom of the dish. Top with 1 cup marinara sauce, 1 cup mozzarella, all of the Parmesan, and half of the basil, the remaining eggplant, remaining marinara sauce, and the remaining mozzarella.
Bake. Bake for 20-25 minutes until the cheese is melted and starts to turn slightly golden around the edges and the eggplant is cooked to your liking. Transfer pan to a wire cooling rack and sprinkle with the remaining basil and extra parmesan.
Serve. Serve over a bed of whole wheat pasta, with extra marinara, garnished with extra parmesan.