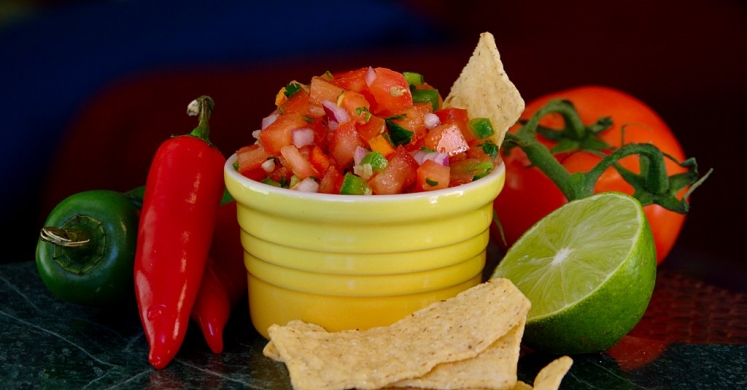 Pick Your Pico
The peak time to harvest many delicious summer fruits and vegetables is approaching, as is the time to finally enjoy what has been growing in your garden! One quick and easy way to utilize your harvest is to make a simple pico de gallo, which is a traditional salsa common in Mexican cuisine. Typically, a pico de gallo recipe will include tomatoes, onions and peppers, but there are infinite possibilities based on what you have in your garden, and the preferences of those involved in preparation.
Tomatoes, basil, peppers and onions should all be relatively mature in the garden and ready to be used in salsa. You could also throw in some chopped peaches or strawberries for a bit of sweetness. With a squeeze of lime and a pinch of salt, your pico will come together perfectly. Ask your family members to be creative! See if they have any ideas for fruits, vegetables or herbs that they would like to try in the salsa.
Picking fresh produce as a family is a great way to involve children in garden activities, and can help them to understand the garden to table process. Kids can pluck cherry tomatoes, pinch off basil leaves or pull out onion bulbs. Children can also help to prepare the salsa. Hand-held veggie choppers are a good choice, your children can help to chop up the fruits and veggies because the plastic rings protect little hands from the blades.
We recommend having a simple tasting with your children! Have them try your homemade salsa and some store-bought salsa, prompting them to share how they feel. What are the similarities and differences between the two? Ask them which one they prefer and why they enjoy that salsa more.
If you do not have your own garden, August is the perfect time to make a fresh pico de gallo using produce from your local farmer's market! Check out Farmers at Phipps every Wednesday (through October) from 2:30-6:30p.m.
Sharing with your children, family and friends the amazing flavors of seasonal produce will help everyone to discover the benefits of homegrown foods!
For inspiration, here is a simple pico de gallo recipe you and your children can make:
Pico de Gallo (8 servings)
2 tomatoes, chopped
1 onion, finely chopped
1 jalapeño, chopped finely with seeds removed (Use your best judgment for this, especially with kids! Some kids are especially sensitive to spicy foods.)
3-4 sprigs of fresh cilantro or basil, finely chopped
Pinch of salt
Pinch of pepper
Juice of one lime
Mix all the ingredients together in a bowl. Add more salt and pepper to taste. It's delicious as is, but refrigerating the pico for an hour or two really helps to bring out the flavors.
Enjoy!