The Making of the Hidden Life of Trolls Part 2: Fantastic Fabricators and Where to Find Them
This summer, a magical exhibit unlike anything we've displayed before is coming to Phipps! Summer Flower Show: The Hidden Life of Trolls brings one-of-a-kind trolls inspired by Scandinavian folklore and pop culture into the Conservatory with interactive and animatronic elements. In this three-part blog series (one might call it a troll-ogy), we're taking you behind the scenes to discover how this larger-than-life exhibit came to be.
Welcome back to The Making of the Hidden Life of Trolls! In the second installment of the series, we will dive into the fabrication of the colorful cast of characters who will make this show a one-in-a-trollion experience.
These Boots Were Made for Giants
The adventure begins even before guests enter the Conservatory. Positioned next to the front walkway will be an oversized chair with a pair of boots next to it. These props may seem massive to us humans, but they are the perfect size for the troll who sat down and took his boots off before wandering into the Conservatory for a forest bath. Exhibit Associate Mary Lou Linton-Morningstar spent an entire month of lockdown in spring 2020 working on these boots, and she says, "They turned out exactly how I envisioned." Pipes were added inside of the boots to provide drainage on rainy days, which will keep them from smelling too much like stinky troll feet.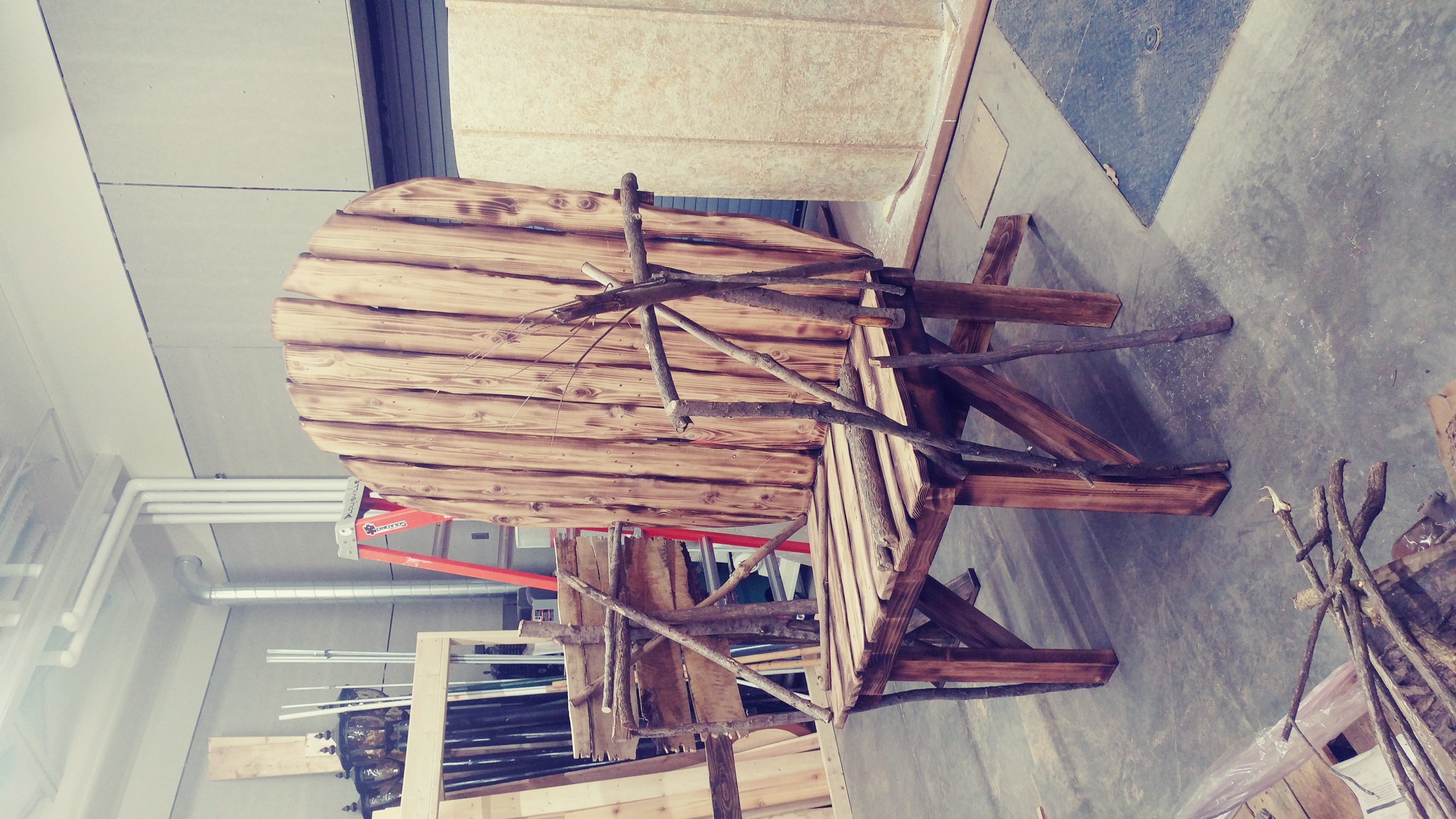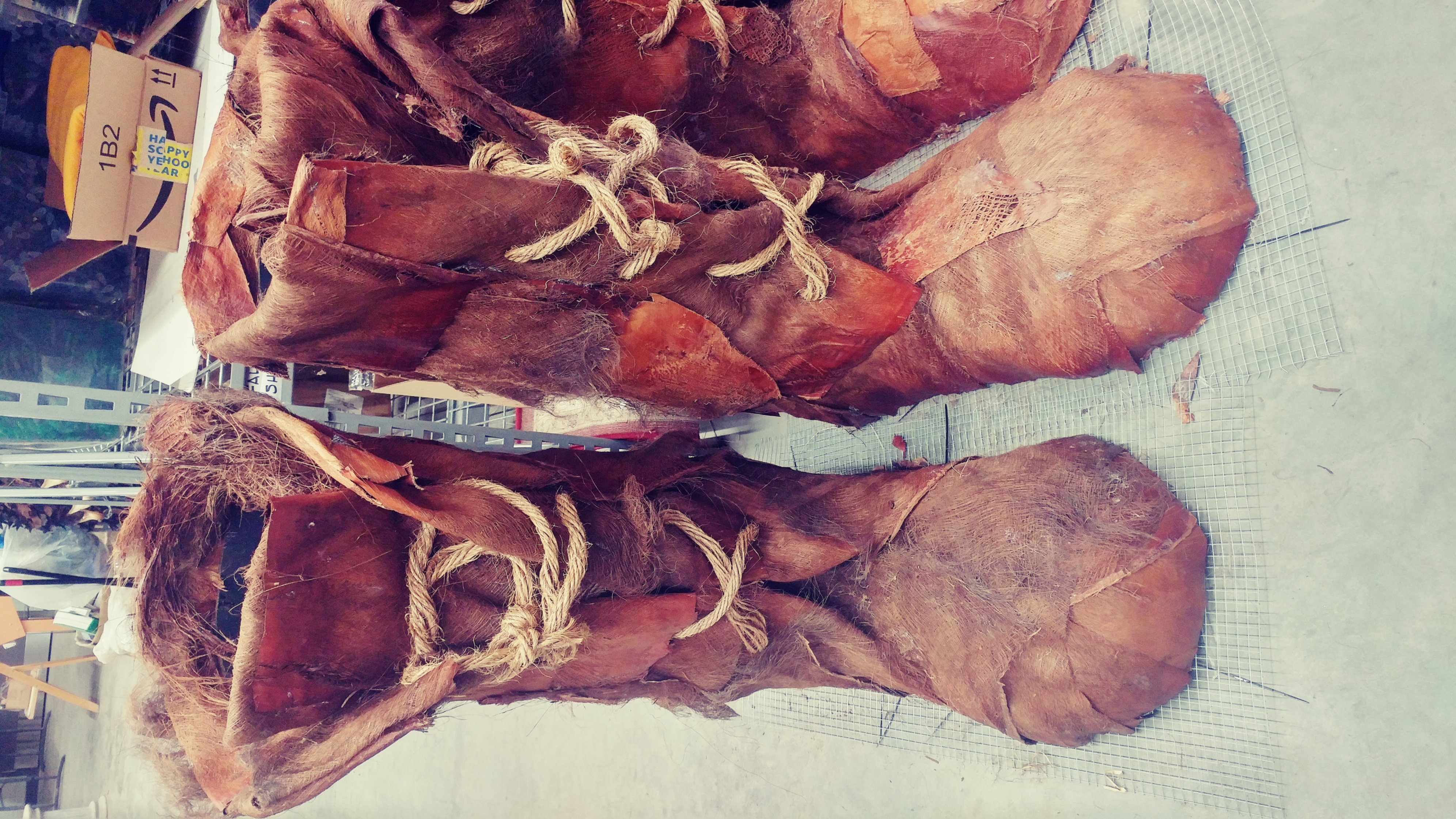 Adorable Animatronics
As guests enter Palm Court, they'll be welcomed by the friendly mascots of the show, Fen and Ivy — and it will be a literal greeting! For the first time in Phipps history, animatronic elements have been created just for this show, and Fen and Ivy are the first two moving and talking creatures that guests will see. This friendly pair was manufactured by Visionary Effects, an innovative design and fabrication studio located in Point Breeze. Dan Thomson, the founder of Visionary Effects, chatted with us to explain how he brought Fen and Ivy to life.
"We always start with the design," says Dan. "In this case, Phipps had already put together two-dimensional designs, so we took those and figured out what they would look like if they were three-dimensional." To do this, a Visionary Effects artist made a digital sculpture of Fen and created renderings, which were sent to Phipps for approval.
Once the digital renderings were finalized, it was time for the mechanical design. Visionary Effects took into consideration factors such as how to make Fen and Ivy move, how many movements they would be able to do and how complicated the movements would be. They decided to design Fen and Ivy so that they can move their heads up, down, left and right. They can also blink and move their jaw and the arm that holds their walking staff. Then, Visionary Effects designed the mechanical elements, such as the motors and equipment living inside the characters, and tested out how they would function.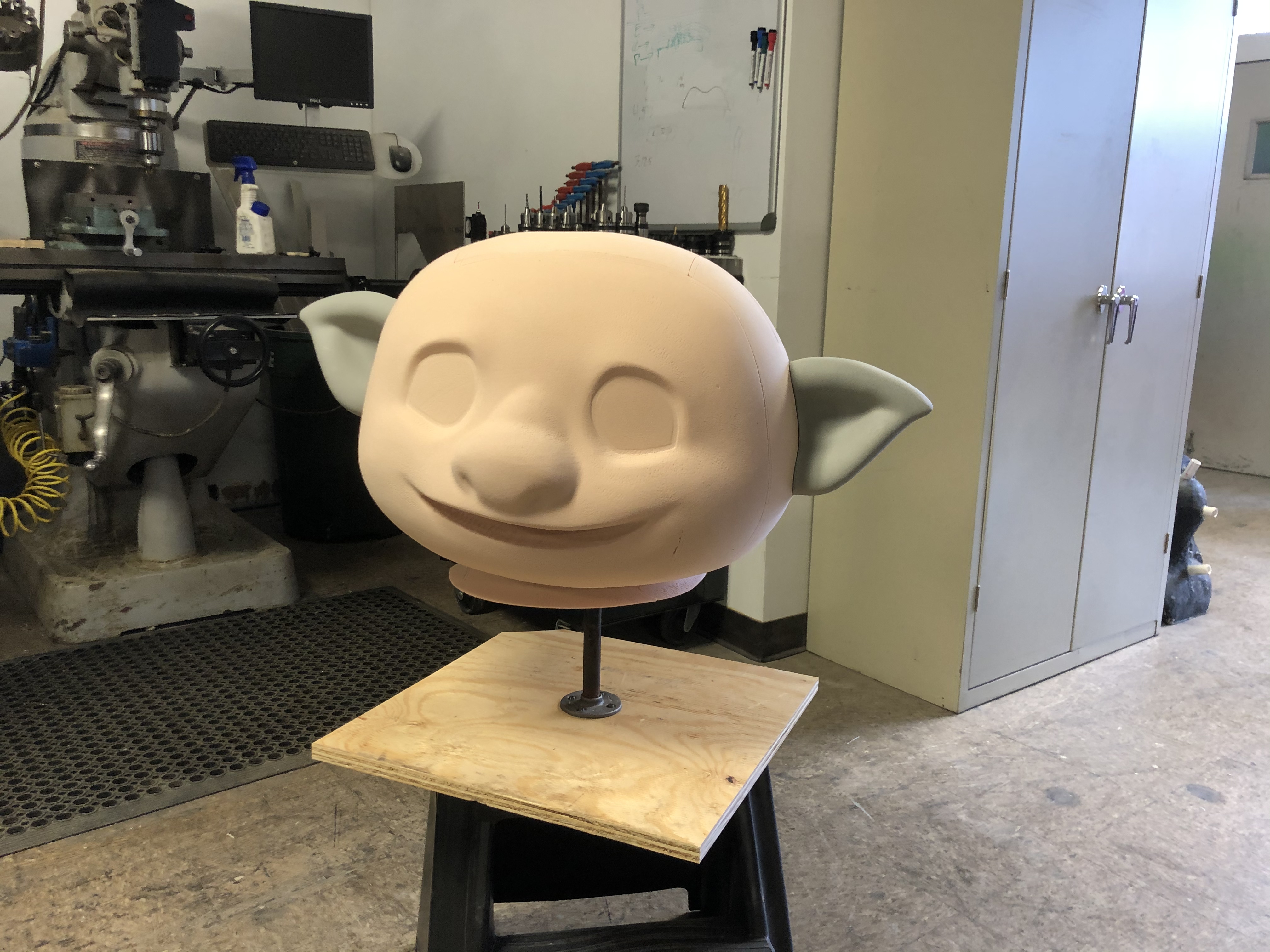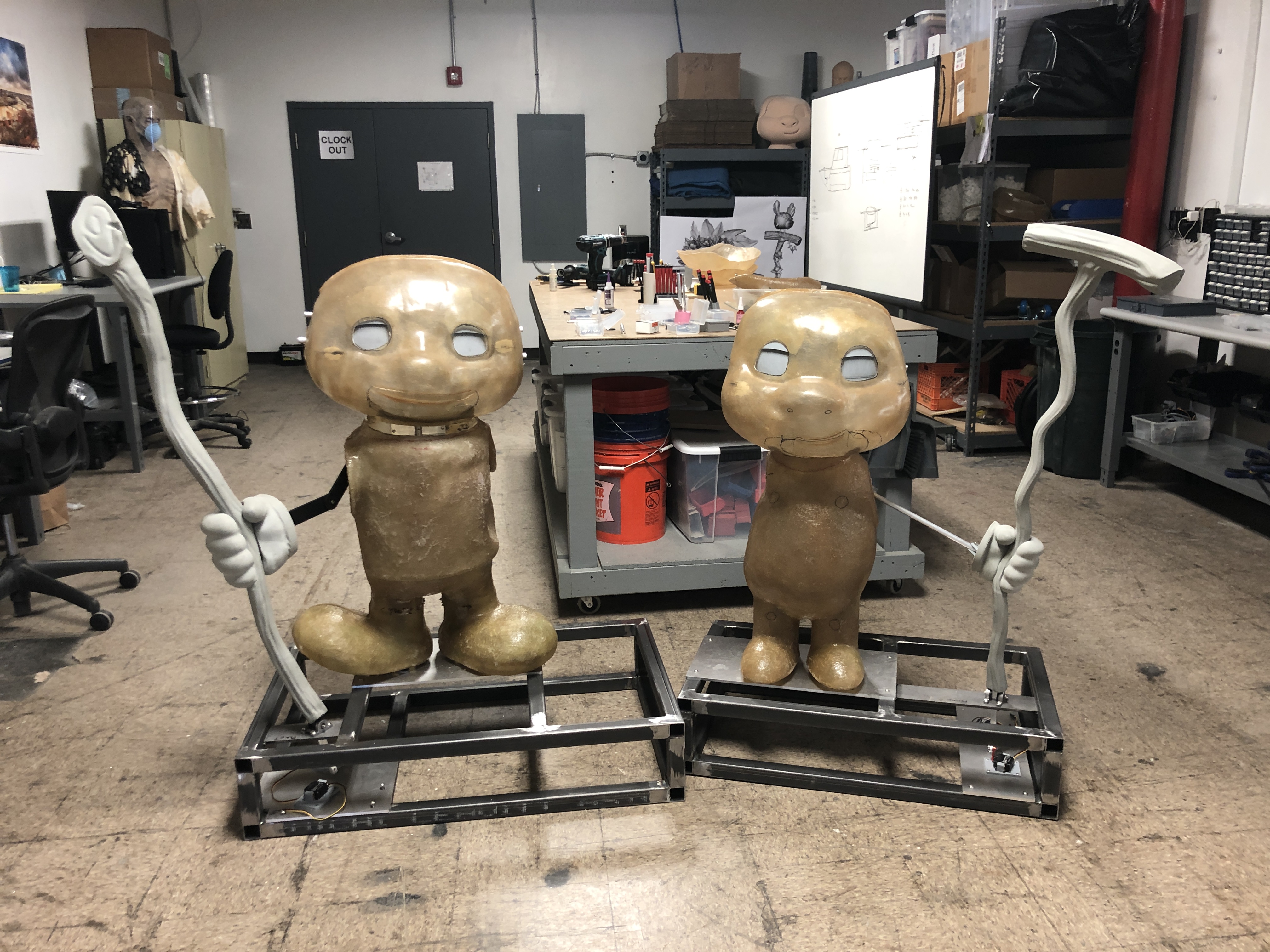 With the groundwork laid, the team fabricated the mechanical infrastructure, testing their work all along the way to make sure Fen and Ivy would move smoothly. "Once we were pretty happy with how they were working, we moved to the mechanical finishing," says Dan. They created an understructure made of fiber glass for most of their bodies, but used a soft skin on their heads to make it easier for them to move, and chose felt, burlap and natural materials for their clothes. "The combination of rigid and soft parts tends to create a more approachable, organic feeling," says Dan.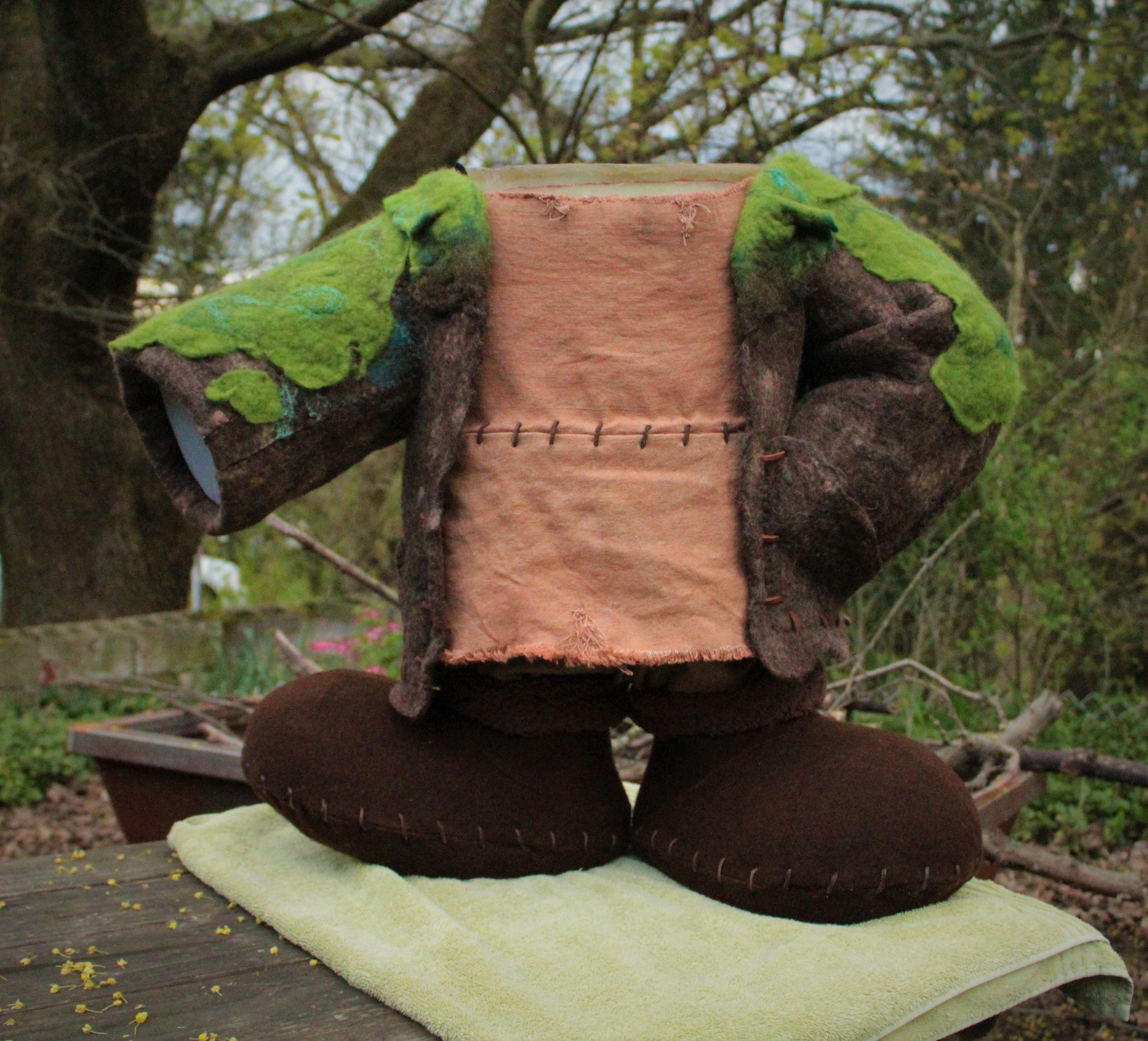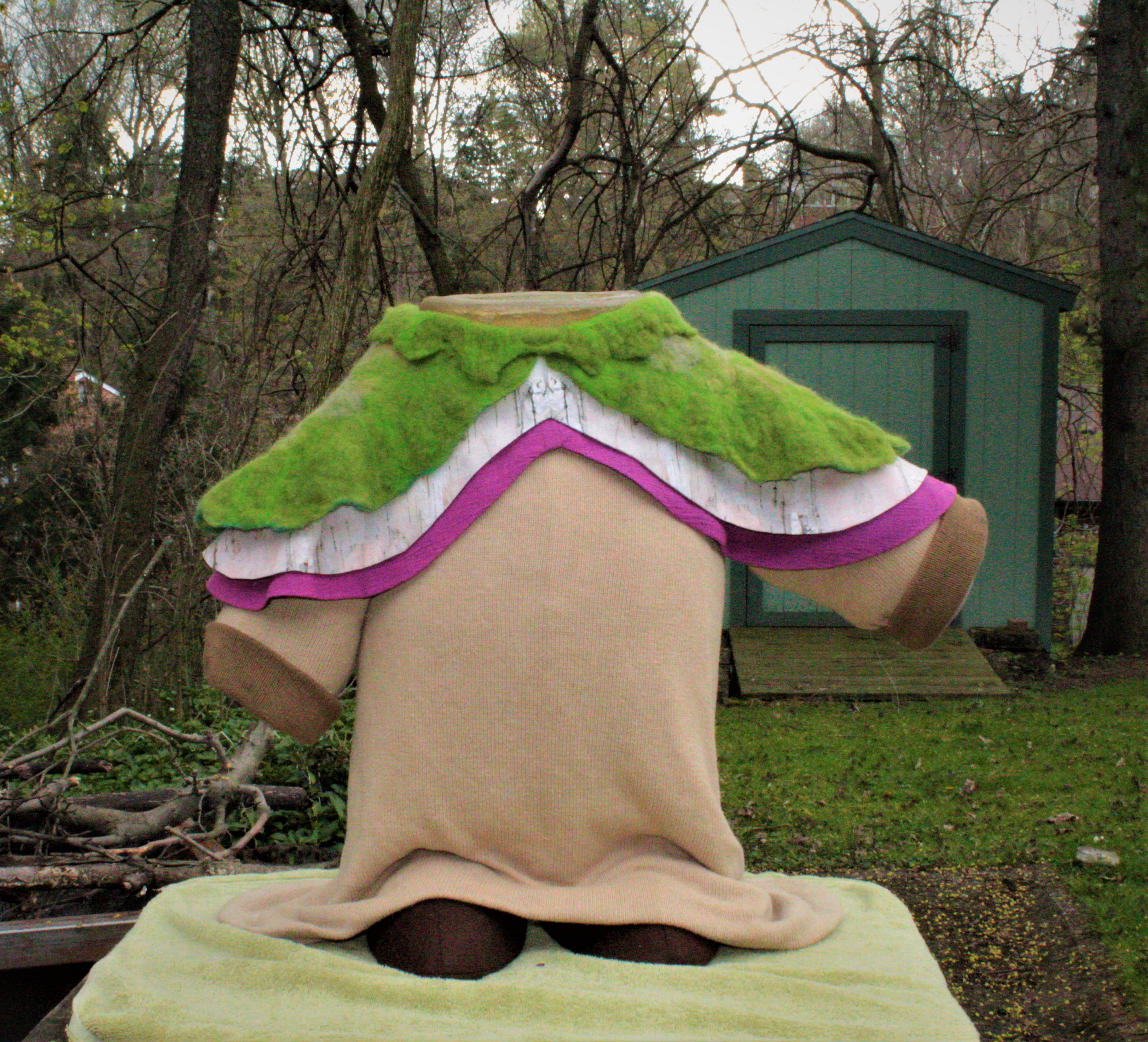 One factor that Dan and his team had to consider that doesn't normally come up in their line of work is how their creations would hold up in a greenhouse environment. "We really had to re-think how we approached this project and consider how to isolate all of the electronics from the water and moisture," he says. While Fen and Ivy were designed to be as waterproof and moisture-resistant as possible, Dan also spoke with Phipps staff to brainstorm how to limit the trolls' exposure to water as much as possible.
Growing Your Own Troll
Behind Fen and Ivy in Palm Court, guests will meet Lief, who is the only troll in the show to be made up entirely of living plants (except for his face, which is made of dried plant material). Lief was originally built and planted in 2020 before the pandemic hit, and after the decision was made to postpone The Hidden Life of Trolls until summer 2021, he was disassembled and re-planted earlier this year. "Each troll is very different," says Associate Director of Exhibits and designer of The Hidden Life of Trolls Jordyn Melino. "It was a fun process to work with various plant materials to make their personalities shine through."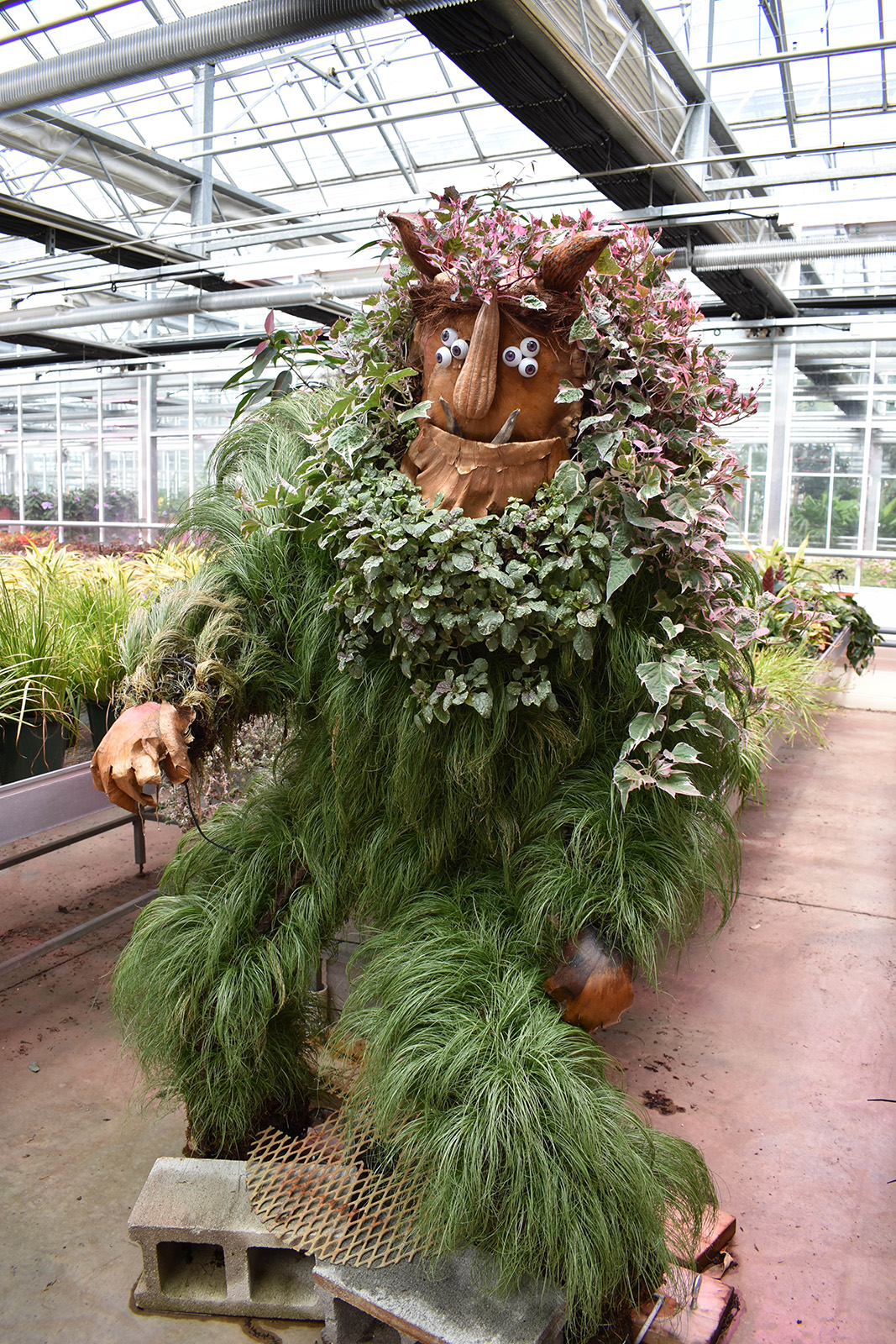 Hear Hilda the Huldra
Moving into the Sunken Garden, guests will encounter a creature who, at first glance, appears to be human. This beautiful woman named Hilda is actually not human at all, but a creature known as a huldra, who was said in folklore to lure unsuspecting travelers into the woods with her hypnotic songs. To create Hilda, Phipps enlisted the help of Tolin FX, a custom design and fabrication studio located in Pittsburgh that has worked on many props for Phipps over the years, including custom-made gargoyles for Summer Flower Show 2010: Gargoyles in the Garden and buildings for Garden Railroad exhibits.
"I'm always really excited to get a call from Phipps, because it's always going to be a unique challenge that appeals to my fine art sensibility," says Steve Tolin. "With the huldra, the task for us was to create a character who was as realistic as we could make her."
In order to make a believable character, Steve put a personal touch on this project — he cast a model of his partner Crystal's head and hands. While Hilda's hands were cast directly in silicon from the mold, Steve's colleague Kyle Roberts took the cast of her head, filled it with clay and sculpted it into a position to be beckoning guests. "She has a serene, inviting expression on her face, but upon a second look, it's actually dubious, if not somewhat sinister," Steve says. Once Kyle sculpted the head, Steve made a mold of it with plaster and used it to cast a silicon copy.
Steve says that the key to creating a convincing model of a human lays within the eyes. "A real human eye has a corneal bulge, which tells you which direction the eye is looking," he says. Rather than try to sculpt the eye himself, Steve decided to use what he considers to be the best fake eyes in his industry, which are created by Fourth Seal Studios. Kyle sculpted the head around the pair of fake eyes, knowing which direction they would be looking so that Steve could make the mold in such a way that would leave the exact amount of negative space needed for the fake eyes.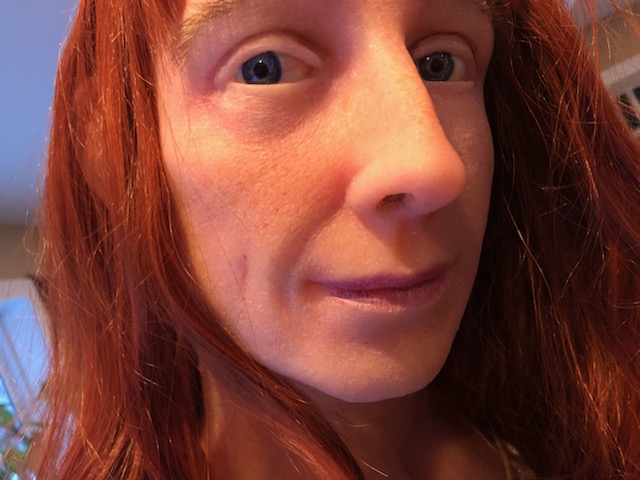 Using a mold that he had on hand, Steve created Hilda's body, arms and legs using a rigid polyurethane foam. "After that, it's all finish work," he says. He and his team painted the face and hands, and chose a costume and wig. Much like Visionary Effects had to consider the greenhouse environment, Steve had to do so as well when choosing the costume and wig. "Her costume is made of synthetic fibers, so it'll likely reject water," he says. "But she's supposed to be in the woods, so if her dress gets a little dirty, that would have happened naturally." They also made sure to choose a wig that was not made of human hair so that it wouldn't become frizzy in the humidity of summer.
A Troll Who Snores and Sneezes
Tolin FX also created the troll named Aegir's head, which pokes out of the pond in the Victoria Room. "When I'm working on a project for Phipps, one of the goals I always keep in mind is Phipps' mission statement and commitment to sustainability," he says. "So when I was creating the sculpture of the troll head, I tried to start with materials that are easily recycled or turn right back into dirt."
The plants create Aegir's hair, so the first step was to take the three planters that will be used in the show and create a steel frame around them. John Dandrea, a colleague of Steve's, welded the frame around the planters, which was then covered in steel mesh. These were designed to support the weight of fiber-reinforced concrete that will be sculpted into the head. While the frame and mesh were created in advance, much of Aegir's head will be sculpted during the show installation process as the concrete cures.
When designing the show, Jordyn wanted Aegir to offer an interactive element to guests and decided the troll would sneeze, snore and growl. Steve was tasked with determining how to animate those three actions. He chose to use a compressed air source that would be activated by the same touchless motion sensors that were used in Garden Railroad 2020. When Aegir snores, the compressed air source will create bubbles under his nose. When he sneezes, the same device will spray water in the air suddenly around his face. To animate an angry growl coming from Aegir, Steve used a water jet pump that will shoot water into the air around the head. Once the island is sculpted into place, these electronic elements will be plugged in.
A Star Is Bjorn
Moving into the East Room, guests will encounter a troll named Bjorn. "His name means 'bear,' and Bjorn is very bear-like with a shaggy coat made out of dark brown preserved oak leaves," says Jordyn. "We were able to use an existing bear topiary frame to make Bjorn, but we needed to build it out with hardware cloth to create more troll-like features, such as oversized feet and a bigger head!" This is a truly Phipps troll, as his beard and eyebrows are made out of dried grass sourced from onsite and his body is created from staghorn fern sourced from the Fern Room. "I really like that we're using materials from onsite," says Mary Lou.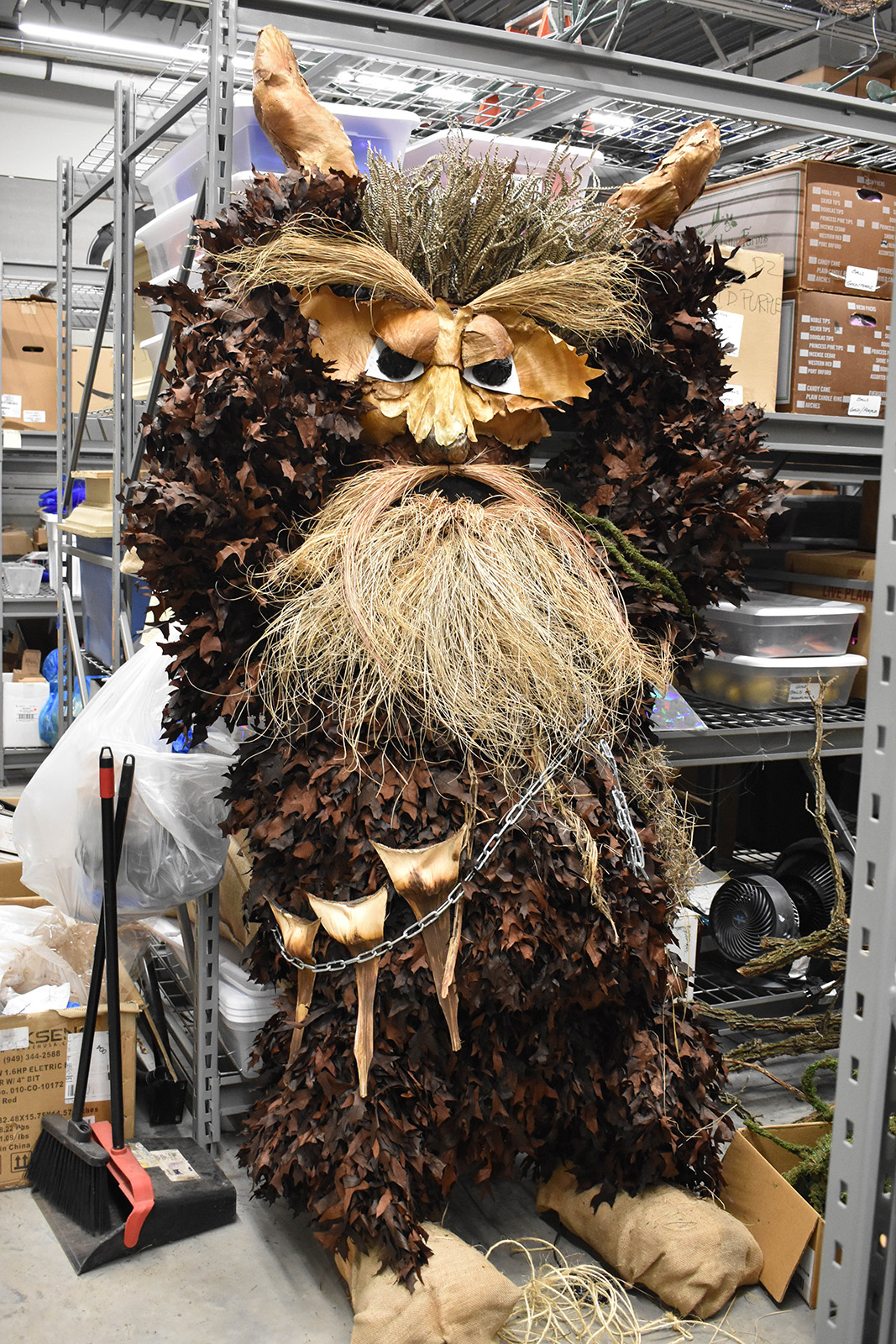 Rub-a-Dub-Dub, a Troll in the Tub
Upon entering the South Conservatory, guests will finally meet the troll who ditched his boots outside! This troll is seated in a pond and taking the idea of "forest bathing" to a new level as he scrubs his back with a large tree branch. Measuring 10 feet tall and 11 feet from his back to his bent knees, this titan troll is one of the largest props ever displayed at Phipps.
Local metal fabricator Vegely Welding created the frame for his head (which is assembled in three pieces) and body, which consists of his belly, back and knees. When the frame was complete, it was transferred to the Exhibit Staging Center at Phipps, where Mary Lou had to stand on a rolling ladder to attach cocoa fiber to his face, creating his skin. She chose cocoa fiber because it's light, cost effective, molds to the desired shape and holds up to the water that will be needed to keep the trolls' hair and beard alive.
"The troll's wild hair and beard are planted with a variety of ferns," says Jordyn, "while details such as the eyebrows and lips are made of dried plant material we have been collecting onsite." When on a bike ride last summer, Mary Lou collected bark along the trail that she knew instantly would make the perfect eyebrows for the troll. "We're going for a sour, grumbly expression that looks a little haggard," she said. Mary Lou used chicken wire, cloth and papier mache to create his horns and teeth.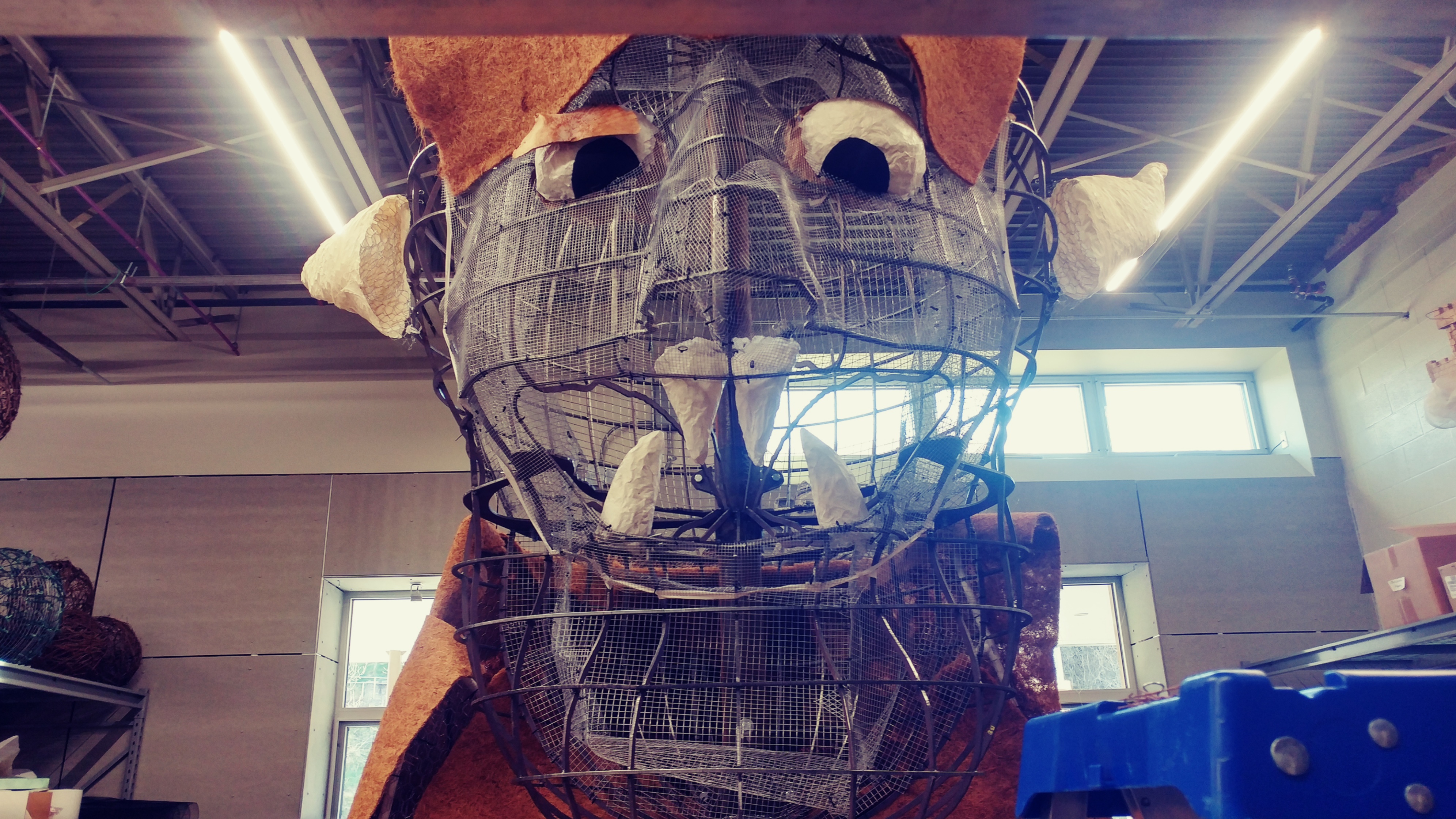 Another detail that makes this troll unique to Phipps and the people who worked on the show is the tree branch the troll is using to scratch his back. "­The branch came out of my mother-in-law's yard, from a tree that my husband planted 10 years ago," Jordyn says. "It was perfect for this. We're reattaching the branches together to make one really big branch."
While the troll's horns and skin have been adhered to the metal frame, Mary Lou will wait to plant him until he is installed in the South Conservatory. Once he is comfortable in the pond, horticulture will stuff him with sphagnum moss and plant his hair and beard with ferns. Facilities Manager Pete Thomson says the reason for this is because of the sheer weight of the troll even without the plants. "It took six of us to carry him into the ESC when he was just a frame," Pete says.
Riddle Me This, Bridget
In the final room of the show, guests will meet Bridget. Inspired by trolls of fairy tales, Bridget lurks next to a campfire under a stone bridge and asks riddles to passersby. Guests can hear the fire crackling as they approach Bridget and wave their hands over a touchless motion-sensor to activate her voice and movement. Bridget was also fabricated by Visionary Effects and Dan Thomson said the process for creating her was very similar to the process for creating Fen and Ivy, except the only part of her that moves is her mouth. Phipps' marketing team selected a voice actor that sounded old and wise to bring Bridget's vocals to life. "The answers to her riddles are trinkets or items found in the room, so look closely," Jordyn says.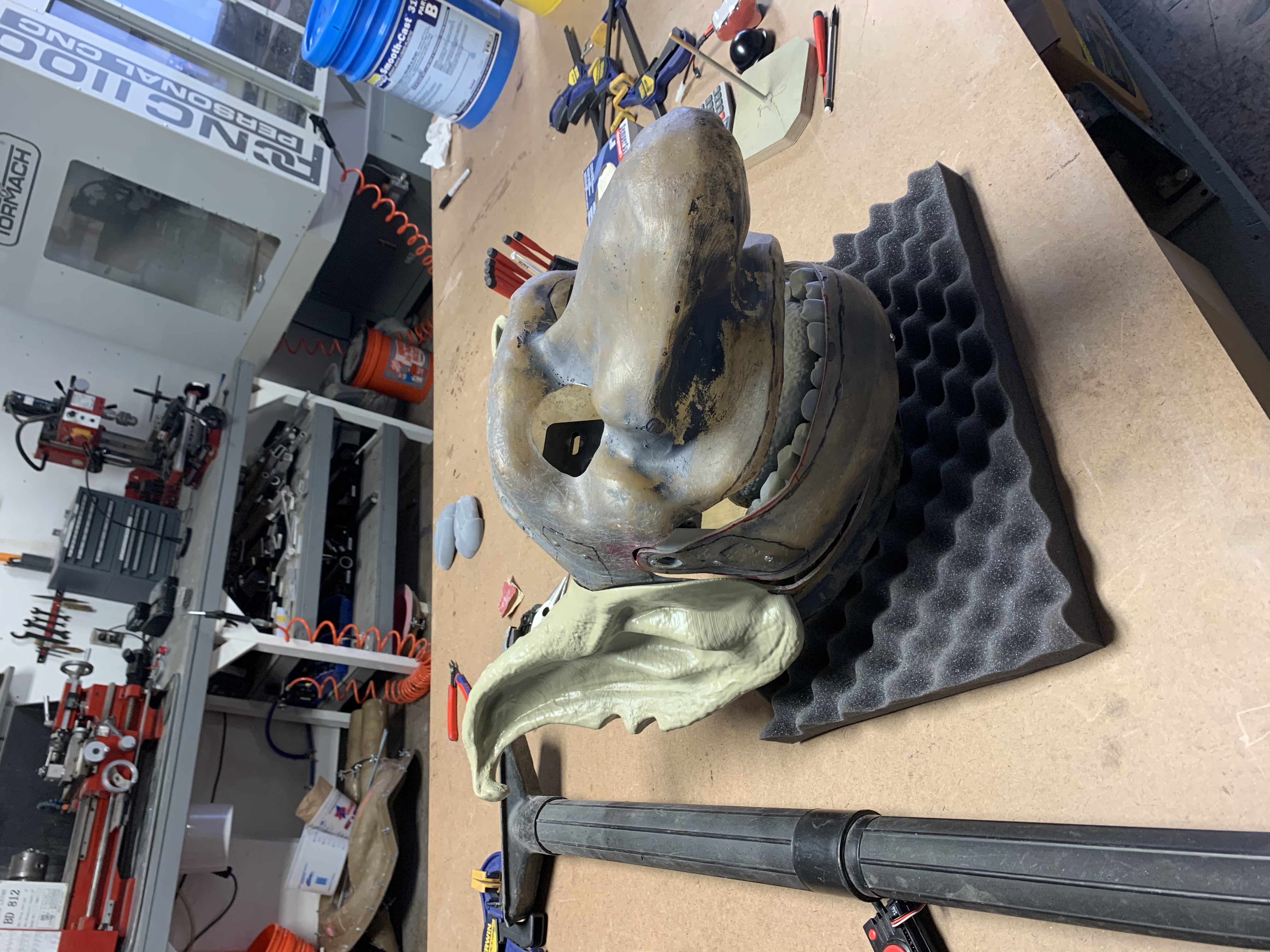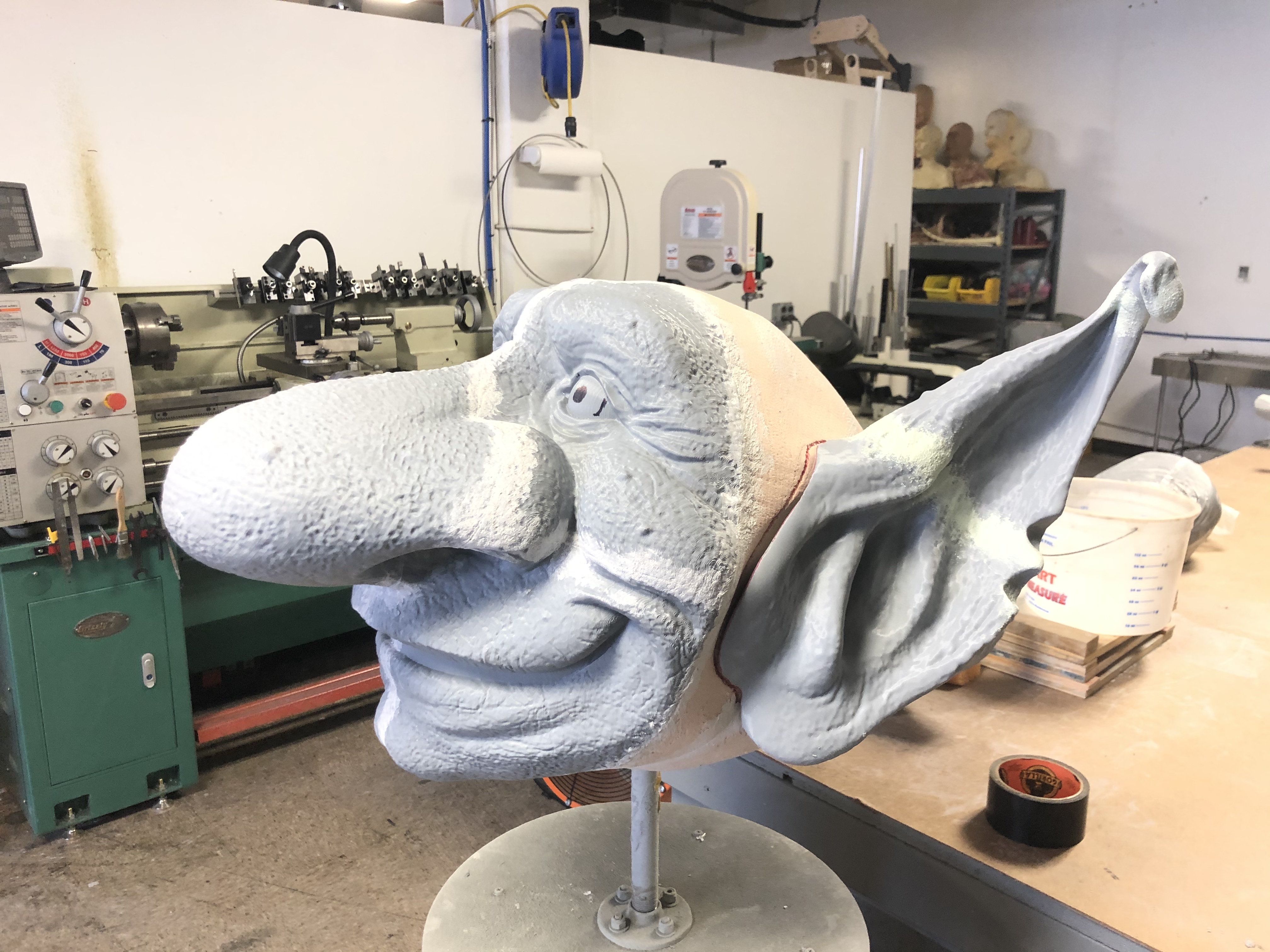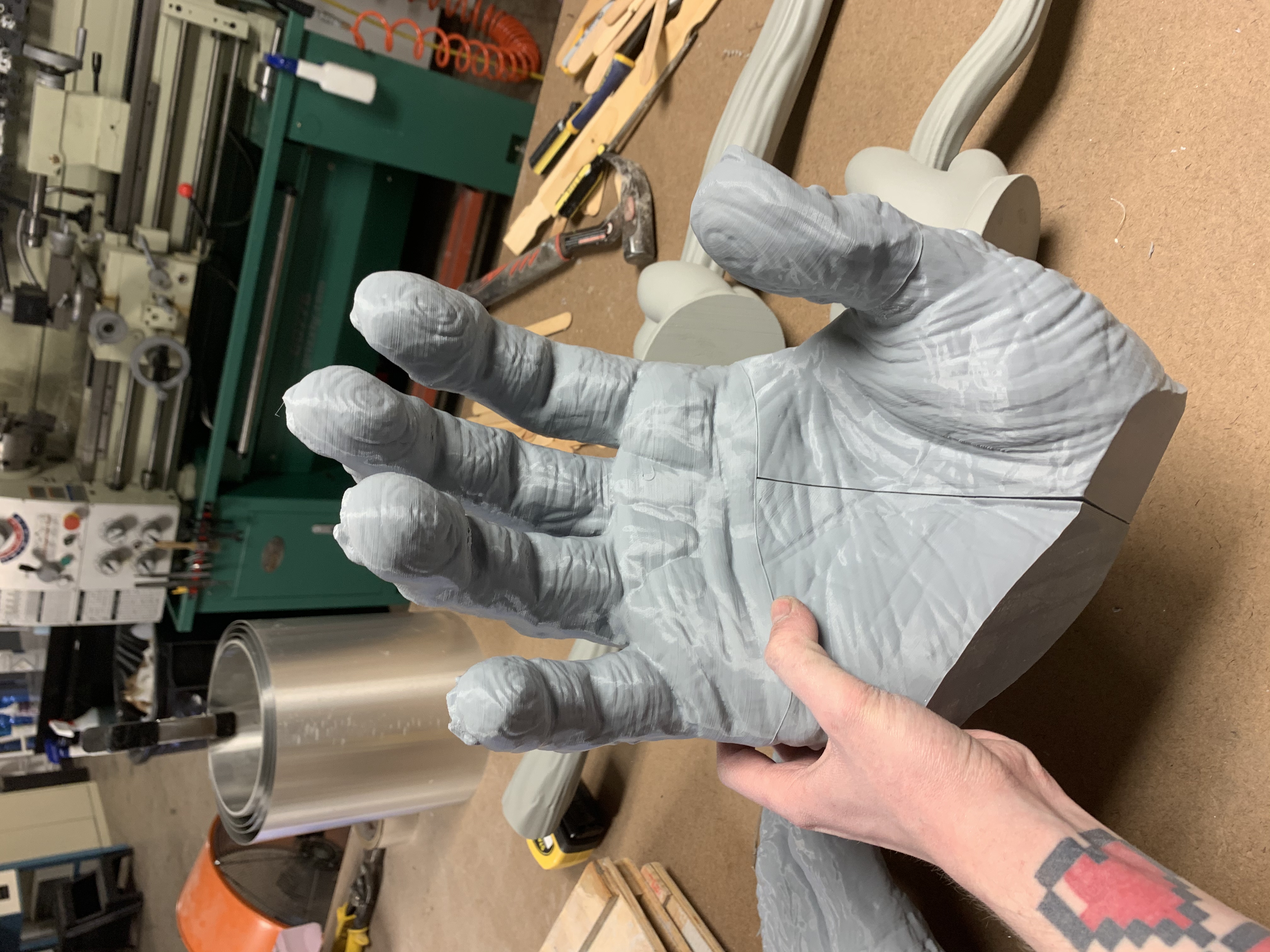 The bridge in this room will span the entire width of the room, creating a massive prop feature. Facilities painted the wood to make it waterproof and lined it with real rock, leaving strategically placed holes for plants to be added once it's installed, giving the bridge a weathered look. To further protect the wood from water damage, horticulture staff chose plants that don't require much water. When it comes time to install the bridge, it will be done overnight, as Pete anticipates it will take between five and six hours, based on the sheer size and weight of it.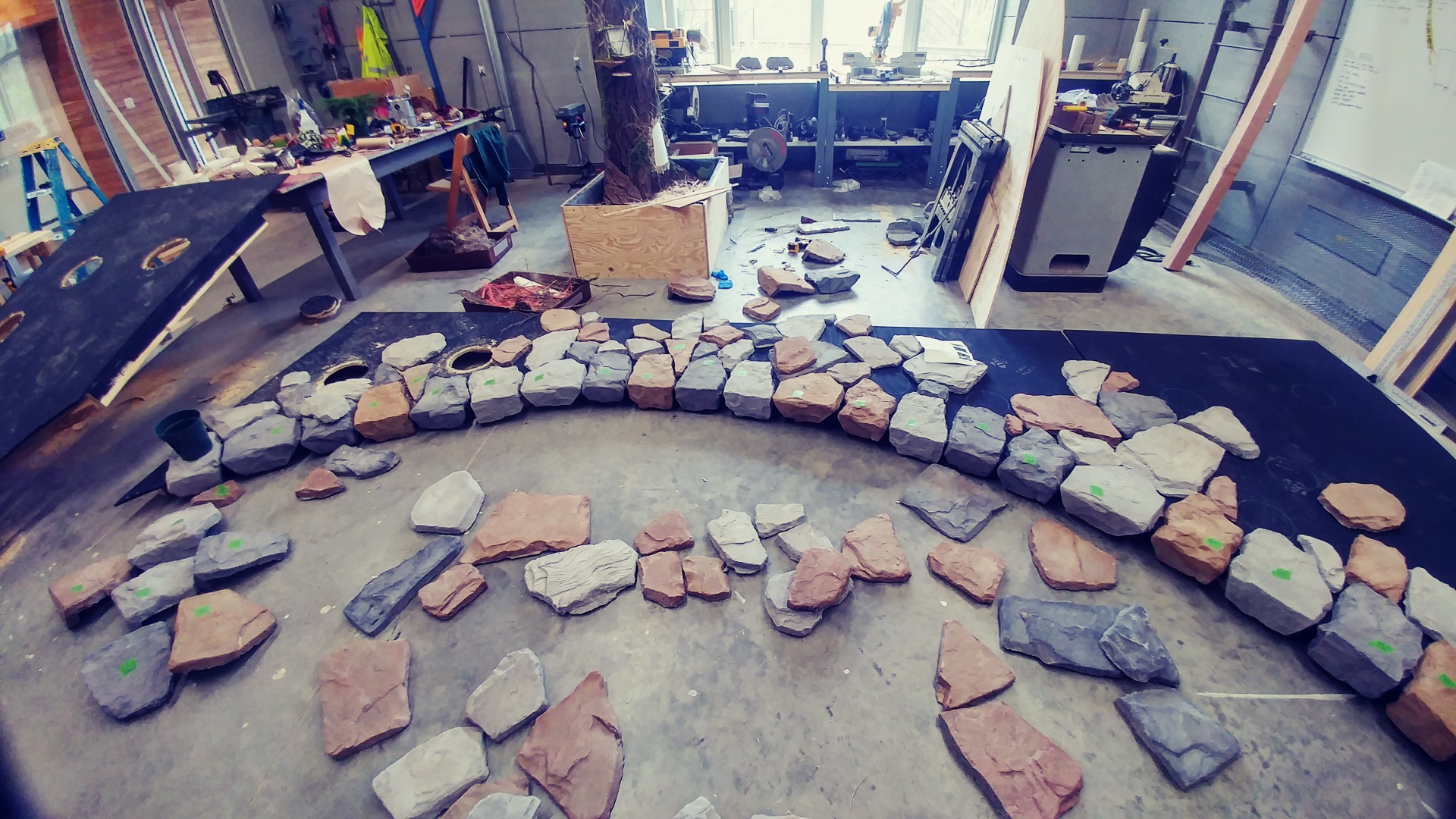 One final interactive element in this show will be the addition of 20 tiny troll doors that can be opened to reveal illustrations of trolls that children submitted over the past year through the Make Your Own Troll activity. Phipps selected 40 illustrations from the many that were submitted and 20 of them will be displayed behind tiny troll doors at any given time. The doors stand between 6 inches and 1 foot tall and were crafted to look like a troll would live behind them.
Tolin FX created these doors, sourcing the materials from a company that salvages and sells building materials from houses and barns that are torn down. The wood used to create these doors came from a barn that was in Lancaster for the past 80 years. Steve's colleague Antonio Grassano chose all of the shapes for the doors and used a milling machine to carve them. He laid the groundwork for the painting, and Steve and Crystal finished them.
"This is one of those shows that requires working both in house and out of house with local artists and fabricators, which is a great way to showcase the creativity of Pittsburgh artists," says Jordyn. "Being able to work with these local fabricators to tell this story has been a really cool process."
In the final installment of this behind-the-scenes troll-ogy, we'll give you the scoop on how the show was installed. Summer Flower Show: The Hidden Life of Trolls opens Sat., May 1. We can't wait to see you there!
Photos © Phipps Staff, Tolin FX and Visionary Effects