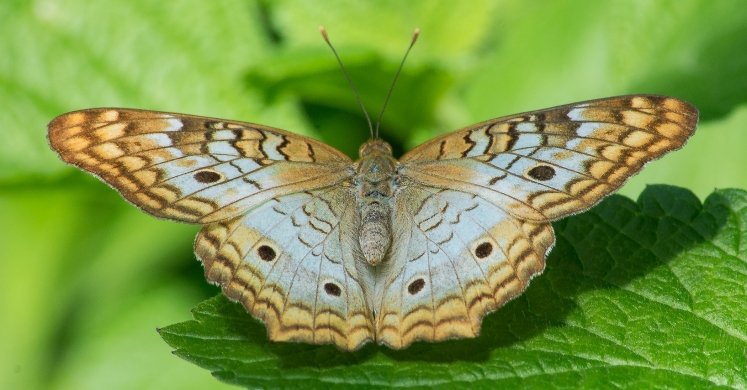 This Week at Phipps: April 15 – 21
There's always something new to see and do at Phipps! This weekly blog post provides a run-down of the latest happenings so you can plan your visit. Events listed below require no advance registration unless noted otherwise.
Open Daily:
Spring Flower Show: Gardens of the Rainbow | LAST CHANCE — Ends Sun., April 21
This spring, immerse yourself in Phipps' dazzling celebration of the season. Experience a springtime sensory adventure, with tens of thousands of blooms in a spectrum of vibrant hues and interactive activities for all ages!
Butterfly Forest | Opens Sat., April 20
Watch colorful butterflies break free of their chrysalises to soar and glide among beautiful Phipps blooms. One may even land on you!
Absorbed in Color: The Art of Gemma Fletcher
On display in our Welcome Center Gallery, Fletcher's naturalistic collages offer a rich and complex complement to the surrounding flora that inspired them.
Invasives Most Wanted: A Youth Art Exhibition
In the Center for Sustainable Landscapes Green Gallery, view fun "wanted poster"-style artworks about some of Western Pennsylvania's best known invasive species as created by middle school students involved in Phipps' Fairchild Challenge.
Tropical Forest Cuba
Experience the natural beauty and culture of Cuba, one of the most biodiverse Caribbean island nations on Earth, in our immersive new Tropical Forest exhibit.
Make the Switch at Phipps! Green Power Drive
Join the more than 1,000 families who have switched their home electricity to 100% green power while visiting our Tropical Forest Conservatory and you can receive free Phipps membership!
Mon., April 15:
Make-a-Craft Mondays | 10:30 a.m. – noon
Children are invited to engage in nature-inspired arts-and-crafts projects using recyclable materials.
Wed., April 17:
Story Time Wednesdays | 10:30 a.m. and 1 p.m.
Kids will love listening to our storytellers weave tales about gardens, fruits, vegetables, animals and other fun topics.
Fri., April 19:
Sat., April 20:
Used Bulb Sale | 9:30 – 11:30 a.m.
Take a piece of Spring Flower Show home with you at our annual sale. Come early for the best selection!
Nature Lab Open Hours | 11 a.m. – 3 p.m.
The revolutionary Nature Lab at Phipps is now open for you to discover.
Meet a Scientist | 1:30 – 3:30 p.m.
Meet real scientists and learn about their exciting work.
Sun., April 21:
Photos © Phil Johnson II, Paul g. Wiegman