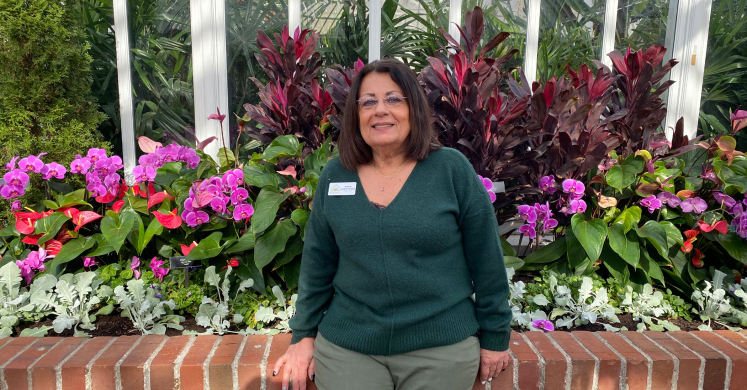 Volunteer Spotlight: Maria Christopher
Phipps is well-known for our beautiful gardens, seasonal flower shows, pioneering sustainability initiatives, informative educational programs and community outreach. None of our work, however, would be possible without the knowledge and dedication of our volunteers. In this series of profiles, we meet some of the people who give their time to make Phipps possible.
For Maria Christopher, her love of plants started with her parents' flower garden. She would take pictures of the flowers and then put them into picture books, a practice that she continued with her own garden. These experiences surrounding gardens sparked a love of plants in Maria, who described her garden as "a peaceful place to be."
After spending forty-seven years working for Westinghouse as an Administrative Aide, Maria began her retirement. Looking to keep herself busy, she was looking for a pastime that would best suit her desire to help others and meet new people. When she discovered Phipps' volunteer program and saw the greeter position, she knew that this was where she had to be!
Almost six years later, Maria continues to volunteer her time here at Phipps! Pre-pandemic not only was she a greeter, but she was also able to help with events that took place here. Now, a typical day for Maria starts with greeting guests and making sure that they stay on track to see all of the vibrant displays. There are times where she may help answer questions or provide needed guidance to those who seem confused. Maria has noticed how much people love having photos taken while at Phipps and offers to help guests capture their beautiful memories. She is always striving to ensure that guests have a magical experience exploring the conservatory while encouraging them to visit again.
Maria stated that her favorite part of being a volunteer at Phipps is, "seeing the expressions on the guests face as they enter and how being at Phipps puts the guests in a happy place." She loves having the opportunity to listen to amazed guests tell stories of their gardens or of visiting Phipps as a child. Maria will put a smile on your face and make your next visit even more extraordinary!
Photo © Paul Vladuchick