Environmental Film Series: Yemanjá: Wisdom from the African Heart of Brazil Narrated by Alice Walker
Fri., Oct. 20; 7 – 9 p.m.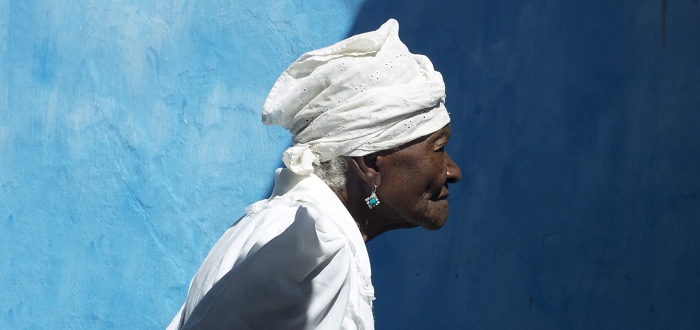 Join us monthly for an exciting new film screening and discussion series.
October Screening: Yemanjá: Wisdom from the African Heart of Brazil, narrated by Pulitzer Prize-winning author Alice Walker
Fri., Oct. 20 from 7 – 9 p.m., join us for a screening of Yemanjá: Wisdom from the African Heart of Brazil, narrated by Pulitzer Prize-winning author Alice Walker. Presented in partnership with Sembene — The Film & Arts Festival, this fascinating award-winning documentary film tells stories of the Afro-indigenous culture of Candomblé — a tradition based on ancient African rituals and celebrations honoring the natural world, ancestors, and spiritual energies known as Orixás. Candomblé evolved from the ways of enslaved Africans forced to Brazil, the last country to abolish slavery. Amazingly, Candomblé is thriving in contemporary Brazil, despite considerable social struggles. Women are at the apex of Candomblé leadership. The film's story is told through the voices of four elder women leaders; the eldest is 109, the daughter of an enslaved African. Yemanjá is a story of universal wisdom and timeless values — an inspiring tale of outstanding women of color transforming lives and communities with their leadership, vision, faith and activism.
Post-film discussion will be led by Dr. Sheriden Booker, a social entrepreneur/priestess in multiple Orisha traditions with a doctorate in anthropology and Africana studies from Yale University; filmmaker Donna C. Roberts, M.S. Environmental Sciences; and Dr. Anthony B. Mitchell, Sr., professor of African and African American history at Penn State and priest of Yemaya. The presentation will also feature a display of photographs from the film's companion exhibit, "Goddesses of Nature."

Watch the Trailer

About the Series
Phipps' Environmental Film Series is an exciting monthly event inviting community members to come together to view environmental films and documentaries. Each viewing will be followed by a dynamic discussion with film producers, scientists and environmental advocates, enabling attendees to share thoughts, consider various viewpoints and hear the experts' perspectives. The series aims to raise awareness of our relationship with the natural environment, and to use film as a platform for conversation, education and positive change. Screenings for the Environmental Film Series will take place on the third Friday of every month from 7 – 9 p.m. in the Botany Hall Auditorium at Phipps. Attendance to these screenings is free with regular admission, but tickets are required; please pick up your free tickets in the Welcome Center starting at 5 p.m. on the day of the film.
More Events You'll Enjoy
Nov. 30 – Dec. 2; Thursday and Friday, 10 a.m. – 6 p.m.; Saturday, 10 a.m. – 3 p.m.

From the glasshouse to your house, we're offering a large selection of fresh holiday greens and boutique gifts for loved ones in our shop at Phipps Garden Center in Mellon Park. This event is free and open to the public!

Fri., Nov. 17; 4:30, 6 and 7:30 p.m. – 6 p.m. performance is SOLD OUT

Kick off the holiday season with two of Pittsburgh's most treasured traditions. Don't miss this one-night-only opportunity to enjoy the botanical delights of Phipps and vignettes from Pittsburgh Ballet Theatre's The Nutcracker on the very same night.

Saturdays and Sundays; 1:30 p.m. except where noted

How does your garden grow? With our free-with-admission classes! From natural knitting to biodiversity, local experts bring it all to you surrounded by the beauty of our gardens.