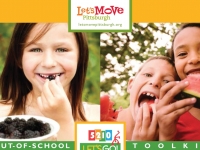 Get the Toolkit
The 5-2-1-0 Goes Out-of-School Toolkit is a step-by-step guide for launching, leading and evaluating your 5-2-1-0 program. Inside you will find resources to help you conduct an assessment, create an action plan, and implement the 10 Strategies for Success.
Additional Resources
The time that children spend outside of school has become a time when they are less active and eat more unhealthy foods, but it doesn't have to be this way. Providing a positive environment at home and encouraging kids to join community activities allows them to build healthy habits and interact with peers as they learn and grow during this important period of their physical and mental development. Below are some strategies and resources for you to use to help your child live a balanced and healthy life.
---
5 servings of fruits and vegetables every day:
---
2 hours or less of recreational screen time every day:
Use these helpful guides to find alternatives to screen time outside of school:

Decoding Recreational Screen Time: Learn the difference between recreational and nonrecreational screentime and discover helpful apps that encourage healthy behaviors in children.
Turn on the Fun: This guide provides a simple list of healthy ways to regulate screen time and provides fun alternatives to watching television.
Healthy Activities for School Vacation: There are plenty of things for kids to do besides sit in front of a screen over school vacation. Check out this list for some fun ideas on activities you can do.
Reading to Young Children: Use this guide for helpful tips on to actively engage children while reading.
Promote Healthy Viewing Habits: The first two years of life are considered a critical time for brain development. Consult this tip sheet to discover ways to get children off to a good start.
Screen Time and the Very Young: Excessive screen time can lead to aggression in early childhood, among other problems. Get the facts by taking a look at this list of its effects on the very young.

Continue the 5-2-1-0 lifestyle while traveling and on holidays.
Provide alternative activities to screen time with these helpful resources:
Make screen time educational:
5-2-1-0 Tracker: Use this guide to help yourself keep track of how well you follow the 5-2-1-0 lifestyle.
The Scientific Rationale: Use this guide to understand the science that supports 5-2-1-0.
---
1 hour or more of physical activity every day:
Provide kids with positive reinforcement when you see them being active.
Find fun ways for kids to get active.

Top Five Anywhere Exercises: Use this resource to brainstorm ways to help young people incorporate physical activity in their day-to-day lives.
Get Up: This document suggests fun ways to get whole families moving for at least one hour a day.
Take It Outside: Families can be active outdoors with the fun activities listed in this tip sheet.
Quick Physical Activity Breaks: These quick activities can provide physical activity just about anywhere and on any schedule.
Activity Cards for the Classroom: This set of printable cards contains a handy supply of easy, on-the-spot physical activities for kids.
---
0 sugary drinks and more water every day: