BioBlitz Family Fun Festival at Phipps Conservatory Celebrates Scientific Exploration
For Immediate Release: Wed., May 29
Contact: Julie LaBar | Director of Marketing and Communications
412/638-6008 ǀ jlabar@phipps.conservatory.org

BioBlitz Family Fun Festival at Phipps Conservatory Celebrates Scientific Exploration
Bring the whole family to free outdoor festival filled with exciting natural discoveries and engaging activities.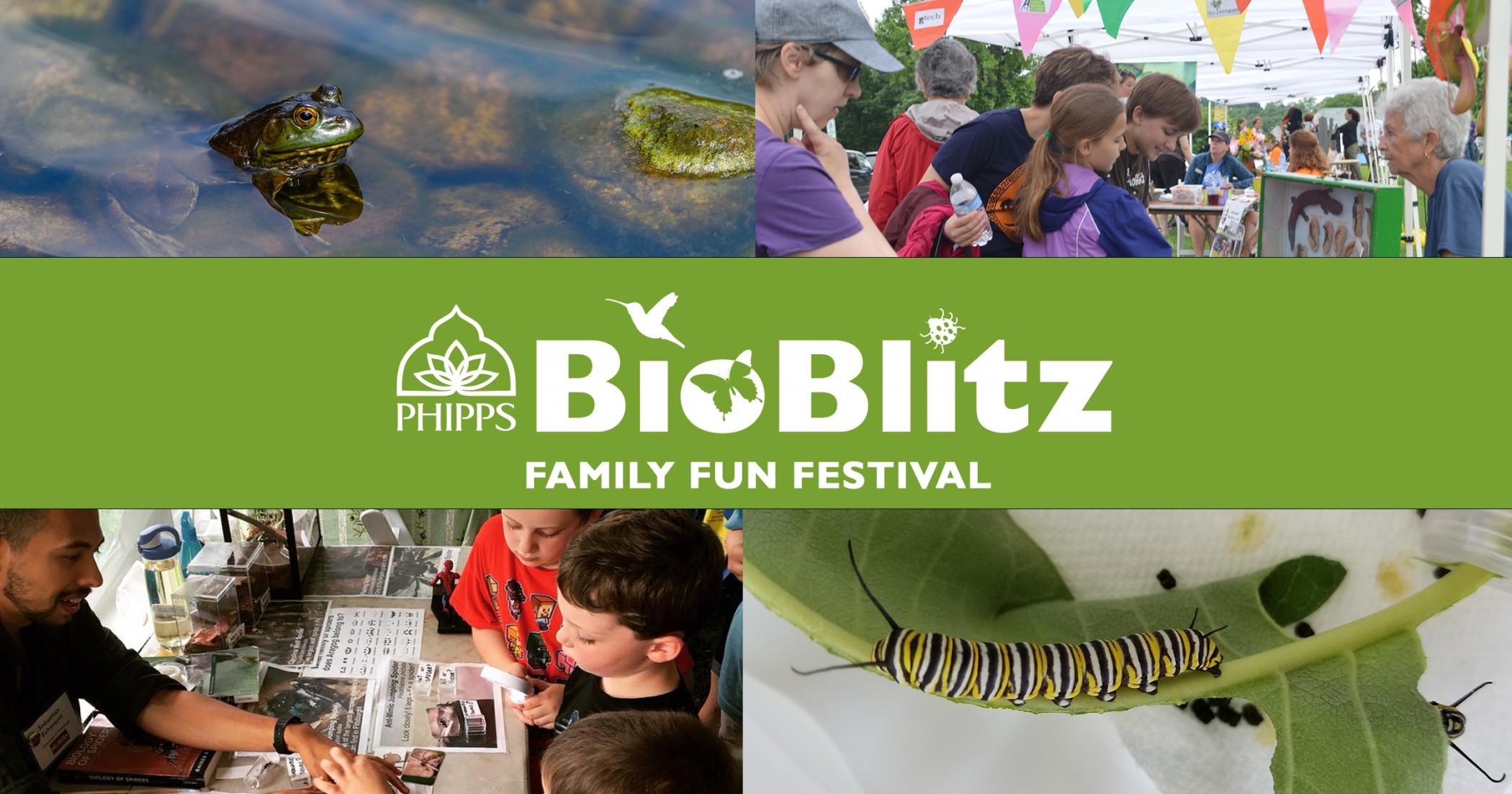 Pittsburgh, PA — Phipps Conservatory and Botanical Gardens hosts a day of exciting scientific exploration at the fourth annual BioBlitz Family Fun Festival on Sun., June 2. This interactive community event will take place on Phipps' front lawn from 9 a.m. - 4 p.m., with guided area nature tours occurring throughout the day. The event is open to the public and free to attend. No advance registration is required.
BioBlitz brings together families, students, scientists, naturalists, teachers and community leaders to participate in an expedition and celebration of living species - a discovery of all of the wonders of nature like no other! All ages will have fun exploring the region's unique plants, birds, trees, fish and mammals through engaging walking tours in Schenley Park led by expert guides. Guests can also create nature-inspired artwork, enjoy storytime and connect with area scientists and organizations.
Complete three BioBlitz Family Fun Festival activities and get 50% off admission to Phipps. Simply pick up a field journal at the BioBlitz registration area, participate in three activities - like visiting a researchers table, going on a nature walk, joining storytime or participating in another event on the agenda - receive a stamp in your journal for completing each activity and present it in the Welcome Center. Discount good Sun., June 2, 2019 only for up to four family/group members. Then, get ready to experience Phipps' Summer Flower Show: Van Gogh in Bloom, the fluttering friends of Butterfly Forest, Tropical Forest Cuba and more!
2019 BioBlitz Event Highlights:
Take a Nature Tour - Embark on a guided walking tour of Schenley Park with a local naturalist, exploring this unique Pittsburgh greenspace and the plants and animals that call it home. Keep your eyes peeled and cameras ready to document living organisms during these surprise-filled expert tours. Each tour lasts approximately 45 – 60 minutes, including the fascinating world of bees and pollinators with Apoidea Apiary's Christina Neumann and cool mushroom expedition with the Western Pennsylvania Mushroom Club.
Share Your Findings at the BioBlitz Research Base - Bring pictures of species you find on your walking tour to the BioBlitz Research Base located on Phipps' front lawn, where Phipps' experts will confirm the identification of the species and add them to the BioBlitz organism database.
Create Botanical Art - Join Phipps Botanical Illustration Instructor Robin Menard to create your own nature-themed botanical art piece at 11 a.m. and 1 p.m.
Scientific Storytime - Enjoy family-friendly stories focused on science and nature at 11 a.m. and 1 p.m.
Meet Local Scientists - Discover exciting scientific research taking place in Pittsburgh by meeting hometown experts and partner organizations at tabling displays.
Participating organizations include Allegheny Land Trust, Apoidea Apiary, BikePGH, Citizen Science Lab, Commonwealth Charter Academy, Group Against Smog and Pollution, Pennsylvania Master Naturalist, PennFuture, Duquesne University, Pittsburgh Parks Conservancy, Resilient Pittsburgh, University of Pittsburgh and Western PA Mushroom Club.
A BioBlitz is an event that focuses on finding and identifying as many species as possible in a specific area over a period of time. At a BioBlitz, attendees work together to get an overall count of the plants, animals, fungi and other organisms that live in a specific place. By participating, you'll explore nature and the species around you, be a part of generating useful data for science and conservation, connect with the environment and meet others in the great outdoors, all while having fun!
For a complete list of Phipps' BioBlitz Family Fun Festival activities, visit phipps.conservatory.org.
###
About Phipps: Founded in 1893, Phipps Conservatory and Botanical Gardens in Pittsburgh, PA is a globally recognized green leader with a mission to inspire and educate all with the beauty and importance of plants; to advance sustainability and promote human and environmental well-being through action and research; and to celebrate its historic glasshouse. Encompassing 15 acres including a historic 14-room glasshouse, 23 distinct indoor and outdoor gardens and industry-leading sustainable architecture and operations, Phipps attracts nearly half a million visitors annually from around the world. Learn more at phipps.conservatory.org.
Select photos © Paul g. Wiegman