Holiday Magic! Winter Flower Show And Light Garden Returns To Phipps Conservatory
For Immediate Release: Wed., Nov. 2
Contact: Joe Reed | Director of Marketing and Communications
412-622-6915, ext. 3801 | jreed@phipps.conservatory.org
Holiday Magic! Winter Flower Show and Light Garden Returns to Phipps Conservatory
Pittsburgh's Holiday Tradition Sparkles with New Arctic Adventure Theme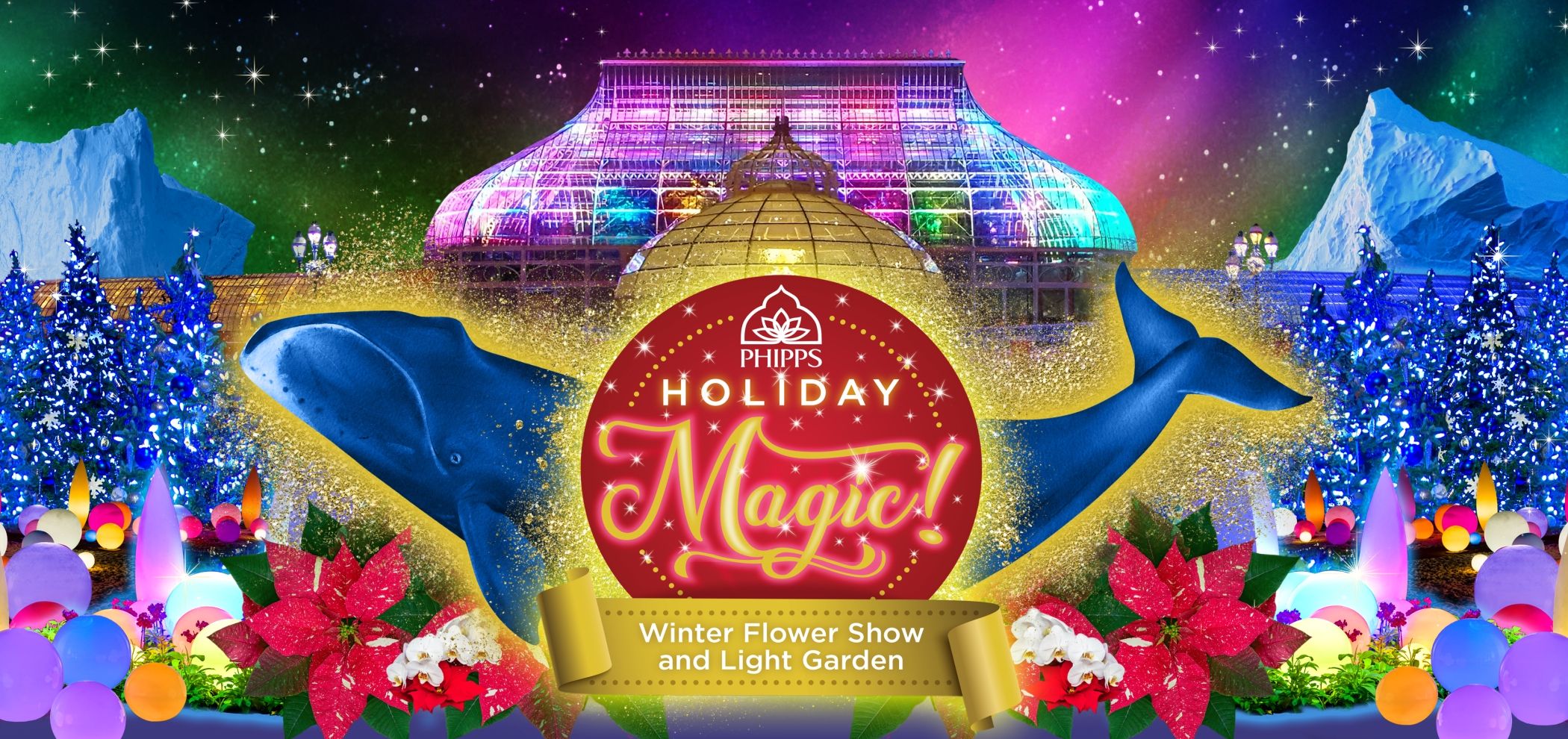 Pittsburgh, PA – On Fri., Nov. 18, Holiday Magic! Winter Flower Show and Light Garden will return to Phipps' glowing gardens. With a fun-filled theme of arctic adventure, this year's show will captivate guests with a variety of topiary creatures and amazing features. Phipps has pulled out all the stops for this year's Winter Flower Show with magnificent new displays of holiday trees, exquisitely detailed props and our signature floral delights, including amaryllis, orchids and more than 1,600 poinsettias. Members can reserve tickets now, with ticket sales open to the public launching on Wed., Nov. 9; all member and nonmember tickets must be reserved in advance to attend this year's show.

New features for 2022 include:
a fantastic frozen journey that takes you through the enchanted arctic, with dripping icicle lights, hanging snowflakes and trees glowing blue
​an array of 19 varieties of poinsettias and friendly topiary reindeer to welcome you
​a dazzling display where a massive arctic whale sprays water from beneath a glowing iceberg as the Victoria Pond glows with underwater blue lights
a unique floral color scheme of pink, orange, lime green, yellow and purple to complement whimsical narwhals and unicorns amid the multi-colored trees and icy ponds
a silly abominable snowman decorating a tree in twinkling white lights as snowflake lanterns illuminate his work
a North Pole-inspired display brought to life with polar bear topiaries, purple, blue and green lighting, and an abundance of glistening snowfall lights.
a new display in Winter Light Garden that features a tunnel of neon orange and green rope lights alongside planters of gleaming mesh flowers in bold tones of yellow, pink, orange and red
and much more.
The new Garden Railroad: Our National Parks display is on view, too, with miniature recreations of beautiful national parks across the United States with fun, interactive features in each landscape.

Members and kids under 2 enter free. All member and nonmember tickets must be reserved in advance. Learn more and reserve tickets at phipps.conservatory.org/Tickets.

Holiday Magic! Winter Show and Light Garden, designed by Associate Director of Exhibits Jordyn Melino, opens Fri., Nov. 18 and runs through Sun., Jan. 8. Visit the Phipps website for hours and admission details.
###
About Phipps: Founded in 1893, Phipps Conservatory and Botanical Gardens in Pittsburgh, PA is a globally recognized green leader with a mission to inspire and educate all with the beauty and importance of plants; to advance sustainability and promote human and environmental well-being through action and research; and to celebrate its historic glasshouse. Encompassing 15 acres including a historic 14-room glasshouse, 23 distinct indoor and outdoor gardens and industry-leading sustainable architecture and operations, Phipps attracts more than half a million visitors annually from around the world. Learn more at phipps.conservatory.org.

Watch TEDx: What We Can Learn From an Old Glasshouse: A look at the evolving way we connect people to nature at Phipps, demonstrate how human and environmental health are inextricably connected, and show that to age gracefully, we must continually reinvent ourselves to evolve with the rest of the world.