Party in the Tropics: Masquerade Comes to Phipps Conservatory
For Immediate Release: Mon., Oct. 21
Contact: Joe Reed | Director of Marketing and Communications
412/622-6915, ext. 3801 | jreed@phipps.conservatory.org
Party in the Tropics: Masquerade Comes to Phipps Conservatory
Guests Are Invited to Enjoy a Night of Dancing, Food, Drink and Mystery at 21+ Event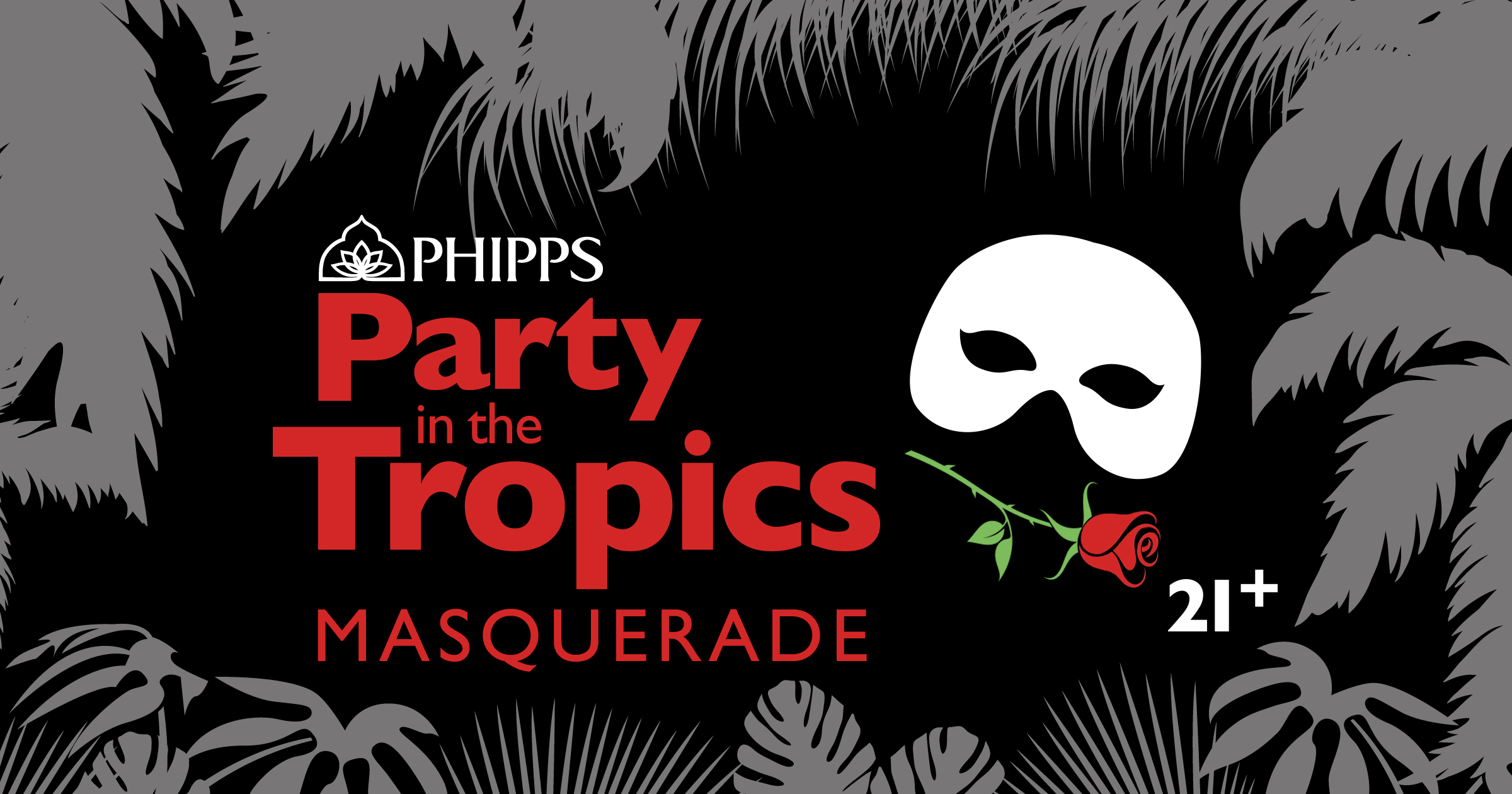 Pittsburgh, PA — It's a night of music, mystery and intrigue at Phipps Conservatory and Botanical Gardens' Party in the Tropics: Masquerade! Guests 21 or older are invited to head to Pittsburgh's glowing glasshouse as night unfurls its splendor to enjoy this free-with-admission event on Fri., Nov. 1 from 7 – 10 p.m.
The final installment of Party in the Tropics in 2019 keeps the Halloween festivities going as guests are encouraged to pair a striking masquerade mask with formal party attire of their choice — capes are encouraged! Instructors from Carnegie Mellon University will teach guests fancy footwork as they lead a ballroom dancing lesson, and attendees will enjoy a splendid party, sipping themed drinks, savoring delicious bites available for purchase and exploring Phipps' tropical paradise, including the spectacular Fall Flower Show: Japanese Inspirations.
Entry to Party in the Tropics is free with Phipps admission, but space is limited and admission is only open to guests 21 or older with a valid ID. Tasty morsels, cocktails and beverages will be available for purchase. Please note that full-face masks are not permitted at this event.
Admission is $17.95 for adults and $16.95 for seniors and students. Members enter free. More details can be found at phipps.conservatory.org. If the event fills to capacity, admission may be temporarily closed until more space becomes available. This event is open only to guests 21 or older with a valid ID. Limited complimentary parking is available.
###

About Phipps: Founded in 1893, Phipps Conservatory and Botanical Gardens in Pittsburgh, PA is a globally recognized green leader with a mission to inspire and educate all with the beauty and importance of plants; to advance sustainability and promote human and environmental well-being through action and research; and to celebrate its historic glasshouse. Encompassing 15 acres including a historic 14-room glasshouse, 23 distinct indoor and outdoor gardens and industry-leading sustainable architecture and operations, Phipps attracts nearly half a million visitors annually from around the world. Learn more at phipps.conservatory.org.