Phipps Conservatory Announces Design Team for Billy Porter Presents: A Summer Flower Fashion Show
For Immediate Release: Wed., July 27
Contact: Joe Reed | Director of Marketing and Communications
412-622-6915, ext. 3801 |jreed@phipps.conservatory.org
Phipps Conservatory Announces Design Team for Billy Porter Presents: A Summer Flower Fashion Show
Extravagant, Fashion-Forward Botanical Displays Debut May 2023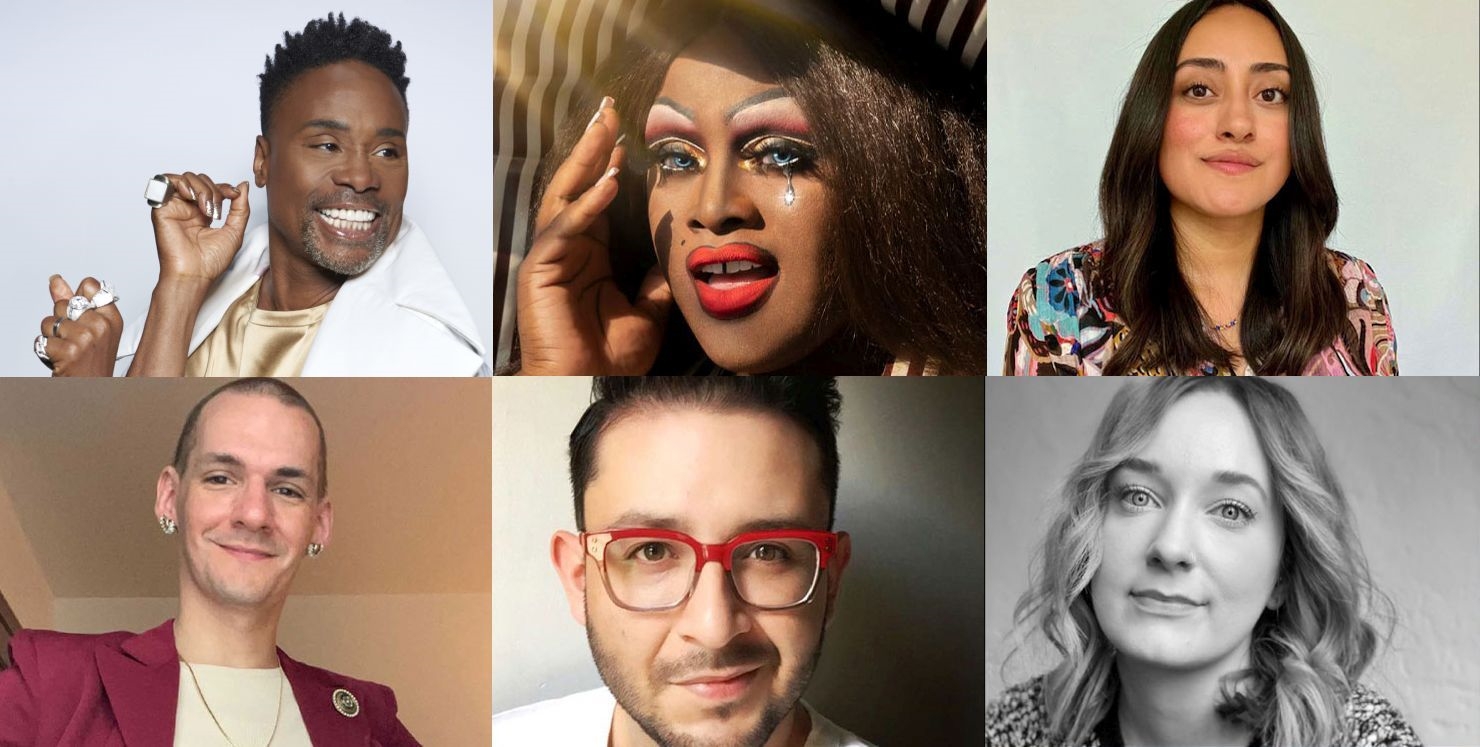 Clockwise, from top left: Billy Porter, Thee Suburbia, Cathy Olivar, Madison Michalko, Damian Dominguez and Daniele Mathews.

Pittsburgh, PA — Phipps Conservatory and Botanical Gardens is thrilled to debut Billy Porter Presents: A Summer Flower Fashion Show on May 6, 2023, an all-new show that will feature elaborate costumes inspired by the iconic looks and roles of Billy Porter and his hometown of Pittsburgh. To bring the inspiration, fun and excitement of Billy and his work to Phipps, the Phipps horticulture and facilities team will be designing and fabricating four costumes — three made of dried plant materials, and one that is a working aquaponics system. The show will also feature design contributions from students from both Carnegie Mellon University and Pittsburgh CAPA High School, Billy's local alma maters.

Further broadening the range of exciting displays in this very special summer experience, Phipps is also working with five professional fashion designers and costumers who will each add their signature flair to the displays. Learn more about the designers below!

Madison Michalko

After receiving her Bachelor of Arts in Theatre at Oklahoma State University in 2014, Madison Michalko (Hack) moved to Pittsburgh to assist in the costume shop at City Theatre Company (CTC). Since that time, she has worked her way to being the Costume Shop Manager & Wardrobe Supervisor. Additionally, Madison holds the titles of Project Specialist for Workhorse Collaborative and Floral Assistant for BLOOMS Pgh. You may have seen Madison's latest design onstage in The Garbologists (CTC) by Lindsay Joelle. When she is not working, Madison enjoys completing whatever the current renovation project is happening in her home with her new husband, Matthew.

"I am overwhelmed with gratitude that I was chosen to bring my design to life in celebration of such a historic person to be displayed in such a historic place," Madison says. "My gown is in honor of the courage, strength and unapologetic authenticity that is Billy Porter, and I cannot wait to share it with everyone."

Thee Suburbia

Thee began doing drag as a career shortly after graduating from St John's University in Jamaica, Queens in 2013. Since starting drag nine years ago, she has performed all over New York City on stage and screen. The passion that she has for drag is inspired by her love for doing hair, writing poetry and surviving life as we know it or don't. After graduating from Empire Beauty School of Manhattan in 2017, she went on to receive her cosmetology license. Every time she steps on to a stage, she is thrilled to take people on a ride of their lives and watch them have "aha" moments toward the finish.

Thee shared the following: "I am thrilled and honored to be included in this amazing floral show. All the designer's work being brought to fruition and showcased in such a magnificent place is breathtaking."

Cathy Olivar

Cathy Trostle-Olivar is a first-generation Latin-American, independent fashion designer and sustainability advocate based in Pittsburgh, PA. Raised in Virginia, she studied fashion design at university before starting her own clothing company, Cathy Olivar Brand, in 2019. The brand's mission is to offer a sustainable, ethical and accessible alternative to fast fashion. Through her work she has been featured in local fashion shows, artist events and markets. Recently, she has had two pieces featured at the Pittsburgh Children's MuseumLab: How Your Wear It Exhibit.
"It is truly an honor to be given this opportunity to be part of an exhibit for an icon and advocate like Billy Porter," says Cathy.
Daniele Mathews
Daniele Tyler Mathews is a NYC based costumer designer and drag artist originally from Nashville, TN. Design credits include Hamlet, Oedipus, Julius Caesar, Macbeth, Engaging Shaw, Pericles and Mary's Wedding (APT), I Am My Own Wife (LWT), Trans Scripts: The Women Part l (ART), NYU's New Musical Workshops (2017-2019); The Good God Brown, The Wiz, Charbrier's L'étoile, Arcadia, King Lear, Fences and the NYC Trans Theatre Festival. In addition to designing theatre, Daniele writes and performs solo plays about gender, identity and authenticity. Daniele holds a costume Design MFA from Carnegie Mellon University and is a Princess Grace Foundation Pierre Cardin Theatre Award (2015). They create all of their drag looks, which can be seen on Instagram @gloriaswansong.

"It's a dream to return to Pittsburgh and showcase designs in the Phipps Conservatory, alongside so many talented artists," said Daniele. "I'm honored to be chosen and excited to be inspired by Billy Porter's career and the natural design of flowers."
.
Damian Dominguez

Damian E. Dominguez is a Mexican American costume designer based out of Pittsburgh, PA. Damian holds a double B.A. in Music and Theater from the University of Georgia and an M.F.A. in Costume Design from Carnegie Mellon University. His recent design credits include The Cherry Orchar­­d (Quantum Theatre), The Lavender Terrace (New Hazlett Theatre), Guadalupe in the Guest Room (Colorado Springs Fine Arts Center), The Light in the Piazza, Marisol and Dutchman (CMU). He is currently a costumer and stitcher on the upcoming Netflix film The Deliverance.

"I am thrilled to be a collaborator on this exhibit/show. Billy Porter is such an inspirational fashion icon, and I'm excited to create something that is not only representative of his influence on fashion but also captures my perspective as an artist."

Billy Porter Presents: A Summer Flower Fashion Show will run May 6 – June 25.
###

About Phipps: Founded in 1893, Phipps Conservatory and Botanical Gardens in Pittsburgh, PA is a globally recognized green leader with a mission to inspire and educate all with the beauty and importance of plants; to advance sustainability and promote human and environmental well-being through action and research; and to celebrate its historic glasshouse. Encompassing 15 acres including a historic 14-room glasshouse, 23 distinct indoor and outdoor gardens and industry-leading sustainable architecture and operations, Phipps attracts more than half a million visitors annually from around the world. Learn more at phipps.conservatory.org.

About Billy Porter: Billy Porter is an award-winning actor, singer, director, composer and playwright. He won the Emmy Award for Lead Actor for his appearance in FX's Emmy- and Golden Globe-nominated drama Pose, and most recently received his third Emmy nomination for this role. A Hollywood Walk of Fame inductee, Porter has numerous theatre credits, including the role of "Lola" in the Broadway musical Kinky Boots, which he originated in 2013 and for which he won the Tony, Drama Desk, and Outer Critics Circle awards, as well as the Grammy for best musical-theatre album. He won his second Tony Award in 2022 for "Best Musical" as a producer on A Strange Loop. Recently, Porter appeared in the third season of FX's Pose, Amazon's Cinderella re-make, the second season of CBS All Access' The Twilight Zone, American Horror Story: Apocalypse, and narrated HBO Max's Equal. Upcoming, he will star in Our Son alongside Luke Evans, direct a queer teen comedy from Gabrielle Union's I'll Have Another Productions, titled To Be Real, and direct an episode of Fox's anthology series Accused. His feature directorial debut Anything's Possible, a coming-of age film written by Ximena García Lecuona, was recently released on July 22 on Amazon Prime Video. Porter released his first literary project, Unprotected, in October 2021, which was published by Abrams Press. As a recording artist, Porter most recently released his single "Children" under his new record deal with Island Records (UK) and Republic Records (US).