Phipps Conservatory Announces Orchid and Tropical Bonsai Show: Out of This World
For Immediate Release: Mon., Jan. 13
Contact: Joe Reed | Director of Marketing and Communications
412-622-6915, ext. 3801 | jreed@phipps.conservatory.org
Phipps Conservatory Announces Orchid and Tropical Bonsai Show: Out of This World
Blast Off into a Galaxy of Gardens at This Stellar New Show Opening Sat., Jan. 18!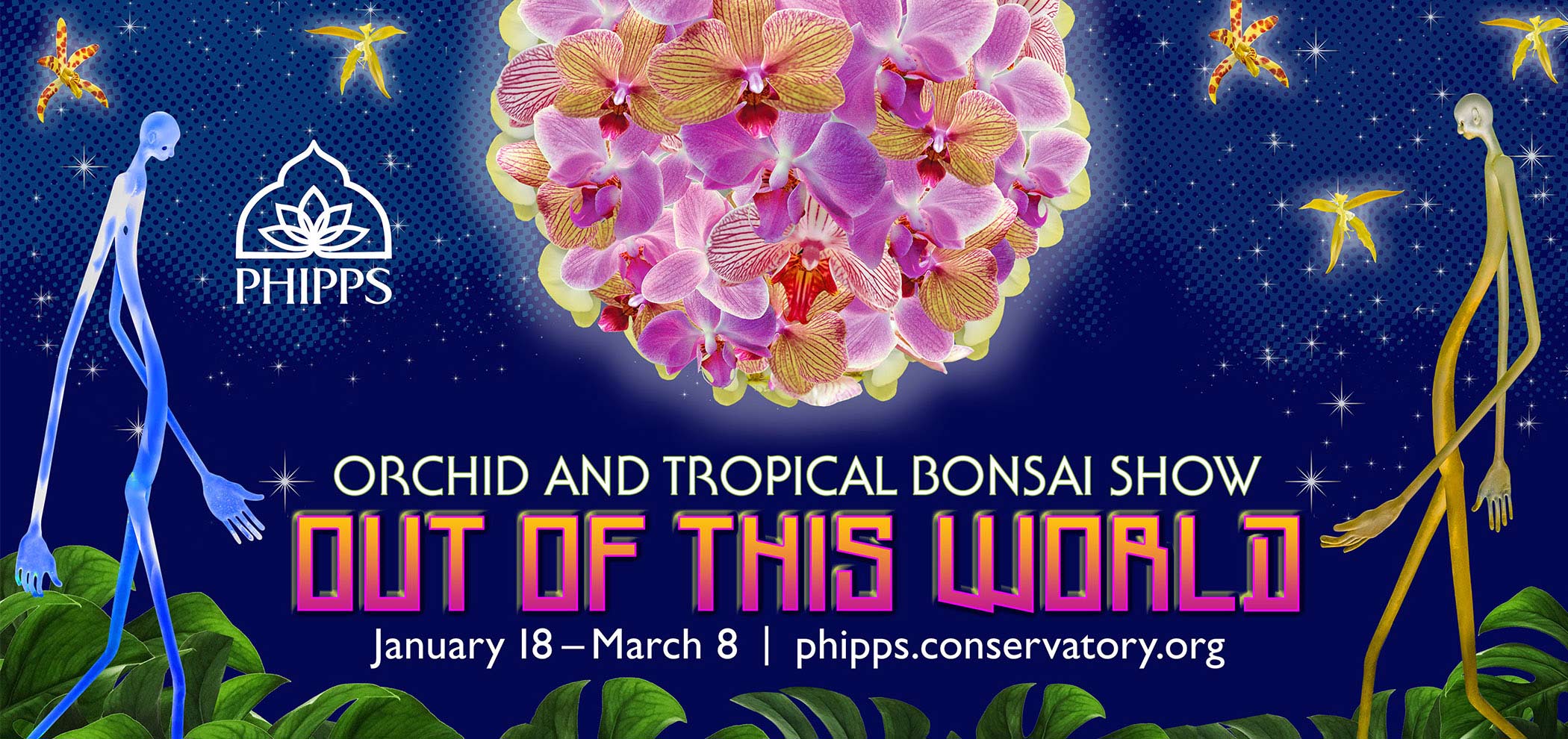 Pittsburgh, PA — Starting Sat., Jan. 18, Phipps Conservatory and Botanical Gardens invites guests to put on their spacesuits and prepare to blast off into a galaxy of gardens at Orchid and Tropical Bonsai Show: Out of This World. At this exciting new show, guests will enjoy hundreds of star-shaped and otherworldly orchids, plus Phipps' cosmic collection of tropical bonsai. Escape from the cold and embark on an interplanetary adventure right inside the display rooms of Phipps' Victorian glasshouse!
Exhibit features include:
A 7-foot-tall rocket made out of Phalaenopsis orchids preparing for takeoff in the Sunken Garden
Planetary topiary spheres made of bromeliads with rings made of orchids and bromeliads in the Palm Court hanging above a sky of dark foliage and yellow, star-shaped orchids in Palm Court
A shower of cascading stars made of yellow kokedama, or orchids grown in a ball of moss wrapped in string
An Extra Special Terrestrials display that showcases terrestrial orchids, or orchids that grow on the ground, including unique specimens from Phipps' renowned Barbara Tisherman Slipper Orchid Collection
Phipps' carefully curated tropical bonsai collection showcasing specimens that have been in training for decades and exhibit otherworldly root and trunk formations
An interactive display of mosses and ferns planted in kusamono-style containers that guests can examine up close with a magnifying glass
Close encounters with the alien-like Fräbel glass Longfellows wandering amid the unusual shapes, sizes and scents of Phipps' permanent orchid collection in the Orchid Room
And much more!
Plus, guests can truly space out at a variety of themed events and programs throughout the show, including Out of This World Movie Nights, space-themed Party in the Tropics and more. Stay tuned to mission control — phipps.conservatory.org — for dates and details.
Orchid and Tropical Bonsai Show: Out of This World, designed by Kevin Haughey, Jordyn Melino, Julianna Razryadov and Katie Schuller, runs Sat., Jan. 18 – Sun., March 8. Hours are 9:30 a.m. – 5 p.m. daily and 9:30 a.m. – 10 p.m. on Fridays. For more information, visit phipps.conservatory.org.
###
About Phipps: Founded in 1893, Phipps Conservatory and Botanical Gardens in Pittsburgh, PA is a globally recognized green leader with a mission to inspire and educate all with the beauty and importance of plants; to advance sustainability and promote human and environmental well-being through action and research; and to celebrate its historic glasshouse. Encompassing 15 acres including a historic 14-room glasshouse, 23 distinct indoor and outdoor gardens and industry-leading sustainable architecture and operations, Phipps attracts more than half a million visitors annually from around the world. Learn more at phipps.conservatory.org